Joe Panik, SS San Francisco Giants
10/30/1990
Height: 6'1" Weight: 193
Joe Panik may not be the player that San Francisco Giants fans wanted, but he may be exactly the player they need:  A baseball rat that's not afraid of getting his uniform dirty.  Panik did not get drafted right out of John Jay High School in upstate New York in 2008.  At just under 6'0″ tall and 170ish pounds, he was just another small infielder with potential but too many questions about where he would project at the next level.  In three years at St. John's, Panik worked his tail off to bust those stereotypes. He added 20 pounds of muscle, improved his speed and agility, and became a better overall athlete.  He also figured out how to grow a couple of inches, too.  You got to love a guy with THAT much determination.
In 169 games for the Red Storm in those 3 years, Panik put up a triple slash of .370/.474/.597.  For you stat and fantasy geeks (me), his college career also included 25 HRs, 11 Triples, 48 Doubles, 164 runs, 157 RBI, and 33 SB in 640 at bats.  With a fantastic eye at the plate, he had a eye-popping, jaw-dropping 57/111 K/BB rate.   For 2011, in 498 at bats between St. John's and Salem-Kaizer of the Northwest League, Panik Hit .367 with 16 HRs, 111 RBI, 109 runs, and 34 SB.  That will grab your attention even if you felt the Giants should have drafted someone else with more "upside" than Joe Panik.  He recently came in #111 in our Baseball Instinct 360°.
Baseball Instinct's Dave Reiffer wrote this about Panik in his July 2011 NWL Touch'em All article:
Joe Panik, SS San Francisco Giants(20) – Since being select 29th overall in 2011 amateur draft and dropped into the Northwest League, professional baseball has been very good to Joe Panik. He's among the league leaders in batting, hitting .342. His OBP dazzles at .403. And he currently walks more that he strikes out with 13/12 BB/K. Panik profiles to be a top-of-the-order stick, with a talent at getting on-base, who could stay at shortstop or possibly slide over to second. Some think he could develop enough power to collect 10-15 homers a season and utilize his speed to collect the same amount of steals. The other San Fran infielders who stand in his way are the currently light-hitting/slick fielding duo of Brandon Crawford and Ehire Adianza. Those players, particularly Crawford, will be the short term answers for the middle of the SF infield. Provided he can swing the bat like this at each level and keep up his end on defense, it'll be at least 2-3 years before Joe could be giving opposing pitchers "Panik" attacks (sorry, had to do it).
Last fall, I went on to discuss Panik in my 2011 MLB | SS Review:
Joe Panik, SS San Francisco Giants – (20) – Round: 1 Pick: 29
For all those who cried "over draft" when Panik was taken in the 1st round by the Giants, he did nothing but get his tail signed and hit like a maniac.  He hit .341/.401/.467, which included HR-6/3B-3/2B-10/RBI-54/R-49/SB-13, and protected the plate well with a25/28 K/BB ratio in 270 at bats over 69 games for the Low-A Salem-Keizer Volcanoes of the Northwest League.  He's currently playing in the Arizona Fall League on the Scottsdale Scorpions along side notable top level prospects such as Mike Trout, Bryce Harper, and Jean Segura.  There's no reason to think that Panik won't be with the High-A San Jose Giants of the California League in 2012.
Panik popped up again recently when our own Bart Klett broke down the Giants 2012 top 10 list:
2. Joe Panik SS 10/30/1990 Height: 6'1" Weight: 193 – Picked in the 1st round of the 2011 draft, Panik was viewed by many as an overdraft. Fortunately Panik wanted to play baseball and was signed quickly by the Giants rather than hold out for a higher signing bonus as so many of the 1st round draft picks had done. Therefore, we were able to see Panik play in short season ball in 2011…and play baseball he did. He is becoming known for a high baseball IQ, and this was reflected in well-rounded stats that indicate a player that is good at a lot of things. Defensively, there is still question whether he can stick at SS. But offensively he profiles extremely well for a middle infielder. He carried a nice batting average of .341 and a solid .401 on-base percentage. He definitely finds ways to get on base, which was nicely complimented by 13 stolen bases during the 2011 season. With 49 runs scored and 54 rbi's, Panik has the look of an offensive player that can cause damage in all sorts of ways. Another very promising marker for Panik is excellent strike zone management with 28bb/25k.
Our Instinct: This is a player that will make pitchers work and can maximize his tools. He needs to carry this performance to higher levels, but Panik has the potential to become a high-level middle infielder at the major league level.
So, to recap:  Lukewarm initially when drafted.  Check.  Progressively warmed up to it.  Check.  Overachiever, High baseball IQ, baseball rat.  Check.  Let's take a little closer look at what we are talking about here.
The Bat
As Baseball Instinct's Tom Belmont pointed out in his June 2011 draft preview, Panik is a prototypical gap hitter.  This righty that hits left-handed has a compact build with a compact swing, takes a short swings, dropping the barrel of the bat squarely on the ball making hard contact, and spraying the ball to all fields.  His bat speed is average to slightly above average but he has strong shoulders and legs that help push him through the ball.  He's very polished and has ridiculous patience at the plate.  Possibly my biggest criticism of Mr. Panik is that he takes a ton of questionable (see video 1) pitches.  While most of those balls are out of the strike zone, I believe they are firmly within his wheel house.  He makes excellent contact.  You can't argue with his ability to get on base but he can afford to be a little more aggressive; no one is going to be upset if his K/B drops to a 1:1 ratio.
AFL video taken by MLBProspectPortal.com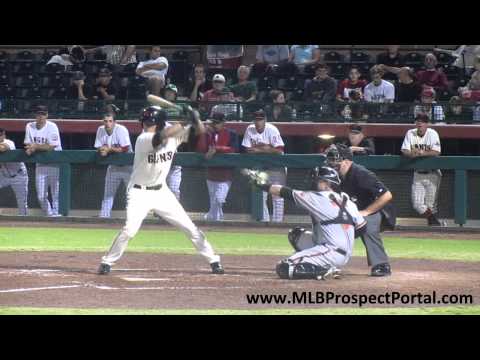 While he's not tremendously fast, he does get out of the box swiftly and down to first quickly.  His base stealing prowess is likely more an effect of his ability to read pitchers than his overall speed.  Still, he's done an excellent job so far in this department with 34 stolen bases in 45 attempts in 2011 between college and pro ball.
Video by LLWesMan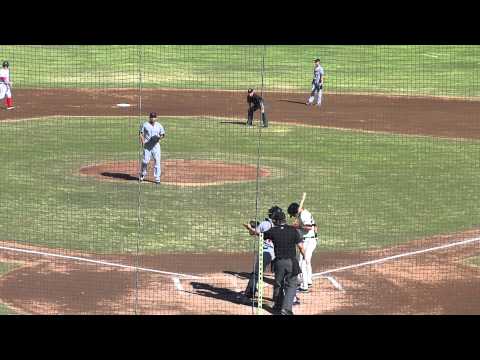 The Glove
Panik has nice range and can get to balls deep in the hole at shortstop but he doesn't have the arm strength that you would expect to see for a future major league regular and this is a problem.  While there are camps out there that think he can play average defense for the Giants and that his arm will get stronger as he climbs the ladder, I tend not to agree.  It's been two and a half years since his shoulder surgery and I have a hard time buying that it's going to get any stronger.  Let's address the 800 pound flying pink elephant in the hole at short right now – He's going to be a second baseman.
Our Instinct
To Giants fans, Joe Panik's mom, and anyone else who feels I poured Tabasco in their Cheerios, I apologize.  But all isn't lost.  Yes, his value would be greater at short than at second but regardless of his weak throwing arm, the fact is very few college shortstops ever stick there.  Besides, he plays like he uses Tabasco instead of milk with those Cheerios, with a belly full of fire.  As previously stated, he should head to the California League in 2012 where he should see the most ridiculous stats of his career.  Don't be surprised if he makes it to AA before the season is over with the slightest chance of a late season call up.  What is more likely, however, is that he will progress to AAA in 2013 and that's when he will see a call up.  We have little doubt that he will be a solid to above average major leaguer and that should come in 2014 at second base.
Stick with Baseball Instinct and we'll keep you a step ahead of the game. Check back soon for more Prospect coverage. While you're here, check out our Baseball Instinct 360° – it's our top 360 prospects for 2012. Also check out a friend of ours for all of your fantasy sports needs. Fantasy Rundown is updated religiously and is truly an awesome resource. Thanks for checking Baseball Instinct. We're working hard to bring you the best of the minor leagues and make the site the best experience it can be, so don't hesitate to tell us what you would like to read about. Email us now at mailbag@baseballinstinct.com.