Neil Ramirez, RHP Texas Rangers
4/25/1989

Height: 6'3" Weight: 185
Drafted in the 2008 supplemental first round as the 44th overall pick. Neil Ramirez doesn't seem to get the attention that he deserves as a prospect. Likely a by-product of being in an organization that is simply loaded with high-end prospects. However, Ramirez should get notice even in the context of a rich farm system such as the Texas Rangers. Ramirez is one of those players that had to play professional ball for a few years before things started coming together for him. After 2 unremarkable seasons of professional ball, he came into the 2010 season as an unheralded prospect with a combined 4-8 win/loss record and 3.92 era.
And that's when signs of legitimacy began to manifest themselves. At first glance, the numbers aren't remarkable for the 2010 season. He finished with 10-8 record and an even worse 4.49 era. But the peripherals started to provide a more positive picture. He amassed 142k's and lowered his walk ratio markedly. In fact, it was that walk ratio having been lowered from 15.4% in 2008, and then 13.4% in 2009 to a miserly 6.2% in 2010 that was the best marker of Neil Ramirez's prospect legitimacy. That 2010 suggestion of potential then led to a very productive season for 2011.
Ramirez started the 2011 season in High-A ball, but only pitched in one game before being promoted 2 levels up to Triple-A ball for the Round Rock Express. Originally the Rangers intended for Ramirez to make a few spot starts for Eric Hurley who was out of action due to a viral infection. However, he impressed the Ranger organization so much, that he ended up remaining with Round Rock even after Hurley returned to the team. And this decision was for good reason, Ramirez held up very well to the higher level of competition. He went 4-3 with a 3.63 era and 86k's in 74.1 innings pitched. Due to shoulder fatigue he was shut down for much of the 2nd half of the season. However, he did return back to make a good showing in late August and September. All told Ramirez finished with a 5-3 record and 3.12 era with 119k's in 98 innings pitched. Most impressive was his ability to adjust to the new competition after being promoted so aggressively. Not only did he hold his own, he increased his strikeout/plate appearance ratio significantly from the 2 previous seasons. Were it not for the injury, his 2011 performance could have been outstanding. As it is we thought enough of him to rate him as the #9 on our Rangers top 10 list. We also ranked him number 270 on our 360 list. Let's take a look at his stuff and see what transformed him from unheralded prospect to "player to watch carefully".
The Stuff
Fastball – Neil Ramirez has an above average fastball that is major league ready. He doesn't have a lot of movement with this offering but it has good velocity generally clocking between 91-93mph, but he can get up to 95 on occasion. He is also able to move this pitch from side to side and this allows him to work the corners and expand the strike zone.
Curveball – This is another above average offering for Ramirez, and this one can be pretty dastardly. He throws a power curve that can break both vertically and horizontally giving the highly sought after "2 planes" of movement. The movement on this pitch is big and can make hitters look silly. This pitch has a nice separation in velocity from his FB clocking in at 76-78mph. Because Ramirez can throw this for strikes, hitters are forced to be cognizant of this pitch at all times.
Changeup – While this pitch is still being developed it flashes for an average pitch. This offering clocks in around 72-74 mph. This pitch has major league potential, but Ramirez lacks confidence in this offering. Vastly important in determining his role (and success) at the major league level, Ramirez needs to develop trust in this pitch.
The Mechanics
Standing at 6'3" Ramirez has enough height that he should get downward plane on the ball as it travels toward the strike zone. Unfortunately his arm path is not very high and this negates any advantage that his height may provide. Furthermore, Ramirez doesn't always keep the ball down in the strike zone. Therefore, Ramirez is most definitely a fly ball pitcher. His GB rate of 35% in triple-A ball in 2011, is a likely indicator that Ramirez is susceptible to allowing home runs.
Ramirez could use some more filling out as he is 185 lbs at this time. He does have a strong lower body and this could serve him well. Unfortunately, he doesn't always use the lower body to maximum potential. Ramirez brings his leg high as he readies himself to drive towards home plate. He gets in fantastic position to make strong push-off the mound. Often though, Ramirez will not take a long enough stride towards home. Because his legs are not fully extending he loses some ability to generate maximum velocity from the lower half of his body. Since Ramirez still manages to bring 92+ mph to the plate, he has to generate that velocity from his upper body and particularly his shoulder. Oh and by the way, did I mention he suffered from shoulder pain and fatigue in 2011? It remains to be seen if he can handle a major league workload. Ramirez's 2012 season is really going to be about determining if he has good enough mechanics and arm strength to become a major league starting pitcher. He most certainly has the stuff to be one, but being able to bring that stuff for 7 or 8 innings a game is equally important.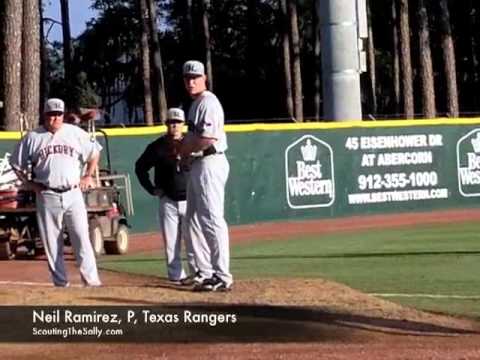 His mechanics not only contribute to injury risk, but also creates inconsistency with Ramirez's command. He can toil more than he should during his starts, because his command can fail him. This results in more pitches thrown than necessary. Look for arm strength and consistency of delivery to be the markers that determine his future potential.
Our Instinct
Neil Ramirez has a lot of things going his way. With a 3-pitch arsenal, he has the raw stuff to get major league hitters out. He can bring a solid fastball that is complimented by 2 offerings that can keep hitters off-balance. Over the last 2 seasons he has really started to find his way developmentally. His k/9 has increased while his bb/9 has improved (though 2011 saw a drop in this statistic). Most importantly, Ramirez has taken an aggressive promotion schedule very well. He had solid numbers against a group of hitters that were much more advanced in their developmental path than he had ever faced before. Playing and performing well at a fairly young age for the level is not be underestimated.
Ramirez has the stuff for the major leagues. But does he have mechanical delivery and the body to handle a starting pitcher workload? Those are questions that Ramirez has to answer. He needs to improve pitching efficiency to get hitters out faster and eat more innings. Of particular notice will be the average innings per start. He tends to drop off in performance after the 5th inning. This must improve.
At his ceiling Neil Ramirez could be a very good #3 starter. He has the stuff to succeed and seems to be deepening his understanding of how to move the ball within the strike zone. If Ramirez doesn't have enough command or arm strength to make it as a starter, then Ramirez should fit well as a high leverage reliever with 2 power offerings. It is possible that Ramirez can see time in Arlington before the end of the 2012 season, otherwise he should be fully ready in 2013. There is a very good chance that he addresses the concerns stated above and becomes a productive major league starting pitcher. Keep watching all of the potential stars that are developing in Texas, but don't overlook Ramirez. He could be the "sneaky" prospect that bullies his way up to Arlington in the near future.
Stick with Baseball Instinct and we'll keep you a step ahead of the game. Check back soon for more Prospect coverage. While you're here, check out our Baseball Instinct 360° – it's our top 360 prospects for 2012. Also check out a friend of ours for all of your fantasy sports needs. Fantasy Rundown is updated religiously and is truly an awesome resource. Thanks for checking Baseball Instinct. We're working hard to bring you the best of the minor leagues and make the site the best experience it can be, so don't hesitate to tell us what you would like to read about. Email us now at mailbag@baseballinstinct.com.