Reymond Fuentes, OF San Diego Padres
02/12/1991
Height: 6′ 0″ Weight: 160
For a player who only has a career .275/.335/.373 slash line in the minors, Reymond Fuentes is quite well-known in prospect circles because he was the "other" prospect the Padres received in the Adrian Gonzalez trade, and he is Carlos Beltran's cousin. Selected by the Boston Red Sox with the 28th overall pick in the 2009 Draft, Fuentes was considered the best Puerto Rican talent that year. His toolset has elicited Johnny Damon and Jacoby Ellsbury comparisons. That said, he was considered to be a bit raw- most likely needing to spend a full year at each level, which so far has been an accurate assessment.
He spent all of 2011 in A+ ball, hitting an unimpressive .275/.342/.369 line, but on the bright side he recorded his second straight 40+ SB campaign. Still, noting his young age and tools, he was considered as one of the top 20 prospects in the California League. Fuentes recently came in at #331 on our Baseball Instinct 360° Top Prospect List preview for 2012.
The Bat
Fuentes' approach at the plate is still raw but he has shown glimpses of having good pitch recognition and being able to control the strike zone. At present it's hard even for his believers to project him as having more than an above average hit tool, but given his speed, which is regarded as at least plus, he has a chance to become a good leadoff hitter if he can improve his approach at the plate. Fuentes is not expected to hit for nearly as much power as Damon or Ellsbury. He's more of a line drive hitter with gap power and unless he has a sudden power spurt, he'll most likely not hit more than 10 HRs in any given year.
It's quite easy to see how Fuentes' stock has dropped significantly in the past few years. His OPS numbers in his 3 years in the minors, though consistent, are rather low- posting .711, .705 and .711 from 2009-2011. He also still doesn't hit for much power, his ISO never topping more than .107 in any of his 3 seasons. The fact that the California League is viewed as a friendly hitting environment further depresses Fuentes' already mediocre performance.
However, on the bright side, his plate discipline has shown improvement. His walk rates have improved noticeably every year, going to 7.7% in 2011 from 4.4% in 2009. After seeing his strikeout rates increase in 2010, he cut them down in 2011 to 20.5% from 21.1%.
Going into 2012 I would like to see Fuentes continue to improve his plate discipline. He's a bit scrawny- listed at 6ft and 160lbs- so there is hope that he can develop more power as his body fills out. I would also like to see him work harder on his base stealing technique. He went from an impressive 89.4% in 2010 to a mediocre 74.5% in 2011. Overall, Fuentes strikes me as the type of prospect who will continue to make incremental improvements and then hopefully one year finally put everything together.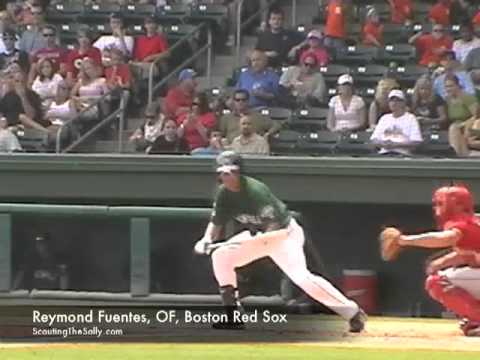 The Glove
Though he has a well below average arm, his speed gives him a chance to be a plus defender in CF. He makes good reads on balls and he compensates for his arm by charging at balls and making accurate throws. In short, there doesn't seem to be any doubt about his ability to play defense in the Major Leagues.
Our Instinct
Reymond Fuentes has the tools to be an electric leadoff hitter for a contending team. However, he's still far away from being that type of hitter. At the plate he needs to continue to improve on his discipline and provide more consistent production while cutting his K rate drastically. With his low level power it will need to be his speed that makes him a major leaguer. And major leaguers who rely on their speed need to get the all in play and get on base to make the most use of that speed.
Even though he's already spent 3 seasons in the minors, he's still rather raw and would probably benefit from spending another year in A+, placing his ETA in 2015.
Stick with Baseball Instinct and we'll keep you a step ahead of the game. Check back soon for more Prospect coverage. While you're here, check out our Baseball Instinct 360° – it's our top 360 prospects for 2012. Also check out a friend of ours for all of your fantasy sports needs. Fantasy Rundown is updated religiously and is truly an awesome resource. Thanks for checking Baseball Instinct. We're working hard to bring you the best of the minor leagues and make the site the best experience it can be, so don't hesitate to tell us what you would like to read about. Email us now at mailbag@baseballinstinct.com.