Tyler Pastornicky, SS Atlanta Braves
9/13/1989
Height: 5'11" Weight: 170
This offseason, the Braves did not offer Alex Gonzalez arbitration and now have an opening at the shortstop position for the 2012 season. Jack Wilson was re-signed but he will primarily be used as a backup utility and defensive replacement. In December 2011, manager Fredi Gonzalez sent Tyler Pastornicky an early Christmas present when he announced that they will go in-house to fill the shortstop position. Of course, things can still change but we think that Pastornicky is the right guy and right move. So who is this guy? We will be looking at him in more detail today.
Tyler Pastornicky was a fifth round pick by the Toronto Blue Jays in the 2008 MLB draft out of Pendleton High School in Bradenton, Florida. He spent two seasons in the Blue Jays' Rookie and Single-A level before the Braves acquired him with Alex Gonzalez and Tim Collins for Yunel Escobar and Jo-Jo Reyes in July 2010. The Braves really liked what they saw in Pastornicky:  a good athlete, a hard worker and a player who hustles down the line. They also saw a young guy with who could hit, which has worked out for the Braves. We have covered Pastornicky in the past with David Reiffer's Southern League Top Prospects – Hitters article.  He also appeared at #6 in my coverage on the Atlanta Braves' 2012 Top 10 Prospects and came in at #188° on our Baseball Instinct 360°.
The Braves are fairly aggressive with prospects they like and Pastornicky is someone they believe in. After the trade, they aggressively moved the 20-year old to AA Mississippi (Southern League) where he was not quite ready for the challenge. After the 2010 season, the Braves wanted to see more from their newest addition and sent him to the Arizona Fall League, where he played well and was selected to the 2010 AFL Rising Stars game. Something must have clicked for him as Pastornicky's batting average has not looked back since.
In 2011, Pastornicky started in AA Mississippi again. Same story, same level, but much different results. This time, Pastornicky showed more consistency. His bat was more polished and he no longer struggled to hit against more advanced pitchers. In 2011, he hit .299/.345/.414 with a .115 ISO in the Southern League, was selected to the Southern League All-Star Game by his peers, and then followed that with a scorching hot finale for AAA Gwinnett (International League).  He tagged AAA pitchersfor a .365/.407/.413 slash line before a high ankle sprain ended his 2011 season.
The Bat
Going into last year, Tyler Pastornicky never had a batting average above .270 despite a solid walk-to-strikeout ratio. His goal in the offseason after 2010 was to drive the ball more consistently and he undoubtedly achieved his objective. In the 2011 season, he hit .314/.359/.414, with 15 doubles, 5 triples, and 7 HRs, and he stole 27 bases in 38 attempts overall. Although Pastornicky's .314 batting average was fueled by a .315 BABIP in the Southern League and an even higher.398 BABIP in the International League, he was certainly more consistent making contact with the ball. He's a player that has a strong work ethic and hustles on and off the field. His hard work is clearly evident just by looking at his 2011 offensive line.
Pastornicky has a good feel for hitting, a polished bat, and a compact, level swing that generates a great deal of groundballs and line drives (53% and 25% in AAA), which partially triggered his high BABIP. His plus speed also allows him to run out infield hits. Power, on the other hand, is almost non-existent. Pastornicky does not have a lot of strength and his swing is fairly level and flat (both unpromising), so he will not be a deep HR threat. He will need to work on driving the ball with more authority in the big leagues. He did however take a Kenley Jansen hanging breaking ball deep and then hit for the cycle in July 2011.
In addition to a good feel for hitting, Pastornicky has a good approach at the plate. He's had a fairly even walk-to-strikeout ratio at every stop so he has good strike zone judgment. This year, as his contact rate climbed, his individual walk rate and strikeout rate both dropped at an even pace. Strikeouts should be rare for Pastornicky as his K% has declined from 14.8% to 9.4% after he was traded to the Braves. He has the contact skills, plus speed, and instincts to develop into a solid top of the lineup hitter, but he will need to get on base more and continue to put the ball in play. He definitely has the patience and plate discipline as he's had walk rates north of 10% in the past three years.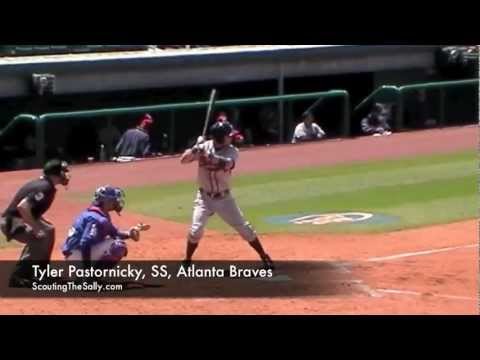 The Glove
Defensively, Tyler Pastornicky has some huge shoes to fill. After a year and a half of Alex Gonzalez, Braves' fans are used to his smooth, natural range and glove. Dreams of winning a Gold Glove will not happen but Tyler Pastornicky has sound defensive fundamentals. For starters, he has major league bloodlines; his father is former third basemen, Cliff Pastornicky, who played 10 games for the Kansas City Royals filling in for an injured George Brett in 1983. Tyler Pastornicky is also athletic and agile and his speed makes him a slick fielder with superb range. With soft hands, quick footwork, and good baseball instincts, we have no questions that he can handle shortstop. The only issue is that his arm strength is just average at best.
In the four seasons Pastornicky has played since being drafted, he committed only 75 errors in 1,628 balls hit towards his direction – a .954 fielding percentage. Pastornicky's career minor league fielding percentage won't stand next to Alex Gonzalez's .979 with the 2011 Braves, but a .950+ fielding percentage is also nothing to sneeze at. In fact, the 2011 season was Pastornicky's worst fielding year (.942), but we believe he will hold his own playing short, at least adequate enough until potential Gold Glove prospect Andrelton Simmons is ready. There's a very good chance that Pastornicky will be a better fit playing second base because of his average arm. He won't be flashy like Gonzalez but his glove should be ready for shortstop this year.
Our Instinct
All eyes in the Braves' camp will focus on Tyler Pastornicky this March. Braves management will take a real look at Pastornicky during Spring Training. He has good contact skills and a solid approach at the plate. No tool stands out but he's a jack-of-all-trade shortstop player who consistently hits line drives, hustles hard on the field, takes a walk, and is an adequate defender. We do not think he's the Braves' long term solution at shortstop but he will be sufficient. Second base may be more realistic.
Pastornicky also has very acute baseball instincts to pinpoint his weaknesses. He utilized every offseason to improve areas in his game that need help. Last offseason, he worked on consistency and making contact. This offseason, after his ankle sprain was healed, he bulked up 10-11 lbs, adding strength and more speed to his game. It's a good sign of his work ethic but how will that translate next year? The strength may help him drive the ball with more authority but we're still not sure he's going to be a huge offensive force for the Braves. Neither is he flashy with the leather but we consider him a "safe" shortstop prospect with an attainable floor.
Stick with Baseball Instinct and we'll keep you a step ahead of the game. Check back soon for more Prospect coverage. While you're here, check out our Baseball Instinct 360° – it's our top 360 prospects for 2012. Also check out a friend of ours for all of your fantasy sports needs. Fantasy Rundown is updated religiously and is truly an awesome resource. Thanks for checking Baseball Instinct. We're working hard to bring you the best of the minor leagues and make the site the best experience it can be, so don't hesitate to tell us what you would like to read about. Email us now at mailbag@baseballinstinct.com.