Dante Bichette, 3B New York Yankees

9/26/1992
Height: 6'1″ Weight: 220
The New York Yankees top pick in 2011, as you probably already know, is the son of former long time big leaguer Dante Bichette. As with most MLB blood lines players,  Bichette, Jr. has a pretty advanced batting approach for his age.  He also has plus plus bat speed and plus power.  Dante hits to all fields and should continue to hit for average.  He has the makeup to remain at third base; however there are still a lot of scouts out there that believe he will end up in left or right field.
We've discussed Bichette a few times this off-season, starting with our Touch'em All – Gulf Coast League article.  Here's what Tom Belmont had to say at that point:
Dante Bichette, Jr., 3B New York Yankees 9/26/1992- Height: 6'1″ Weight: 215 – Yes, Junior. The Yankees #1 pick in 2011. Signed away from a Georgia scholarship and has had a nice debut. While he's a 3B now, he'll probably move to LF in time and his power profile will be enough to warrant everyday consideration at the major league level. He has the pedigree. He's hit .342 this season with a .163 IsoP, a number powered by 17 doubles, 3 triples and 3 HR. His power is going to be from above average to possibly elite in time. The question will be, is he going to make enough contact to use that power? Well, he's walked 12.5% of the time and only struck out 17.1%. Both elite level numbers. So he's good so far. Charleston next year.
I went on to discuss him as the top 3B high school performer out of the 2011 draft:
Dante Bichette, Jr, 3B New York Yankees – (18) – Round: 1C Pick: 51
Bichette was the Yankees top draft pick despite not having a 1st round pick.  He played all but 2 games in the GCL where he hit .335/.440/.571.  He also had HR-4/3B-3/2B-17/RBI-48/R-34/SB-3, and a 43/31 K/BB ratio.  Led the Yankees to the GCL title with a game 3 HR as he was named the GCL Most Valuable Player.  There was a concern that Bichette was "over drafted" by the Yankees, and still some debate if the former SS will stay in the infield or move to the outfield.  Honestly, if he keeps on hitting, who really cares?  He's a baseball rat and I love his game.
He recently came in #5 on our New York Yankees top 10 list and #78 on our Baseball Instinct 360°.
The Bat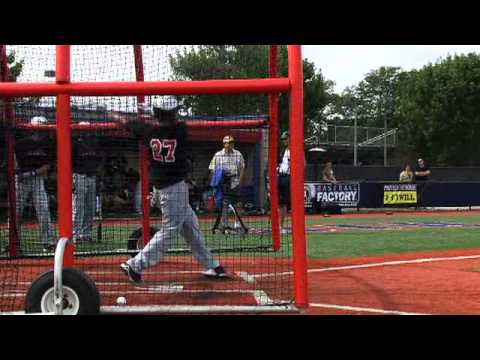 Going into the 2011 draft, many scouts complained that Bichette had pretty weak hitting mechanics.  However, with some adjustments early in his pro career, many have changed their tune.  So much so that the consensus out there seems to be that he has exceptional polish.  I would agree with that assessment though I disagree that his mechanics were all that flawed to begin with.  The Yankees recognized this from the beginning and have a strict 90-100 day "no touch" policy.  They won't mess with a hitters mechanics at all in that time frame.  What they did change was his approach at recognizing pitches.  Bichette has quick hands, excellent bat speed and generates plus power from not only good torque in his hips, but also excellent upper body strength.  Do not be surprised if this is elevated to plus plus power in the future.  He's a very intelligent hitter who goes into every at bat with a plan based on who's pitching and he sticks to it.
The Glove
Bichette led all Gulf Cost League 3B with a .945 fielding percentage.  Bichette played SS in high school and it's possible that he could have made it there.  He fields his position very well and makes strong, accurate throws.  If he is moved off of 3B and into a corner outfield spot, I have no doubt that he can handle the transition and be an above average corner outfielder.  Still, I think it's premature to dismiss him as a 3B; he's doing quite well there so far.
Our Instinct
Where does he play?  3B or OF?  I don't think it really matters but I do believe he can be successful at 3B.  He clearly made an outstanding debut with a 12.7% walk rate, 16.9% K rate, and elite power.  He hit .335/.440/.571 and his personal goal for 2012?  To be more consistent.  He just turned 19 years old this last fall and is dedicated to learning how to read pitches with perfection.  While it's too early to project much with any degree of certainty, he's already making a case to reach the majors in 2015 and be the every day 3B for the Bronx Bombers in 2016.  Alex Rodriguez will be 40 by then and if he's not the DH prior to that, he sure will be at the point until he retires.  One would think the next step for Bichette would in fact be with the Staten Island Yankees of the New York-Penn League.  However, he could very well slide into a spot with the Low-A Charleston RiverDogs in the Sally.  Do not be shocked if he makes it to the Florida State League with the Tampa Yankees before the season is over.  Good things look to be in Dante Bichette's future.
Stick with Baseball Instinct and we'll keep you a step ahead of the game. Check back soon for more Prospect coverage. While you're here, check out our Baseball Instinct 360° – it's our top 360 prospects for 2012. Also check out a friend of ours for all of your fantasy sports needs. Fantasy Rundown is updated religiously and is truly an awesome resource. Thanks for checking Baseball Instinct. We're working hard to bring you the best of the minor leagues and make the site the best experience it can be, so don't hesitate to tell us what you would like to read about. Email us now at mailbag@baseballinstinct.com.