Jose Fernandez, RHP Miami Marlins

7/31/1992

Height: 6'3″ Weight: 215
The top pick for the Miami Marlins in the 2011 draft, Jose Fernandez went #14 over all and signed for about $2 million. He's a big and physical kid that comes right after hitters with a raw 93-94 mph fastball that at times he can dial-up to 97 mph.   In addition to a two-seam and a four-seam fastball that offer varying movement, he also tosses a nice hard curveball and a wickedly biting slider that both can work as out pitches.  We will dig into that more in a bit.
Despite being picked at #14, he came in #11 on our 2011 pre-draft coverage.  This off-season, we ranked him #2 in our Miami Marlins top 10 prospect list, stating that:
2. Jose Fernandez, RHP 7/31/1992 H: 6'3″ W: 215 – Fernandez, who was the Marlins 2011 1st round draft pick, went all the way to the deadline to sign with the Fish.  Born in Cuba, Fernandez went to high school in Tampa, Florida where he pitched very well and was on the national showcase circuit.  He got into 2 games, 1 in the GCL, the other in the NYP and showed flashes of brilliance, but also lacked control.  Really, not enough here to go on after just 4.1 innings.  He's armed with a 92-94 mph fastball, that could develop further. He's got 3 off speed pitches that are already average, with room to grow into something special.  Solid pick by the Marlins here.
Our Instinct:  Despite the talk of not having the body to be a starter, he's definitely got the make up and the arsenal of pitches for it.  I believe his floor is that of a lock-down 8th inning type, with stud closer stuff.  I'm willing to bet though that his ceiling is at least a solid #2 in the majors.  Very anxious to see him work a full season and since he's a year old for a typical high schooler, look for the Marlins to be aggressive with him.
We put an ETA of 2015 on Fernandez in our Baseball Instinct 360°, tabbing him as #79 overall.
The Stuff
Jose Fernandez has a pretty deep arsenal of pitches in his repertoire for a kid right out of high school.  He's got 2 great pitches, 2 good pitches, and one that could be good in time.
Four-Seam Fastball – Fernandez' fastball is usually in the 93-94 mph range as I opened with. He has no trouble dialing it up to 97 mph. He is most comfortable with this pitch, displaying good command of it.
Two-Seam Fastball –   He gets great movement and a late run from the two-seamer.  His natural arm action allows for better movement on this pitch than with the four-seamer.  As he moves up the ladder and displays better command with this pitch, he's going to send a lot of batters back to the dugout shaking their heads.
Slider – He throws his slider in the low to mid 80's. It doesn't have the command of the fastballs, and the break on it is very inconsistent.  Right now, this pitch is basically for show and to keep batters from sitting fastball all of the time.  He does have a feel for it though and doesn't look uncomfortable throwing it.  With that you can expect it to be at least average, possibly above.  Whatever it turns out to be, it's going to be a bonus as his curve is his lean-to breaking pitch.
Curveball – Fernandez throws a 79-83 mph 11/5 breaking curve.  This piece of filth is very solid and has a late, but not too late bite. Where this pitch stands out is it come's from the exact same arm slot as his fastball, making it really irritating to hitters trying to pick it up.   This is a fringe plus pitch right now, and has a real potential to be a plus plus pitch.  Coming from that same arm slot with the dialed down velocity makes this a tremendous out pitch.
Change-up – This is a pitch in development.  He didn't need it in high school, so it's not a pitch that he's worked on.  He may be a candidate for a forced pitch count this season, meaning they will make him throw it a minimum number of times per game.  If this pitch becomes a factor, the sky is the limit.
The Mechanics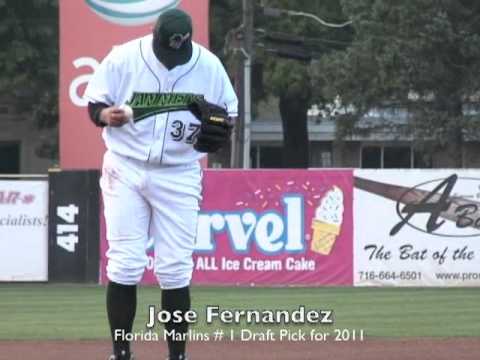 Fernandez tends to over throw his pitches.  When he gets his body out over his planted leg, he truly looks the part of a future front of the rotation pitcher.   If he just pitches instead of throwing, and has his weight transfer is in proper balance, his command and control are excellent. Fernandez usually pitches at a bit of a side tilt and has a mid to high arm cock,  but has little trouble with his timing, repeating the release point pretty successfully to go with very clean arm action. He's got some extra motion as he goes into his stride and some serious recoil at the point of release, but I don't see much there to suggest a red flag for future injuries.  He's got very projectable mechanics which leads us to believe that he's got a pretty decent ceiling, but without the floor that a lot of high-end pitchers have.
Our Instinct
I think there's little doubt that Jose Fernandez can make it as a starting pitcher in the majors.  My real concern is a tendency to over throw which does not bode well for his breaking pitches and will find him throwing fastballs behind in the count to, you guessed it, batters sitting on fastballs, leading to bouts of ineffectiveness at the higher levels. Having said that, I think this is a worst case situation. If his pitches and command continue to develop, and his control stays on course he could be a #1 or #2 for the Marlins.  If they don't fully develop, he's still got a legit shot as a middle of the rotation guy.  Things will have to go pretty badly for him to be exiled to the bullpen. He should start the 2012 season back in the New York Penn League with the Jamestown Jammers, but I don't think it will be too long before he finds his way to the Sally League with the Greensboro Grasshoppers. I like his potential and he should have little trouble being a top 50 prospect entering the 2013 season.
Stick with Baseball Instinct and we'll keep you a step ahead of the game. Check back soon for more Prospect coverage. While you're here, check out our Baseball Instinct 360° – it's our top 360 prospects for 2012. Also check out a friend of ours for all of your fantasy sports needs. Fantasy Rundown is updated religiously and is truly an awesome resource. Thanks for checking Baseball Instinct. We're working hard to bring you the best of the minor leagues and make the site the best experience it can be, so don't hesitate to tell us what you would like to read about. Email us now at mailbag@baseballinstinct.com.