Eddie Rosario, 2B Minnesota Twins
09/28/1991
Height: 6′ 0″ Weight: 170
The Minnesota Twins selected Eddie Rosario with the 135th pick overall in the 4th round of the 2010 Draft, taking what many people considered the best hitting prospect from Puerto Rico.  The assumption was a correct one after an impressive debut performance in the Gulf Coast League in 2010.  He picked up right where he left off in 2011 when he joined the Elizabethton Twins of the Appalachian League.  Back in October, Rosario was the focal point of our Touch'em all – Appalachian League article.
Here's what we wrote about Rosario:
Eddie Rosario, OF Minnesota Twins – 09/28/1991 (19) – Height: 6'0″ Weight: 170 –  The "CO"-MVP of the Appalachian league, Rosario hit .337/.397/.670 for the Elizabethton Twins.  His HR-21/3B-9/2B-9/RBI-60/R-71/SB-17 in just 270 AB, complimented by this .233 IsoP are numbers you would find in a comic book.   He committed just 2 errors in 130 chances on the field as well. The 2010 4th round draft pick from Puerto Rico, in addition to being player of the year, was also named to the Appalachian league All-Star team and was player of the week 3 times on the 2011 campaign.  He should start the 2012 season with the High-A FSL Fort Myers Miracles.  My suspicion is that he will finish the season with the AA New Britain Rock Cats.  I'm not ruling out a September 2012 call up either.  He's a stud.
Our love affair didn't stop there.  We proclaimed him our #2 prospect for 2012 for the Minnesota Twins with these remarks on Christmas Eve:
2. Eddie M. Rosario, 2B/OF 09/28/1991 Height: 6′ 0″ Weight: 170 – The potential of a Sano/Rosario right side of the infield is exciting.  Drafted in the 4th round of the 2010 draft out of Puerto Rico, Rosario had an impressive debut in 2010 as an 18-year-old in the Gulf Coast League.  He hit .294 with 5 HRs and 22 SB in 194 at bats in 2010.  He followed up that impressive season by displaying an awesome power/speed combination in the Appalachian League by posting a triple slash of .337/.397/.670.  What's truly impressive is that his ISoP was almost as high as his batting average at .333.  Both Rosario and Sano are likely to start out in the Midwest League, but could progress rapidly to the Florida State League.  We like either scenario as Dave Reiffer can get video for us of them in the MWL and Tom Belmont can catch them in the FSL.
Our Instinct:  I've got to admit that Rosario is one of my most favorite prospects in baseball.  While I want to be careful not to over-hype Rosario based on his skills, I think he's a stud.  The potential of a power/speed guy manning 2b is truly awesome.  I'm waiting to see how he fares against pitchers in the FSL, who have been known to show off some nasty breaking stuff.  If he handles that well, there will be no living with me and my "I told you so" statements.  Watch this player closely.
As 2012 rolled in we released our Baseball Instinct 360°, and as we counted it down we didn't stop with the love for Rosario as he came in at 23° on the list.  We gave an ETA of 2014, noting a chance that he could be called up in late 2012.  Let's take a look at why he's receiving so much love.
The Bat
Eddie Rosario is looking the part of a polished hitter. He makes great contact and has very quick hands.  While he doesn't project to have plus power, he certainly is demonstrating to the contrary.  While we would be happy with 15-20 HRs per season as a potential 2B, we would be elated with 25+ potential.  Combine that with plus speed and he just might be a 20/20 guy perennially that threatens to be a 30/30 guy in his prime.  However, lets not get ahead of ourselves here.  He's still pretty young and will have to prove at the next level in 2012 for all this hype to work out.  I love how fast he gets his hands through the zone, dropping the barrel down to meet the ball and looking very confident.  What I am not in love with his determination to swing at pitches out of the strike zone.  He will need to lay off of those and work the count into his favor, especially at Hi-A and above.  Pitchers will eat him alive with off speed pitches; nickel and dimeing him to death on the corners.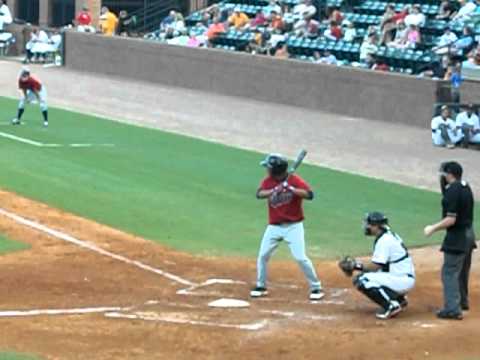 The Glove
Rosario has the glove and speed to make the transition to 2B work.  While he doesn't posses the strongest arm, it's more than adequate for 2B.  The Twins have several options at 2B but no true prospect talent like Rosario.  As with the bat, they are hoping that he turns out to be the next Robinson Cano.  Aren't we all?  2012 will be a crucial year for developing at 2B as much as it will be for continued development at the plate for Rosario.
Our Instinct
You don't have to read much farther than the first couple of lines to get where we stand on Rosario.  I think he's going to be thrown into the fire right away in the pitching friendly High-A Florida State League with the Fort Myers Miracles.  We look forward to this opportunity to get a closer look at him and provide you with in-depth video of Rosario.  As I stated before, don't be surprised if he makes the jump to AA before the end of the season and I wouldn't rule out a cup of coffee in the big leagues if all goes well.  He's going to be a fun player to keep an eye on in 2012.
Stick with Baseball Instinct and we'll keep you a step ahead of the game. Check back soon for more Prospect coverage. While you're here, check out our Baseball Instinct 360° – it's our top 360 prospects for 2012. Also check out a friend of ours for all of your fantasy sports needs. Fantasy Rundown is updated religiously and is truly an awesome resource. Thanks for checking Baseball Instinct. We're working hard to bring you the best of the minor leagues and make the site the best experience it can be, so don't hesitate to tell us what you would like to read about. Email us now at mailbag@baseballinstinct.com.