Jedidiah "Jed" Bradley, LHP Milwaukee Brewers
Born: 06/12/1990
Height: 6′ 4″ Weight: 225
After a successful career with the Georgia Tech Yellow Jackets, left-handed pitcher Jed Bradley was taken with the 15th pick in the 2011 draft by the Milwaukee Brewers.  The Huntsville, Alabama native signed for $2 million at the signing deadline, making him the top lefty in the Brewers organization.  Ironically, the Brewers Double-A affiliate named the "Stars" are located in Hunstville.  It's safe to say that they should draw pretty well, possible as early as 2012, when Bradley pitches there.
Jed Bradley checked in #4 this past fall on our Milwaukee Brewers top 10 prospect list .  As 2012 rolled in, he found himself at #206 on our Baseball Instinct 360° list, where we had this to say about him:
206°. Jed Bradley, LHP, Brewers, 6/12/1990 – A lefty out of Georgia Tech, he was the second of Milwaukee's 2011 first round draft picks. We got a glimpse of him in The Arizona Fall League, but he wasn't that impressive (1-0, 6.48 ERA , 8 SO, 8.1 IP) probably due to a mild groin injury in the Instructional League. He'll make his real debut in 2012 with Single-A. The Brewers had no southpaws that thrilled in their farm system so Bradley moves to the top in that category. Jed has good control and throws in the low 90′s. He could move quickly. ETA 2014.
Let's get right into what Bradley will have to offer in his first year in professional baseball.
The Stuff
Bradley is very athletic and has a durable body.  He has easy gas that allows him to throw in the low 90's pretty effortlessly.
2-Seam Fastball – Bradley throws on a downward plane which allows for deception and induces plenty of ground balls.  He's got some nice deception with this pitch, with adjustable movement and a pretty good sink to it.  This is a plus pitch and with room for growth in his frame, he might be able to get an uptick on the velocity.  With the movement, if he can settle into the mid-90's this would be a plus plus pitch.
Slider –  Due to a heavy reliance on his fastball, Bradley's slider is pretty inconsistent.  However, there are signs of this being a plus pitch, especially against right-handed hitters, where it has some late hard gliding bite to it. This could be a great out pitch if fully developed, allowing him to get hitters to chase it out of the zone or fall asleep at the dish when it crosses the plate.
Change up – This is also a good pitch, but Bradley isn't comfortable at all throwing it.  It follows the same exact plane as his fast ball, with a very nice late fade to it.  This is a very nice compliment to his fastball, but we need to see more of it before we call it a plus pitch.
Curveball – Bradley rarely uses this pitch, but when he does it catches batters off guard and he usually delivers it for a strike.  It will be interesting to see if the Brewers bring this pitch out, or if they just stick with 3 pitches for the time being.
The Mechanics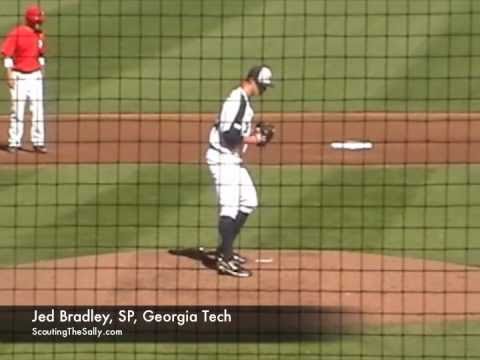 Bradley pitches from a fairly high 3/4 arm slot with easy arm action on that deceptive downward plane.   He has remarkably smooth and clean arm mechanics which should lend to a long healthy career.  With his size and clean arm action, developing those secondary pitches shouldn't be a lot of trouble.  As a lefty, we love to see this.  His command, control, and deception of pitches could be quite good by the time he gets the call to Miller Park.
Our Instinct
Bradley is going to be an interesting player to watch.  He's not as polished as you would expect for a college pitcher taken within the 1st 15 picks, especially given the depth of the class he was in.  He wants to live on his fastball and that would be fine if his career path is going to be a late innings relief pitcher.  The Brewers have other things in mind and the funny part of this is he has the pitches to be a successful #1 or #2 pitcher on a team like the Brewers contending for a division title.  It's really going to come down to Bradley wrapping his head around the concept of throwing an off speed pitch when he's thinking of throwing fastball.  He's going to find out quickly that aspiring major league bat's are going to be sitting on fastball and will be able to knock the crap out if it despite his deception.  Do not be surprised to see the Brewers force him onto a minimum pitch count for the change-up and probably the slider until he gets locked in on throwing them in any situation.  It's possible that he will debut in full season Low-A ball with the Wisconsin Timber Rattlers of the Midwest League, but likely will spend a great deal of time with the Brevard County Manatees of the Florida State League.  In either event, we will be in prime position to get in-depth video for our readers.
Stick with Baseball Instinct and we'll keep you a step ahead of the game. Check back soon for more Prospect coverage. While you're here, check out our Baseball Instinct 360° – it's our top 360 prospects for 2012. Also check out a friend of ours for all of your fantasy sports needs. Fantasy Rundown is updated religiously and is truly an awesome resource. Thanks for checking Baseball Instinct. We're working hard to bring you the best of the minor leagues and make the site the best experience it can be, so don't hesitate to tell us what you would like to read about. Email us now at mailbag@baseballinstinct.com.