Christian Villanueva, 3B Texas Rangers
6/19/1991
Height: 5'11" Weight: 180
Christian Villanueva was signed out of Guadalajara, Mexico as a SS in 2008 by the Texas Rangers. He spent his first games at SS before moving over to 3B due to a knee injury and has stuck at the position ever since. His 2009 season was a negligible showing and not worth speaking about while his 2010 season showed the first signs of his potential.
In 2010, Villanueva, showed little power, but hit .314 with 14 doubles in 188 AB. His .365 OBP was a nice sign but his 6.1% walk rate left something to be desired. The 6.1% walk rate wasn't a primary reason for the high OBP whereas a .403 BABIP tells much of the tale to his 2010 success. But with a such a young player making hard consistent contact, it was something to note. And we did take note.
Villanueva came in at 321° on our Baseball Instinct 360° and here's what we had to say:
321°. Christian Villanueva, 3B  Rangers 6/19/1991  – Already a regarded prospect in the Rangers system, Villanueva flashes above avg power and a good glove at 3B. His .186 IsoP is powered by 30 doubles and 17 HR in 2011 while cutting his K rate and boosting his walk rate. Defensively he's an above average defender and getting better with a clear 3B arm. ETA 2014.
There is still a 2011 season to take into consideration so let's take a look at The Bat and The Glove and see what makes Christian Villanueva one of the Rangers top prospects.
The Bat
In 2011 the power started to show for Villanueva. Power that has been questioned within his prospect profile. But he went .278 with 30 doubles, 17 HR and 84 RBI. Toss in 32 SB and you have a breakout season. His IsoP jumped from .117 in 2010 to .186 in 2011.
His K rate dropped from 20.1% to just 16.3% and his walk rate moved up above 7%. His 2011 season had him finish with just 86 strikeouts in 467 AB. He certainly can improve on his 37 walks which in kind will help the .338 OBP.
But his drop in AVG on the surface might seem like an issue to focus on, his ultra high .403 BABIP from 2010 dropped to a very low .309 in 2011. In 2012 there should be a reversion to the mean and his BABIP should move back into the .330 to .340 range at least which will drive his .278 batting average back towards .300 and his OBP back to a more acceptable level.
The 32 stolen bases were a surprise and Villanueva is not a burner by any means. As he fills out the speed will wane to just average at best. But he's a good base-runner and it will not be a detriment to his prospect profile.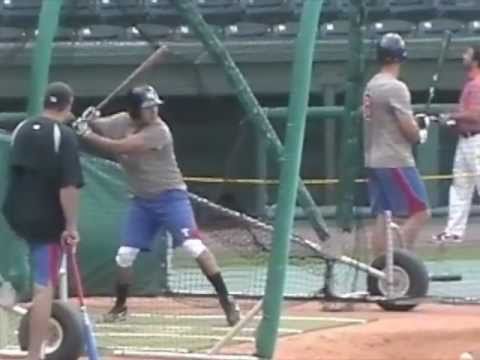 The Glove
Drafted as a young SS, Villanueva has the glove and footwork to handle the hot corner. He's still learning the nuances of the position, but he has yet to show any sign that defense will be a weakness. As a matter of fact, the only thing that may keep him from making it to Texas at 3B is the presence of Adrian Beltre.
While Mike Olt is "ahead" of Villanueva on the depth chart, it may be Villanueva's past experience as a SS that keeps him from being a 3B. Villanueva is the best bet out of he and Olt to handle a position change to a premium spot. A transition to 2B may be in the near future if Olt's bat dictates it.
Villanueva's arm is really the only question at this point. But he has a strong enough SS arm and is getting better and better at making the routine throws. It won't be an issue if he moves to 2B, but chances are it wouldn't be an issue at 3B anyway.
Our Instinct
Villanueva is still just 20 years old and hasn't played above Low-A yet. So there could be some concern that his struggles with regression in batting average from 2010 to 2011 aren't just an anomaly. But as we pointed out, the BABIP drop should be an outlier and points to some bad luck.
There's no reason to rush Villanueva with Beltre and Olt ahead of him and in fact, that depth should allow the Rangers to test him at 2B to see if he can make a smooth transition.
I think we missed Villanueva in our Top 10 and he's going move up the 360 ranking before our final Preseason Ranking is final. I can actually see him move up into the middle of the pack. He's a player to watch in 2012, especially if he makes the transition to 2B.
Stick with Baseball Instinct and we'll keep you a step ahead of the game. Check back soon for more Prospect coverage. While you're here, check out our Baseball Instinct 360° – it's our top 360 prospects for 2012. Also check out a friend of ours for all of your fantasy sports needs. Fantasy Rundown is updated religiously and is truly an awesome resource. Thanks for checking Baseball Instinct. We're working hard to bring you the best of the minor leagues and make the site the best experience it can be, so don't hesitate to tell us what you would like to read about. Email us now at mailbag@baseballinstinct.com.