Tim Beckham, SS Tampa Bay Rays
01/27/1990
Height: 6′ 0″ Weight: 190
Selected by the Tampa Bay Rays in the first round with the number 1 overall pick in 2008 First-Year Player Draft out of Griffin High School in Georgia, Tim Beckham signed for $6.15 million, the largest bonus ever awarded to a player drafted by the Rays.  Unfortunately, when you are the #1 pick overall there's a lot of public demand for you to be an instant star and Beckham was not ready to become that.  It's been a steady climb since 2008 for Beckham to try to regain a lofty status in the prospect community, where some still stop just short of labeling him a bust.  A truly unfair title.
Beckham started his career in 2008 at Rookie-level Princeton and  then Class A Short-Season Hudson Valley.  He posted slash line of .246/.309/.350.  He played for Class A Bowling Green in 2009 in his first full season of professional ball, where he committed a Sally league leading 43 errors, and hit .275/.328/.389.  While his 2010 offensive numbers were not an improvement, he did see his errors drop to 25 with High-A Charlotte.
2011 would bring marked improvement for Beckham across the board.  His triple slash of .271/.328/.408 was complimented by his new-found power (12 HR) and continued speed (17 SB) between Double-A Montgomery and Triple-A Durham.  His play at Double-A would net him a selection to the 2011 futures game.
We took note of Beckham in our 2012 Baseball Instinct 360°, ranking him 280° on our list.  Here's what we had to say:
280°. Tim Beckham, SS, Rays, 1/27/1990  – Former #1 overall pick of the 2008 draft, is finally making strides as a professional player. Keep in mind that Beckham is just 21 years old and has now reached Triple-A. The lofty expectation set by the draft slot have pushed him almost into obscurity as a failed prospect, but while he may never fill the Superstar expectations, he did hit .271 with 28 doubles, 4 triples and 12 HR while stealing 17 bases over 2 levels. He's producing like serviceable major league prospect and if the Rays don't give him a chance soon they may want to give him the chance to bloom somewhere else. But I don't think they want to see another Josh Hamilton scenario so Beckham may get a chance this season. ETA 2012.
During the 2011 Arizona Fall League he showed improved range and confidence in the field as well as some ability to square up pitches and drive the ball to all fields and hustling on the base paths.  Let's take a look at Beckham's overall game.
The Bat
Beckham has a pretty unconventional stance at the plate, which reminds me of Brewers 2B Rickie Weeks. He is extremely busy at the plate.  He dances around a little too much for his own good.  Having said that, he makes up for some of that by having  exceptionally quick hands, which allows him to get the bat through the zone very rapidly, perhaps as rapidly as any player in the minor leagues. He does a fine job of transferring his weight through his swing and get his lead foot striding towards the pitcher's mound.  Another area that he's made strides is with his arm extension through the zone.  He doesn't seem to just throw his hands out at the ball, getting them out of balance and ahead of his weight transfer.  This has brought better power results and leads me to believe that there's some more power yet to project from Beckham. One thing to note though, despite the quick hands he has a hard time with inside pitches with the funky stance, especially fastballs.  He's still trying to figure out how to hit breaking pitches as well.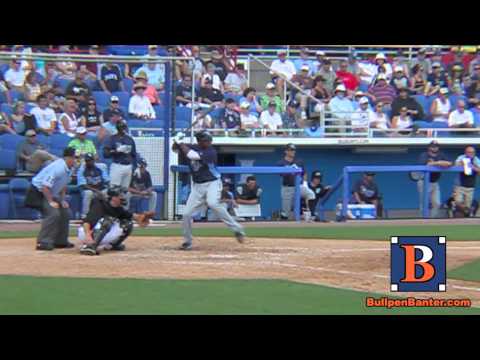 The Glove
He has a great arm in the field and while I think he can man shortstop in the majors for a time, I'm also pretty convinced that Hak-Ju Lee will push him out of the way.  Furthermore he doesn't have the range nor the athleticism that he showed before he was drafted in 2008. He's not going to Third as that belongs to Evan Longoria, so he's likely headed to a corner outfield spot.  Second can't be entirely ruled out either.
Our Instinct
All is not lost for Beckham to be a productive major league regular, but some things have to go right for him.  His speed is not nearly as amazing as scouts once thought, but he does read pitches well on base.  On base, is another issue.  He needs to cut down the strikeouts and be more patient at the plate.  The power improvement is a great sign, but he may never hit over 20 HRs in a season.  Forget the pre-draft hype of 25 HRs and 40 SB.  He's got a chance to make the team right out of spring training, but I fear that would be in a utility role.  What he needs is a half a season at AAA, hopefully at a corner outfield spot where he can get a feel for a new position and some more time reading breaking pitches. As I mentioned before, 2B can't be ruled out either, pushing Ben Zobrist back to the outfield if he performs well.  There's several possible paths for Beckham.  Can he be a productive major leaguer?  You bet, it's just not a given and I'm not ruling out a few years of struggle and becoming a later bloomer like Reds 2B Brandon Phillips was.
Stick with Baseball Instinct and we'll keep you a step ahead of the game. Check back soon for more Prospect coverage. While you're here, check out our Baseball Instinct 360° – it's our top 360 prospects for 2012. Also check out a friend of ours for all of your fantasy sports needs. Fantasy Rundown is updated religiously and is truly an awesome resource. Also, check out our friends over at Seedlings to Stars for a unique perspective on prospects.  Thanks for checking Baseball Instinct. We're working hard to bring you the best of the minor leagues and make the site the best experience it can be, so don't hesitate to tell us what you would like to read about. Email us now at mailbag@baseballinstinct.com.