Taylor Jungmann, RHP Milwaukee Brewers
12/18/1989
Height: 6′ 6″ Weight: 210
The Milwaukee Brewers selected right-handed starting pitcher Taylor Jungmann in the 2011 MLB  Draft  with the 12th pick overall.   The 21-year-old started three seasons for the University of Texas Longhorns. In his final season Jungmann went 13-1 with a 1.40 ERA with a 8.5/2 K/BB rate per 9, while lasting over 8 innings a start on average.  Tom Belmont first touched on him in our 2011 MLB Draft review, saying:
(pick)#12 Brewers
#16 Taylor Jungmann RHP Texas – Next to Trevor Bauer, Jungmann had the best 2011 college season and his performance has moved up the list. His fastball sits low 90s but his command is above average which makes it play up. He compliments the fastball with a good slider but lacks an average 3rd pitch which makes his command so important.
Jungmann came in #2 on our 2012 Top 10 Milwaukee Brewers list back in December.  He then came in at 149° on our Baseball Instinct 360° list for 2012 that we put out early in January.  Here's what we had to say in the 360:
149°. Taylor Jungmann, RHP, Brewers, 12/18/1989 – Taylor Jungmann was the 12th overall pick by Milwaukee in the first year players draft.  The Texas Longhorn made a $2.525 Million bonus for signing with The Brewers before the signing deadline.  He won Big 12 Pitcher of the Year college baseball's version of The Heisman, the Dick Howser Trophy.  The 21-year-old was on the top of many teams list of pitchers in the draft with a 13-3 record, 1.60 ERA and 126 K's in 141 innings pitched.  Taylor will not make his professional debut until 2012.  While there's talk around about Jungmann starting the season in Double-A it's more likely that he'll begin in Single-A.  He is talented and will probably dominate but with the depth at Miller Park they won't need to rush him. ETA 2014.
Lets take a look at what makes Jungmann a middle-tier prospect right now.
The Stuff
Four-Seam Fastball –  Jungmann has good command of this pitch and likes to throw it virtually in any count.  This is a mid 90's offering that has some movement and could gain a little more velocity.  He throws this pitch when he's got to throw a strike.
Two-Seam Fastball –  This low to mid 90's pitch has some nice tailing movement.  Righties struggle with this pitch, and when he works the inner part of the plate with it he' pretty tough to catch up with.
Curve – Jungmann's curve is a tough pitch for hitters to square up on. He runs this pitch in from 78-82 mph.  When he's on, the low side of the velocity produce a true 2-plane curve, however most of the time it generally runs in as a power slurve if you will.
Change-up – This a pitch still being developed.  When he throws it effectively, it has a nice late fade and which falls off the table as if it was a breaking pitch.
The Mechanics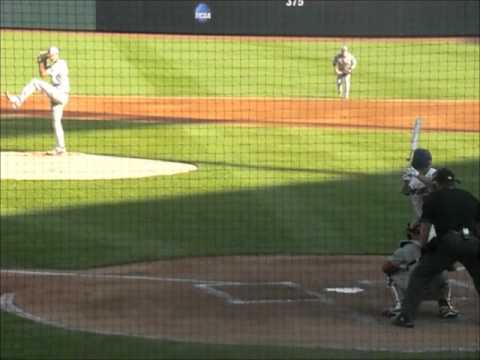 Jungmann threw across his body from a low 3-quarter arm slot most of his career in college, but has since cleaned it up quite a bit.  Which is good, because throwing across your body, while very deceptive, leads to control problems and a variety of injuries.  Needless to say, I'm not a fan of this approach.  Yes, you heard it here first.  Injuries in pitchers are bad.  Anyway, he changed the delivery stride from the right side of plate into the right batter box to pretty close to dead on improved his consistency and raised his draft stock.  The landing is fairly soft and the arm recoil after the follow through is significantly reduced.  You can see from his stride where some more extension on this medium effort could result in a few more ticks in velo, but if the Brewers decide to mess with his delivery, they should take it slow and with caution as it's pretty effective and works very well with his easy arm action.
Our Instinct
I think Jungmann's success will be tied to his K rate.  The change in his delivery has made him more consistent, but he's doesn't look like he will strike a ton of batters at the Major League level.  Infact, his K rate dipped in his final season with Texas.  He does a nice job limiting walks and keep batters of the bases and is confident enough in his stuff that he recognizes that doesn't have to strikeout every batter.  He has 3 plus pitches and if develops his change-up or another off speed pitch into a plus pitch, he's going to be a pretty effective major league starter.  With that said, he's got the upside to be solid #2 pitchers for the Brewers or any contending team.  His floor has to be considered fairly high as well, I don't see him dropping below a #4 and I do not think the bullpen is in his immediate future.  We should get a prime look at him in the 2012 season, as he should start off the season with the Wisconsin Timber Rattlers in the Midwest League and should move quickly to the Brevard County Manatees of the Florida State League, where Tom Belmont will get some in-depth video of him.    He could reach Double -A by season's end and just maybe, get a look late in the season.  I still feel it will probably be 2014 before he's at Miller Park to stay.  He and Jed Bradley should make a fun 1-2 in the minors for the Brewers.
Stick with Baseball Instinct and we'll keep you a step ahead of the game. Check back soon for more Prospect coverage. While you're here, check out our Baseball Instinct 360° – it's our top 360 prospects for 2012. Also check out a friend of ours for all of your fantasy sports needs. Fantasy Rundown is updated religiously and is truly an awesome resource. Also, check out our friends over at Seedlings to Stars for a unique perspective on prospects.  Thanks for checking Baseball Instinct. We're working hard to bring you the best of the minor leagues and make the site the best experience it can be, so don't hesitate to tell us what you would like to read about. Email us now at mailbag@baseballinstinct.com.