Chris Carter, 1B Oakland Athletics
12/18/1986
Height: 6'4" Weight: 245
As a fan of the Seattle Mariners there is a particular home run call that I enjoy hearing upon the rare occasion that a Mariner hit leaves the yard. It goes like this "going….going….GONE! Goodbye Baseball!". I think that home run call might be applicable to the career of Oakland Athletic post-hype prospect Chris Carter. After having made major league appearances in both 2010 and 2011, Carter has already been given two chances to impress the A's and general manger Billy Beane. The phrase "going….going…." is ringing in my ears already. And unfortunately for Carter, the rest of that phrase "gone! Goodbye baseball!" may follow very quickly.
Chris Carter has been in the prospect landscape for several years now. Carter was originally drafted in the 15th round of the 2005 MLB amateur draft by the Chicago White Sox as the 455th overall pick. He started his professional career in 2006 at rookie level ball and has slowly climbed his way through the minor leagues being promoted roughly one level per year of professional ball. He was traded from the White Sox in 2007 to the Arizona Diamondbacks, and then quickly traded to the A's where has stayed ever since. In 2009 Chris Carter seemed primed to become an impact power producing hitter after amassing 28 hrs and 115 rbis in 544 at-bats in season where he saw time at both the double-A and triple-A levels. With an attractive slash line of .329/.422/.570, it seemed that he could be knocking at the door of a very productive big league career. In 2010 he got his first taste of the show and looked overwhelmed. He scuffled with 21k's in 70ab's. However, it is not uncommon for players to need adjustment time once being promoted to the "bigs". Unfortunately, 2011 did not see Carter improve his major league stock. Chris Carter had nice triple-A statistics, but could not duplicate that performance at the major league level. With a tiny sample of 44ab's he whiffed 20 times. This kind of result is not likely to make a good impression on Billy Beane.
As we close in on spring training games in 2012, Chris Carter is on the shortest of leashes and absolutely has to show something to make the A's believe there is still some projection left in 25-year-old that has played professionally for six seasons. Let's take a look at Carter and his chances to beat the odds and avoid becoming irrelevant to major league baseball.
The Bat
Chris Carter is a very large figure when he stands in the batters box. Standing at 6'4' and 245 lbs Carter looks like he can club a pitch out of the park at any time; and that would be absolutely true. Chris Carter is a power hitter pure and simple. In his last 4 seasons Carter has been good for 122 home runs and 399 rbi's. He has tremendous bat speed and is strong enough that he doesn't have to make square contact to drive the ball out of the park.
Carter likes to stand in the batters box with an open stance. This seems to help him in a couple of ways. First the open stance allows Carter to have good pitch recognition. One of the most enticing aspects of Carter's offensive game is that he has a good eye at the plate. Throughout his professional career Carter has carried a very respectable 12 –14% walk ratio. This has kept him from being a one-dimensional, power-only offensive player. The other outcome of his open stance is that Carter uses it to compensate for strong pull-hitter tendencies. Because his front foot is actually is pointed towards third base at the start of the swing, the move towards the pitcher then causes him to close of his front shoulder and drive slightly towards right field with his momentum.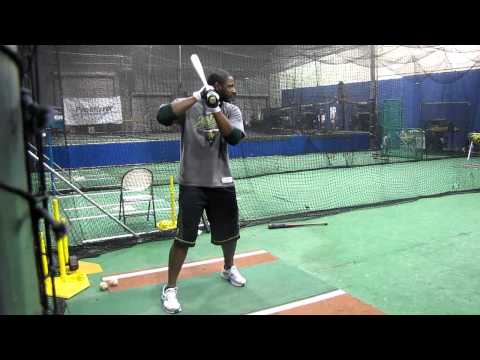 Carter tends to stand very upright in the batters box and doesn't ever get into much of a crouch throughout the swing. This degrades his coverage of the lower part of the strike zone. Additionally Carter can get out front too much with his swing, leaving him vulnerable to off-speed pitches. Throughout his career Carter has struggled with contact rates. He has already amassed 824 k's in 6 years of professional ball. And this has been his achilles heel. By extrapolating his major league numbers over a 162 games season he would average 170k's per year. If Carter is to have any shot at a major league career, he must improve his ability to make contact. With the potential for 25+ hrs per season and a slugging percentage over .400, there is more than enough power for a major league career. But he must get the batting average closer to .250 than the sub .200 average he has to date.
The Glove
From the beginning, it was a given that it would be Carter's bat rather than his glove that would get him to MLB. He has the ability to play 2 defensive positions, but also figures into the discussion as the Athletics designated hitter. He can play a below average left field. He has a good throwing arm, but lacks the natural route running and speed to provide good range in the outfield. At first base he can field the position in an adequate fashion. However, he lacks the quickness and range to be anything more than an average 1b at best. While he is not a terrible defensive player, he doesn't bring a skill set that will help win a regular position in the field.
Our Instinct
Chris Carter fits many of the characteristics of a Billy Beane player. He is a mediocre defensive player that needs to use his bat to garner major league playing time. With his patient approach and good power potential, he fits the mold of player that works well within the philosophy of the Oakland organization. He punishes mistake fastballs, but does struggle with off-speed pitches. His power is not to be underestimated and would provide premium value in a punch-less A's offense. With his great bat speed and strong swing, he can drive the ball out of the yard on any given at-bat. But he has to be able to make contact. His power hitting ways can allow for some forgiveness of poor contact rates, but his prior major league performance simply will not get it done. He has to prove that he can handle big league pitching. It remains to be seen if Carter can fix enough of the holes in his swing to bring the k-rate to below 25%. His k-rate and batting average are the key markers to watch. If he can improve in those two areas, then he has a legitimate shot to contribute at the big league level.
He will come into spring training with a shot to win a job. But Billy Beane has signed a lot of other players that are a threat to playing time to Chris Carter; including Seth Smith, Brandon Allen, Yoenis Cespedes and Manny Ramirez. He has to treat spring training with the utmost of urgency. Despite the fact that he has only had 124 plate appearances with Oakland, one gets the sense that Carter has a very small window of opportunity. He must impress the big club right from the outset. It is my belief that Carter deserves another chance (hopefully an extended chance that consists of more 70 at-bats) to prove that he belongs. But judging by the moves that Beane has made in the off-season, the A's aren't waiting around to find out. Carter must elevate his game starting with his first appearance in spring training. To do anything else will greatly harm his chances to have any relevant career in professional baseball and leave the A's saying "going….going….Gone! Goodbye Carter!"
Stick with Baseball Instinct and we'll keep you a step ahead of the game. Check back soon for more Prospect coverage. While you're here, check out our Baseball Instinct 360° – it's our top 360 prospects for 2012. Also check out a friend of ours for all of your fantasy sports needs. Fantasy Rundown is updated religiously and is truly an awesome resource. Also, check out our friends over at Seedlings to Stars for a unique perspective on prospects.  Thanks for checking Baseball Instinct. We're working hard to bring you the best of the minor leagues and make the site the best experience it can be, so don't hesitate to tell us what you would like to read about. Email us now at mailbag@baseballinstinct.com.