Archie Bradley, RHP Arizona Diamondbacks
8/10/1992
Height: 6'4″ Weight: 225
Archie Bradley was taken 7th overall in the 2011 draft, with a compensation for not signed Barret Loux in 2010. I would say a fair trade off. Bradley was certainly not an easy choice to make for the Diamondbacks, because they had very little leverage and Bradley was a hardcore Oklahoma QB recruit. If Bradley had chosen Oklahoma the Diamondbacks would get nothing but the memory of a wasted pick.
Well, Bradley inked with the Dbacks. That's not to say it was a steal by any means. They used a high draft pick and shelled out $5,000,000 to get him at the deadline. What they got was a monster frame with a plus velocity and 0.29 ERA with 137 strikeouts with just 11 walks in 71.1 IP in his Senior year at Broken Arrow High School which was #2 overall in the nation. This is a highly sought after talent.
Bradley came in at #5 on our Draft Preview:
#5 Archie Bradley RHP Broken Arrow HS (OK) - Bradley is another Oklahoma fireballer. He's touched 101 this season and can work consistently in the mid 90s and add to it. His plus plus curveball give him two elite offerings and he's shown an average changeup at times giving him great projection as a starter. A premium athlete as well with a solid 6-4 frame.
Bradley didn't have much to show in the way of statistical production after signing going just 2 innings in the Pioneer League with 4 K's.  So let's take a deeper look into the pitching arsenal and the mechanics to get a better idea of why he ranks so high on the Baseball Instinct 360°.
The Stuff
Bradley's fastball is a power pitch already at an elite level and a 70+ on the scouting scale. It site easy in the 93-95 range and he can gear it up into the high 90's touching triple digits at times. While chances are slim that he actually works in the high 90s in the future due to his frame already being very mature at 225 lbs, he is athletic enough to work in the 95 mph range and still keep some in the tank to put away hitters.
His curveball is another plus offering already and is a power downer that comes out of the same arm slot as the fastball.
His changeup is really not a pitch that has been used in the past. Throwing mid 90s with a power curveball is really all you need to overpower High School hitters and when your High School is battling for a national title you're told to go out there and use your best stuff, and win. So there will be a development period despite Bradley's physical tools. Having a guy like Trevor Bauer as a Draft Year brother in the system might really be on Bradley's side. If he can latch on to Bauer and learn from him this spring and build a friendship, Bradley could be a very dangerous man in time.
The Mechanics
Bradley's mechanics aren't atypical of the High School Quarterback that just takes the mound and fires away. He's a very athletic kid and either there has been some key instruction by his coaches or there is just a natural feel for pitching here. Let's take a look at the video from the Aflac All-American Classic at Petco Park:
Video from rkyosh007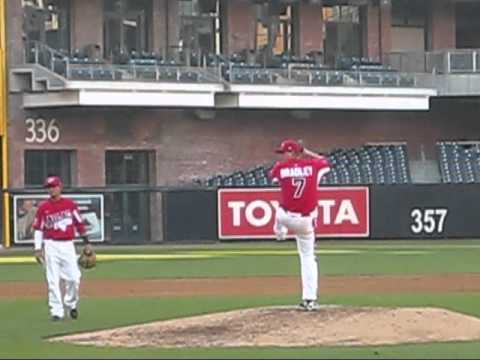 Bradley has a clean delivery with a good front leg extension and timing. His leg kick gives him good forward drive and he uses a downhill plane. Nothing here to signify any type of abnormal injury risk.
Our Instinct
Mid 90's fastball, power curve, athletic mechanics and big, hulking 6'4″ and 225 frame. The makings of a prototypical power pitching innings eatings stud that normally rates very high on prospect lists.
Well, Bradley came in high at #29 for our Baseball Instinct 360°:
29°. Archie Bradley, RHP, Diamondbacks, 8/10/1992 – Bradley has a high enough ceiling where he would place #1 in some organizations. A high 90s fastball and near plus curveball as a teenager. He has plenty of work to do in order to become a complete pitcher but his pitches and frame make him a very high ceiling prospect. At 19 years old, for all of the 2012 season, and combined with the pitching depth in this organization, there won't be any reason to rush him.  Expect him to start the 2012 season with the Low-A Yakima Bears of the Northwest League. How fast he moves will be dependent upon how mature his approach to the game is. The tools are there. ETA 2015.
There really isn't much to add or change in the outlook at this point. Our ranking is pretty much in line with much of the industry. We've seen him a little higher and little lower, but overall we're looking at a premium talent with a longer development time than the Diamondbacks #1 pick, Trevor Bauer. But they could both be a near or at the front of that rotation inside of a few years.
Stick with Baseball Instinct and we'll keep you a step ahead of the game. Check back soon for more Prospect coverage. While you're here, check out our Baseball Instinct 360° – it's our top 360 prospects for 2012. Also check out a friend of ours for all of your fantasy sports needs. Fantasy Rundown is updated religiously and is truly an awesome resource. Thanks for checking Baseball Instinct. We're working hard to bring you the best of the minor leagues and make the site the best experience it can be, so don't hesitate to tell us what you would like to read about. Email us now at mailbag@baseballinstinct.com.