Mason Williams, OF New York Yankees
10/21/1991
Height: 6'0″ Weight: 150
The New York Yankees selected outfielder Mason Williams in the fourth round of the 2010 MLB Draft from Winter Garden, Florida.  Williams was signed for over slot money at $1.45 million to pass up on a commitment to the University of South Carolina.  He got his professional feet wet in 2010, playing close to home with the Gulf Coast League Yankees, going 4-18 in just 5 games.  2011 would find Mason Williams with the Staten Island Yankees of the New York-Penn League, hitting a slash line of .348/.395/.468 – good enough to be named the 2011 New York-Penn League Player of the year.
Back in August, Dave Reiffer observed him in our Touch'em All: New York-Penn League article:
Mason Williams OF New York Yankees (19) – Signed too late in 2010 to play much ball, so 2011 is really more of a debut for this toolsy 19-year-old 4th round selection of the New York Yankees. Hitting .358 with 63 hits, 8 doubles, 3 triples, 12 BB, 30 strikeouts, 16 stolen bases, and .398 OBP in 176 at bats, Williams shows solid raw tools, the best being his speed. He also, reportedly, shows an encouraging talent for pitch recognition. The worst tool right now is his power. He needs to work on driving the ball. With any success, he should develop at least average power. Defensively, he has advanced range in centerfield. Right now, there is no rush for Yankee bosses to promote him, but he may soon force their hand. Let's see what he does next season.
The performance set him up to come in at #6 on our 2012 New York Yankees Top 10 Prospect list that came out in December, followed by coming in #83° on our Baseball Instinct 360° top prospect list for 2012 in January.  Here's what we had to say about Williams:
83°. Mason Williams, OF, Yankees, 10/21/1991 – Williams has excellent speed, but he's very swing happy. His natural ability to make contact is playing up at the lower levels right now, but as he moves up the ladder, he'll start seeing less pitches to hit and will need to make adjustments. He should develop average power in time since he's currently noted as at 150 lbs with a 6′ frame. There is room to grow. Expect him to make a jump to Low-A in 2012 and spend the entire season they're working on his approach at the plate. If all breaks right, he could be a top of the order hitter and stick in CF. ETA 2015.
Let's take a look at that 2011 season and The Bat and The Glove that have Williams into the top 100 of MLB Prospects.
The Bat
One of the first things that you have to take into account when talking about Williams bat is his legs. What? Yeah… he has raw 80 speed. It's not freaky 80+ like Billy Hamilton, but Williams is going to have plus game speed when all is said and done. He led the New York – Penn League in SB with 28 in 269 AB. But let's actually take a look at the bat to see if he'll be able to take advantage of his speed on the offensive side of the game in the future. Here is some video:
Bullpen Banter Video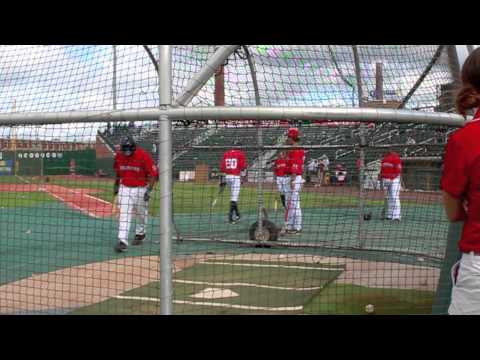 Mason Williams does have a smooth batting practice stroke. The swing is pretty and the bat speed is there for him to be a hitter at the higher levels. But right now his short leg plant on the front foot is going to limit his ability to drive the ball. His frame, a diminutive 150 lbs isn't exactly conducive to power either, so contact and patience are going to be key going forward.
He has excellent hand-eye coordination, but that hand-eye coordination isn't the only reason he was able to hit the .349 that he did. It was with some help from an ultra high .404 BABIP. There is no way that BABIP is sustainable at the next levels. That number will more likely settle in the .330 range and when that happens he'll need to adjust to be a .300 hitter. He needs to take more walks and start using the whole field.
The IsoP of .116 is more in line with the type of hitter he currently is than the AVG from 2011 was. His 11 doubles, 6 triples and 3 HR powered the .116 IsoP and much of that was generated by his legs. But he's still rail skinny and should add weight as he matures.
The Glove
Williams has elite level game speed and will be able to handle CF at the next level. His speed allows him to range from left to right and his average arm will be more than enough to handle the OF.
Our Instinct
Williams, despite the very solid 2011 season numbers, is still a very raw product. He needs refinement in many aspects of his game, including his best tool, the speed. When his BABIP falls to the norm, his average will suffer and thus his OBP will drop.
When that happens there is a cascade of things that need to happen during his maturation period as a player.He needs to start working deeper counts, getting into hitters counts and working more walks to get on base. Also, he's sure to put on weight as he matures, so some power will show, but it will never be more than average, if it ever reaches there. So he needs to become a better baserunner and turn singles into doubles and doubles into triples.
All of the refinements needed in Williams game are workable and he is still very young with the time on his side to get the needed refinements completed. If all breaks right he could be an above average offensive player capable of .300 AVG and 35+ SB seasons while playing a well above average CF. There is a significantly low floor here though, because of his lack of power and dependence on speed in his game. If he doesn't remain a very high level contact bat he's going to have a tough time as he moves up the ladder.
We think he'll make the adjustments and raise the walk rate while becoming an even better hitter and adding some power within the next 2 years.
Stick with Baseball Instinct and we'll keep you a step ahead of the game. Check back soon for more Prospect coverage. While you're here, check out our Baseball Instinct 360° – it's our top 360 prospects for 2012. Also check out a friend of ours for all of your fantasy sports needs. Fantasy Rundown is updated religiously and is truly an awesome resource. Also, check out our friends over at Seedlings to Stars for a unique perspective on prospects.  Thanks for checking Baseball Instinct. We're working hard to bring you the best of the minor leagues and make the site the best experience it can be, so don't hesitate to tell us what you would like to read about. Email us now at mailbag@baseballinstinct.com.