Taylor Guerrieri, RHP Tampa Bay Rays
12/01/1992
Height: 6′ 3″ Weight: 195
The Tampa Bay Rays selected South Carolina prep pitcher Taylor Guerrieri with the 24th overall pick in the first round of the 2011 MLB draft. He was eager to play college ball for the South Carolina Gamecocks but $1.6 million is a lot of money for an 18-year-old kid to turn down and he ultimately signed with the Rays at the August 15th signing deadline. Several outlets described Guerrieri as a steal at #24 and we were definitely one of them. We ranked him as the 8th overall prospect going into the draft and afterwards had this to say:
#8 Taylor Guerrieri RHP Spring Valley HS (SC) - A top HS arm with a strong pitchers frame that has room to fill out and add to the already mid 90s fastball and hammer curve. He's not as advanced at Bradley or Bundy so his command is still a step behind. Guerrieri still has a very high ceiling and his mechanics say that he'll be able to develop into a starter long-term.
Instinct: Steal of the draft so far. On par with Rendon dropping to 6, but with a #24 pick you should not get a look at a top 10 talent. Kudos to the Rays front office.
With lofty praise like that it was easy for us to come back in November and rank him #3 on our Tampa Bay Rays 2012 Top 10 Prospects list.  In January we settled on Guerrieri as our #64° ranked prospect on our Baseball Instinct 360° top prospect list for 2012. Here's a segment of him from our 80°  to 41°  article:
64°. Taylor Guerrieri, RHP, Rays, 12/1/1992 – We had Taylor Guerrieri ranked #8 in our 2011 MLB Draft preview and our views haven't changed on him.  We still believe that Guerrieri was one of the steals of the 2011 draft and we certainly have high expectations for him. He just turned 19 and with more consistency, Guerrieri might be able to add more zip on his fastball, pushing it into the upper 90's. Along with further development of his 88-90mph cutter and/or changeup will help raise Guerrieri's profile even higher next year. ETA 2016.
Let's take a look at Taylor Guerrieri's pitching repertoire and his mechanics to give you a sense of what we see in this young righty.
The Stuff
Taylor Guerrieri has some big stuff, arguably the best stuff to come out of the 2011 draft. His fastball sits at 93-95 comfortably and he can push it hard to 98. The 92-95 version of the fastball has hard natural sink and should prove to be a solid groundball getter in the future, while the upper level gas has hard bite in on lefties like a cutter.
He also throws an 11-5 curveball out of the same arm slot with very similar arm speed. It's a solid out pitch with power break and about 10 mph variation from his fastball.
He actually throws a cutter as well as a changeup. The cutter seems to be a byproduct of finger pressure when he really gears up the fastball but he's shown the ability to use the pitch on command at times and it will be developed into his repertoire.
The changeup is a pitch that he rarely used in High School and it will take time for him to master the offering but the Rays take their time with young pitching so he should have the development time needed to master it as his third pitch.
The Mechanics
Guerrieri has a very solid 6'3″ frame at 195 lbs but could add some additional weight as he matures. The additional weight should give him some additional base to stay durable. Let's take a look at some video: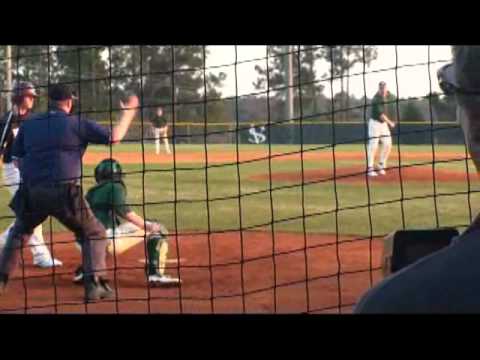 Taylor Guerrieri has an easy 3/4 delivery with a a solid leg kick that leads to a clean foot plant. There isn't much not to like from the kid, especially considering his future as a power pitcher regardless of where he ends up on a pitching staff.
Our Instinct
With his frame and already plus plus fastball, Guerrieri has two advantages that can't be taught. He dropped in the draft because of questions about his attitude and makeup. A High School senior that pumps 95+ mph fastballs with a little attitude? Seems harmless to me and I still see no reason why so many organizations passed on him.
With his pitch mix and pitcher's frame, he's already viewed by us as a potential frontline starter. He needs to refine a changeup and better his command but both of those are things that will come with time and development and that's something he has on his side.
He'll start 2012 in extended spring training before heading to Princeton where we'll get our first real look at him in game action against other professional players. A high K rate wouldn't be a surprise and if he struggles with his bb% it would be seen as a benchmark more than a problem. Annual gains in his command will give us a good idea of his development. 2012 is just the first step.
Stick with Baseball Instinct and we'll keep you a step ahead of the game. Check back soon for more Prospect coverage. While you're here, check out our Baseball Instinct 360° – it's our top 360 prospects for 2012. Also check out a friend of ours for all of your fantasy sports needs. Fantasy Rundown is updated religiously and is truly an awesome resource. Also, check out our friends over at Seedlings to Stars for a unique perspective on prospects.  Thanks for checking Baseball Instinct. We're working hard to bring you the best of the minor leagues and make the site the best experience it can be, so don't hesitate to tell us what you would like to read about. Email us now at mailbag@baseballinstinct.com.