Drew Hutchison, RHP Toronto Blue Jays
8/22/1990
Height: 6'2″ Weight: 180
Andrew Hutchison was drafted by the Jays in the 2009 draft in the 15th round. Signed for $400,000, he's making the fact that the Jays missed out on signing 3 of their top 5 picks, a little easier to swallow. Hutchison wasn't considered a top flight High School prospect because of his size and lack of a big fastball, but to date has proven every bit the player that should have gone in the first few rounds.
We took notice while he was breezing through the Midwest League and Florida State League, then finally making it up to Double-A and the New Hampshire Fisher Cats for the end of the 2011 season and the playoffs. With such a breakout season, Hutchison broke into the Top 100 of our Baseball Instinct 360° coming in at #95:
95°. Drew Hutchison, RHP, Blue Jays, 8/22/1990 – Despite a lanky frame at 6ft2 165lbs, it is unlikely that Hutchison will pick up much more velocity.  There's just not much projectability left in his body. He pitches in the low 90s and can touch the mid 90s at times, with good command and movement. A plus CU and an average breaking pitch give him the full arsenal. Hutchison is good enough to pitch in the big leagues right now. His ceiling is probably a solid #3, but he's close to a finished product.  The rest of the system is talented, but raw. ETA 2013.
Hutchison also checked in as the #3 overall Blue Jays prospect in our Preseason Toronto Blue Jays Top 10. So let's take a more detailed look at the pitch arsenal and the mechanics of Hutchison to get a better idea of what to expect in the future for both him and the Blue Jays.
The Stuff
Hutchison has added weight to his frame over the past 12 months and that bodes well for him holding up the the mounting innings totals of a mid-rotation starter, but it isn't a sign that an uptick in velocity is on its way. His fastball sits comfortably in the 90-93 mph range and for what it lacks in premium velocity it makes up for with movement and command. Hutchison is able to cut and sink the fastball and his cross-body delivery (which I'll get to in the next section) causes his fastball to fade back into right-handers. The velocity is probably a 45 rating but the movement and command make it a 60 and an above average offering.
His changeup stands currently as his second best pitch with good fade and command while he isn't afraid to mix the pitch in on fastball count. He commands it well, much like the fastball. It's a pitch that he could get better with as he matures but as it currently stands its a 50 pitch. But it gives him a second average or above pitch.
The changeup command and continued development is going to be key because Hutchison's third offering is a slider which has good tilt and break, but because of his cross body delivery, the pitch can flatten and be similar to the break of his cutter at times. I would prefer to see a true curveball which would change the eye level of a hitter, but the slider is more conducive to his delivery. On the positive side is his command and ability to work all 4 quadrants of the strikezone.
The Mechanics
As I mentioned earlier, Hutchison has a cross-body delivery, so let's take a look at some video. It's a long sample of action so feel free to jump to around the 8 minute mark to see some game action.
Video by Alskor of Bullpen Banter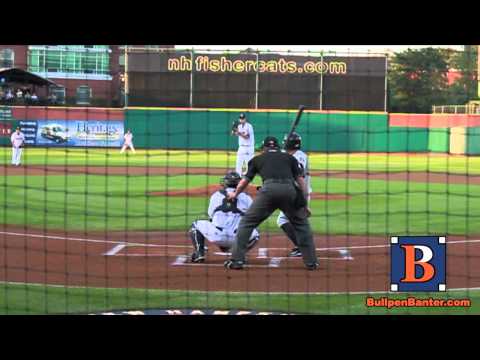 The first thing that is readily apparent, surprise!!!, is that the plant leg falls well off to the 3B side. That leg plant forces Hutchison to over rotate his waist to get his arm all the way through the zone. It's a certain red flag because it adds undue stress to the shoulder and may also affect his left hip in time. But Hutchison hasn't had any trouble making it work so far and his advanced command in tandem with the deceptive delivery is allowing him great success as witnessed by the 2.59 ERA over 149.1 IP in 2011 while blowing through 3 levels. His K rate approached 30% which is elite level and his walk rate was near 6%, another well above average number.
The rest of Hutchison's delivery is pretty clean with a leg lift and drive that although off to the 3B side is fluid. His arm action is forced through the zone by his hips more than his legs, but its quick and whip like which adds to his deception. A positive is that he has close to zero recoil in his follow through. That will limit some of the residual tensions on the shoulder.
His mechanics score falls below where his stuff resides with a score in the 45-50 area. It's not a red flag screaming for attention or an imminent injury, but the mechanics are not optimal. They may not need to be.
Our Instinct
Drew Hutchison is the most advanced of a very deep and talented Blue Jays farm system. He's going to start the season back in Double-A after just 4 starts there in 2011. But as long as his command remains in tact and he's able to advance his feel for both the changeup and slider he could move to Triple-A by mid-season with a possible call up to Toronto towards the end of the season.
With his 2011 success some will try and put him on the fast track, but I think that would stunt his growth as a pitcher. The jump from Double-A to the majors is a big one and despite his success in Double-A, it was just a short visit and there were some outliers to take note of such as his 21% GB rate. That GB% was well off of the 50%+ that Hutchison was accustomed to at each prior stop, yet despite keeping the ball on the ground he was still successful. That won't hold up against the hitters in the AL East. So getting that number back to the mean is one thing to watch.
In the future, he still profiles very well as a mid-rotation starter with a solid #3 as his ceiling. With his advanced command and "pitchabilty" he's a solid bet to remain successful long term. But sub-3.00 ERA's aren't a number that should be expected to remain the norm despite the fact that the FIPs indicate those ERA's to be true.
But even if the regression of the ERA does jump a full ER he will still be a sub-4.00 pitcher with average K rates and solid command. His upside in IP this season should be around 185 innings and if he can hold up over the full season he'll be ready for a full season debut in 2013.
Stick with Baseball Instinct and we'll keep you a step ahead of the game. Check back soon for more Prospect coverage. While you're here, check out our Baseball Instinct 360° – it's our top 360 prospects for 2012. Also check out a friend of ours for all of your fantasy sports needs. Fantasy Rundown is updated religiously and is truly an awesome resource. Thanks for checking Baseball Instinct. We're working hard to bring you the best of the minor leagues and make the site the best experience it can be, so don't hesitate to tell us what you would like to read about. Email us now at mailbag@baseballinstinct.com.