Tyrell Jenkins, RHP St. Louis Cardinals
7/20/1992
Height: 6'4″ Weight 185
Tyrell Jenkins was drafted by the Cardinals as a 1st Round Supplemental pick and has proven so far to be worth the $1.3mm signing bonus it took to look him up and keep him from attending school at Baylor University and playing both baseball and football for the Bears where he would have been a premium receiver target for the 2011 Heisman Trophy winner Robert Griffin III.
Jenkins was a high level premium athlete coming out of High School and was way up on the Draft Preview boards for us that year. He's made the strides necessary and is locked in as the #4 overall Cardinals Prospect in our Preseason St. Louis Cardinals Top 10 as well as the #44 prospect in all of baseball in our Baseball Insintct 360°:
44°. Tyrell Jenkins, RHP, Cardinals, 7/20/1992 - Jenkins is the youngest of the four possible high end starters in the system.  He should turn an already above average fastball into a plus pitch. His secondaries are still a work in progress, but he's so young that it's far from a concern. They both flash potential and some tweaks to his mechanics point to above average command as well. He has #2 upside depending on how far along his changeup advances.  He should see the Midwest league in 2012.  ETA 2015.
With just 59 career innings pitched and not having moved past Johnson City in Rookie ball, we're certainly raising some eyebrows with the ranking inside the Top 100, much less inside the Top 50. We obviously do more than just look at stats and there is a reasoning to our process that has had a player like Jenkins on the scope of the Baseball Instinct radar since he was a High School senior in Henderson, TX. So let's get into some detail with what we really see in Jenkins as a prospect outside of a "List". Here's The Stuff and The Mechanics.
The Stuff
Jenkins has long levers and he's learning to use them to power his fastball without overthrowing. He works his fastball with good command in the low 90s but has the arm to get it into the mid 90s, working 95-96 when he wants to. He's still learning to command the premium velocity. But it may have more to do with him growing into his lanky frame and adding a strong base in his lower half.
He throws a solid 12-6 curveball with occasional command of the offering. Since he and the Cardinals only settled on the curve over the slider last year, it's not a concern that he is still refining his command of the pitch. The biggest thing is that he spins it hard and it has excellent tilt. In time it will be a pitch that he learns to bury on command.
He also throw a changeup and it has good fade but lacks consistency. It will be a primary focus in 2012 and there is plenty of time for him to round the pitch out as he brings his raw overall package together over the next 24 months.
The Mechanics
We'll have first hand video of Jenkins soon from Cardinals camp, but for now let's take a look at some High School footage to get an idea of his frame and how it works.
Video by Farmsystem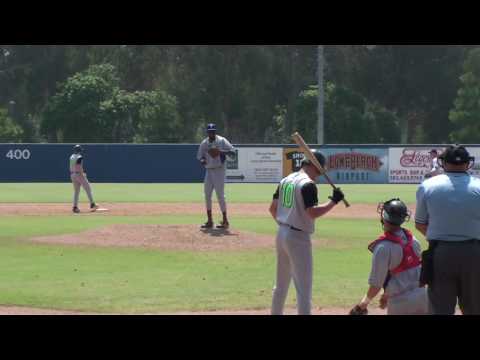 The video shows Jenkins frame which long and lean. It hasn't changed all that much over the past year, but he should begin adding muscle to the frame now as he enters into his 20's.
There were many reports out of the 2010 draft chatter that Jenkins was very raw and all arms and legs in his delivery. I had seen him pitch on a couple of occasions and the premium athleticism was very apparent. He's uses a solid leg kick and uses his legs to bring his arm through the zone. He's actually toned the leg kick down a little since High School but the biggest change since this video is his comfort level in allowing his body to do the work in bringing the velocity.
That subtle change is actually a big one in the long run. He's going to add additional velocity when he fills out and understanding that his lower half is going to bring that he'll be able to command his pitches at an above average level.
Our Instinct
While there aren't any glaring red flags for Jenkins, his current frame and power arsenal aren't a good mix. Throwing mid 90s with a lean frame can cause additional stresses on the arm, but as mentioned there should be plenty of additional growth here in the near future which will give Jenkins the ideal frame.
Obviously, as with any pitching prospect, health will be a key to his development and with Jenkins, that development is a long road.
If he doesn't get the frame above 200+ lbs he may not be durable enough to eat innings.
If he doesn't advance the changeup into a usable offering he'll fall to a back end starter and may also have difficulty with left-handed hitters. But with the focus on refining his delivery his walk rate came in at an elite 5.5% while he stuck out a batter per inning. Impressive for a young power pitcher. The focus will turn to his development of the changeup in 2012, much like it was for Trevor Rosenthal in 2011. So his control may seem to waver as he makes the adjustments.
With the ideal pitchers frame and 2 future plus offerings, Jenkins has the stuff that frontline starters are made of. If he can bring his changeup to an average offering he could easily be a #2 starter, if it comes along better than that, this premium athlete of a pitcher could be in the upper echelon of pitching prospects inside of 3 years and battling for Co-Ace of the Cardinals inside of the next 5 years.
Stick with Baseball Instinct and we'll keep you a step ahead of the game. Check back soon for more Prospect coverage. While you're here, check out our Baseball Instinct 360° – it's our top 360 prospects for 2012. Also check out a friend of ours for all of your fantasy sports needs. Fantasy Rundown is updated religiously and is truly an awesome resource. Thanks for checking Baseball Instinct. We're working hard to bring you the best of the minor leagues and make the site the best experience it can be, so don't hesitate to tell us what you would like to read about. Email us now at mailbag@baseballinstinct.com.