Josh Bell, OF Pittsburgh Pirates
8/14/1992
Height: 6'4″ Weight 195
Joshua Bell was drafted by the Pirates as the first pick in the 2nd round. Let's start by saying that Bell was the #9 Talent on our 2011 Draft Preview:
#9 Josh Bell OF Dallas Jesuit HS – Bell has the most projected power in the draft and he's a switch hitter. Most HS players are learning to switch hit but Bell is already established and proven on both sides. He's an advanced hitter beyond his years.
And even that ranking was influenced by the fact that he was unsignable by most counts, going as far as sending letters to all major league teams requesting that he not be drafted. Some say that was simply a fabricated story and no actual letters were ever produced by a major league club. Bell's mother is a professor at the University of Texas-Arlington and the thought was that he was already committed to attending the University and getting his degree before becoming a professional baseball player.
Well that didn't deter the Pirates who took a chance and opened the change purse to the tune of $5,000,000. Bell signed. The Pirates had a 2nd Top 10 talent in the 2011 draft and every other team looked silly.
Bell didn't play in 2011 after signing at the deadline, but with his high end talent and pedigree he came in as the #3 prospect on the Pirates 2012 Top 10 List and the #48 overall prospect in all of baseball in our 2012 Baseball Instinct 360°:
48°. Josh Bell, OF, Pirates, 8/14/1992 – Possibly the steal of the 2011 draft, this switch hitter has above average power from both sides of the plate and while players his age still learning to hit from their weak side, he's a proven commodity from both sides. He's not going to be a premium defender but the bat projects out well with both power and contact ability.  Bell should start the season out in Low-A, but could progress into full season action quickly in 2012.  ETA 2016.
Let's take a more detailed look now at Bell from both sides of the game to see why a player with zero professional experience places within the Top 50 of all baseball prospects.
The Bat
Before taking video for Baseball Instinct, I went to the WWBA with a notebook and pen. Luckily someone else was taking video of the games I was attending. But you can check out our coverage of the 2011 WWBA on our YouTube page. For now let's use the following videos.
Left Side
Video by DiamondScapeBaseball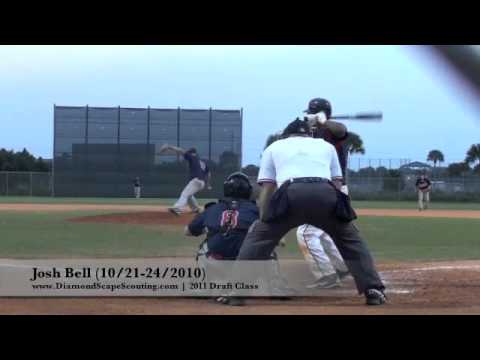 Left Side – This is a powerful kid. While he has a lot of movement with the lefty swing and unnecessary timing mechanisms, the bat speed is readily obvious. He's such a high end talent because of what he can be in the future and the tools that are here to be polished and refined.
He goes from set to loaded with a lot of movement, but his head stays in place keeping his eye level clean which should allow him to see the ball well.
The major issues are going to be simplifying his swing from the load point on. He seems to get long which could be a problem easily hidden against high school pitchers because of his elite bat speed. Higher level pitchers will be able to change the speed of his bat with premium breaking stuff. So he'll need to simplify his path to the ball.
Right Side
Video by BaseballAmericaVideo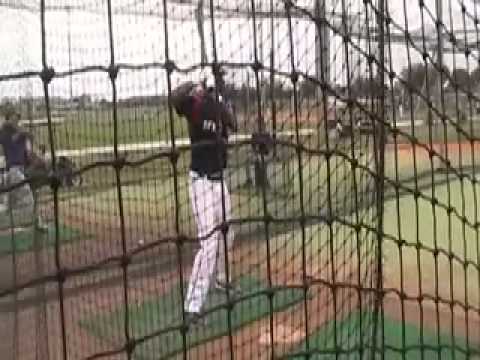 Right Side – The two swings are very different, from hand position to swing plane. From the left side he's very traditional and smooth through the swing plane like a true lefty. From the right side he has a high start point with a lot of bat kick like Rickie Weeks. Again, it's a timing mechanism. One which is not needed. But it's there right now and whether or not the Pirates choose to quiet his swing or not is still something to be seen.
The right side swing is much shorter to the ball once he gets going and again he generates a lot of torque that will produce high end power. And there is more power there once he learns to trust his legs a little more from that side. He doesn't get down far enough to use that back leg as a launching point. It's something that will be addressed because it's going to make him a better contact hitter from that side as well when he's more eye level with the ball.
The Glove
Bell has above average speed and is an intelligent player, but his speed will not play long term in CF. His arm is above average and could play in RF but probably profiles best as a power hitting LF.
One thing is certain, he's going end up in a corner spot, especially with McCutchen signing a long term deal.
Our Instinct
Bell was the steal of the 2011 draft regardless of how much it cost to sign him. But right now he's so much more tools than he is a clear projection of a player.
His power could be elite and there is certainly room for added muscle on that frame, so natural man-strength in there to be had. But there are mechanical issues with his swing that could cause him to struggle against higher level pitching.
The good news is that he's very young and has more than enough time to go level to level and make adjustments and his intelligence as a player is up there in the 70 level on the scouting scale. There is no scouting scale for Baseball Intelligence? Whatever. The fact is that he's not just physical tools, so he's going to be able to make the adjustments if given enough time and direction.
Expect him to crush lower level competition and struggle when he reaches the FSL. If he can make the adjustments there he should move quickly once he reaches Double-A. The Pirates do not want what happened with Pedro Alvarez to happen with Bell. So expect a slow progression.
If he hits his ceiling, we're talking about a .300 hitter with 30+ HR power and above average OF defense. The odds of him being a .300 hitter at this point is 50/50, but the power is going to be there regardless.
When the Pirates are making the playoffs and contending in the NL Central will be the time that Bell's bat is a needed commodity. That time is in sight, but quite here yet.
Stick with Baseball Instinct and we'll keep you a step ahead of the game. Check back soon for more Prospect coverage. While you're here, check out our Baseball Instinct 360° – it's our top 360 prospects for 2012. Also check out a friend of ours for all of your fantasy sports needs. Fantasy Rundown is updated religiously and is truly an awesome resource. Thanks for checking Baseball Instinct. We're working hard to bring you the best of the minor leagues and make the site the best experience it can be, so don't hesitate to tell us what you would like to read about. Email us now at mailbag@baseballinstinct.com.