Rougned Odor, 2B Texas Rangers
2/3/1994
Height: 5'11" Weight: 170
Rougned Odor was signed out of Venezuela in 2011 by the Texas Rangers as a SS. While he was a top international talent, his size and questionable speed left him out on the market as he played through the Showcase Circuit. He played up his tools, showing increased speed and the Rangers signed him for $425,000.
He made his professional debut as the youngest player in the Northwest League where he hit .262/.322/.356 in 233 AB for Spokane. Rougned finished as one of the top prospects in the league being just 17 years old.
The finish was enough to garner attention to the tune of a #3 ranking in our 2012 Rangers Top 10 and over #80 overall in the first run of our Baseball Instinct 360°:
80°. Rougned Odor, SS, Rangers, 2/3/1994 – It is too early to make a solid judgment on Odor, but there is an intriguing set of skills starting with a potential speed/power combination at a premium position. We would like see Odor improve his strike zone management skills and develop more power along the way, while making sure that he stays out of trouble. Odor is light years away from being a finished product, but his development bears watching closely because his tools can be projected as well above average and if he grows into that frame he could have above average power as well. High upside with a chance to bust if not developed properly. But a player we would want in our system. ETA 2016.
Let's take another look at Odor now as we delve into his individual game tools to see what skills can be developed and who this prospect is now in comparison to who the finished product may eventually be. Here's The Bat and The Glove.
The Bat
Odor is just 18 years old and with his small frame there is room for physical maturity to play a part. Let's take a look at some Showcase video of Odor and then get into some swing mechanics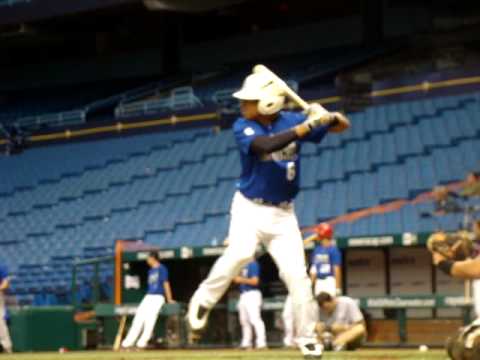 Odor has a smooth lefty swing with quick that generate above average bat speed. With a bigger frame that would translate to power, but in 2011 it produced just a .098 IsoP with 8 doubles, 4 triples and 2 HR. Some of that IsoP was generated by Odor's emerging speed, so there was really little to no power game as of yet.
He's quick on the bases but not a plus runner. While he should become a better base-stealer in time, he probably tops out around 20 per season in the long run.
As with any young player, plate discipline is normally scarce and that is the case with Odor. He walked just 13 times in 258 Plate Appearances, good for just a 5% walk rate. He has excellent bat control though and against young pitchers he's able to make a lot of contact keeping his K rate at just 14.3%. An excellent number and one that will need to continue for a contact hitter with below average power.
His AVG was just .262, but a .302 BABIP says that there is more there as well.
The Glove
Odor was signed as a SS, but with the depth of the Texas system at SS the Rangers made the early move with Odor to make him a 2B. While he doesn't profile with much power for the position, he did make the defensive transition pretty seamlessly.
As a SS, he has the arm to play on the other side of the bag and it plays even better at 2B. Depending on how his bat develops he could also be a prospect that makes a future transition to CF if the Rangers feel its an organizational need.
Our Instinct
Overall, I think we may have over-ranked Odor heading into the 2012 season when he cracked the Top 100 prospects in the first run of our 2012 Baseball Instinct 360°. While I love his tools and his ability to play up the middle, he's very young, has yet to prove that he's going to be able to develop the needed plate discipline to be successful at the high level minor leagues, much less the majors and he needs to grow.
So we're going to take a step back. Still, we consider him a top flight prospect. His bat speed can't be taught and it's a high level tool for a player just 18 years old.
If he develops the plate discipline and sticks in the middle infield, he could be a solid .290 contact type hitter with gap power and above average speed. Unfortunately, unless there is a latent growth spurt waiting in the wings and he grows a few inches and adds 20+ pounds, I don't see more than below league average power in his future. Without a true plus tool, outside of his bat speed, his future could end up as a utility infielder.
We'll need to keep a close eye on his growth and how well he matures both as a person and as a hitter. High upside, chance to bust.
Stick with Baseball Instinct and we'll keep you a step ahead of the game. Check back soon for more Prospect coverage. While you're here, check out our Baseball Instinct 360° – it's our top 360 prospects for 2012. Also check out a friend of ours for all of your fantasy sports needs. Fantasy Rundown is updated religiously and is truly an awesome resource. Also, check out our friends over at Seedlings to Stars for a unique perspective on prospects.  Thanks for checking Baseball Instinct. We're working hard to bring you the best of the minor leagues and make the site the best experience it can be, so don't hesitate to tell us what you would like to read about. Email us now at mailbag@baseballinstinct.com.