Matt Barnes, RHP Boston Red Sox
6/17/1990
Height: 6'4″ Weight: 205
Matt Barnes was drafted with the #19 overall pick in the 2011 Amateur Draft by the Boston Red Sox. The UConn product finished his career with a school leading 247 career strikeouts, pitching the Huskies to a first ever Super Regional in the 2011 campaign. Barnes finished 11-5 with a 1.93 ERA and 117 K's in 17 starts as a Junior.
Barnes signed at the August 15th deadline for a $1.5mm bonus, but after working into the Super Regionals, the Sox decided not to push him into his debut. He has the frame and the pitch mix to put him right into the bullseye of the Instinct Radar where he scored high in our Baseball Instinct 360°:
51°. Matt Barnes, RHP, Red Sox, 6/17/1990  –  As one of our Twitter followers, we should probably say something glowing about Barnes. However, his arm makes that easy. Barnes is so very much a Red Sox type of pick. He's a former college starter with a high floor with and enough upside to be a frontline starter. It will exciting to see his debut in 2012 as the Red Sox's farm has not seen such a talented pitcher since graduating Clay Buchholz. He throws 3 pitches for outs and this may be a very conservative rank for him and he could move fast. ETA 2013.
Coming in just outside the Top 50 without throwing a professional pitch means we see something here that most don't see yet. So let's take a look at who we consider to be the #1 pitching prospect in the Boston Red Sox system.
The Stuff
Barnes' physical frame allows him to work in the 92-94 range deep into his starts and he has a little extra in the tank to gear it up to 97. The velocity is plus to plus plus when he gets the true arm side run which handcuffs right-handed hitters and dives out of the lefties wheelhouse. He works best in the mid 90s range and tends to get the ball up in the zone when he reaches back for the upside heat. Living upstairs can be dangerous at the upper levels unless you are using it as an out pitch and a way to change a batters eye level.
His second pitch is a potential plus curveball with hard bite. The pitch's development took somewhat of a backseat when Barnes added a slider to his 2011 arsenal. Both pitches could be considered near average, but he's going to need to pick one to focus on right now and the curveball seems to be the one that best works with his arm angle.
He has a serviceable changeup that has good fade and, once he's able to command the pitch in the zone and hit his quadrants with the pitch, it should become a 3rd weapon.
His command rides solely on his mechanics, which we will soon get into, but on a scouting scale his command is currently a 55 overall and should get better if he's given the time to develop his secondary pitch command.
The Mechanics
Barnes has a classic pitchers frame at 6'4″ with a solid 205. He doesn't have big legs and will probably add some additional weight there as he reaches his mid 20s. Let's take a look at some video:
Video by farmsystem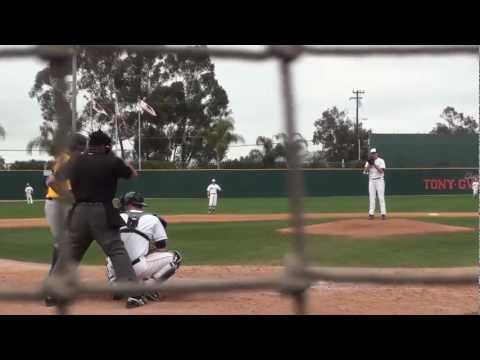 There are things done right and things that could be done better. Barnes is living on pure stuff based on a natural ability. His delivery does him no favors with fooling hitters. Before we get into the technical aspects, I want to point out how Barnes shows the ball at the back of his arm motion and then his arm action is a little long. The fact that he's been so successful is a testament to his stuff.
I would have to think that there will be some tweaks to his delivery to add some deception in the near future. They should tie in easily to the small changes that will be needed to keep him 200+ inning durable in the majors.
The first steps in the delivery are clean, he gets to the top of his motion smooth and in good tempo. While he's there, you see the arm release which is straight back, showing the baseball. That should be tweaked to a full hold where he brings the ball up from the glove instead of down behind him before getting it into throwing position.
From there his leg plant is good if not a touch short. An extra few inches would actually bring his arm action in better sync with his leg drive, but I'm splitting hairs there. All in all its actually a fine tempo. Nothing there to scream injury risk.
Our Instinct
Matt Barnes has the fastball of high level starter and the current secondaries to give him a clear run as a starter through the minor leagues. But he's going to need a full 2 seasons in the minors to make the changes to add some deception and take his secondaries above average in order for him to see his upside as a #2 starter. The floor will be a solid back of the bullpen stopper with closer upside. But there is more pitcher than thrower.
Though, I think the chances of him being an Ace type are currently a long shot. An Ace works with 2 plus to plus plus offerings with a 3rd plus or well above average pitch. Barnes currently has one plus offering. I do think that both of his secondaries will come along to be at least average with his curveball potentially plus.
If he's able to handle the additional workload and advances his secondaries he should be a solid #3 starter with a chance to be a #2 type as well. The Red Sox should start him out in Lowell with the Spinners. He should dominate at the level and move on to High-A before the season ends. He should spend most of 2013 in Double-A with a chance at seeing Boston for a short stint.
Stick with Baseball Instinct and we'll keep you a step ahead of the game. Check back soon for more Prospect coverage. While you're here, check out our Baseball Instinct 360° – it's our top 360 prospects for 2012. Also check out a friend of ours for all of your fantasy sports needs. Fantasy Rundown is updated religiously and is truly an awesome resource. Also, check out our friends over at Seedlings to Stars for a unique perspective on prospects.  Thanks for checking Baseball Instinct. We're working hard to bring you the best of the minor leagues and make the site the best experience it can be, so don't hesitate to tell us what you would like to read about. Email us now at mailbag@baseballinstinct.com.