Daniel Corcino, RHP Cincinnati Reds
8-26-90
Height: 5'11" Weight: 165
There is an occasional player that tends to cause division between those who favor scouting as opposed to those that favor statistical analysis. A player that could help contribute to that divide is Daniel Corcino. But let's start with some background first.
The Cincinnati Reds signed Corcino out of the Dominican Republic as a 17-year old teenager in 2008. His first 3 seasons were good though not eye-popping. However, the peripheral stats led one to believe that the best was yet to come. And that suspicion began to manifest itself in the 2011 season. Daniel Corcino has begun to emerge as a prospect after finishing the 2011 season with an 11-7 win/loss record and 3.42 era. The peripherals continue to support the success starting with a 2.80 FIP, that indicates the 3.42 ERA is no illusion. This is further backed by a stingy 2.20 bb/9 ratio.
Needless to say, Corcino was very good at making the offense work for everything they got. Corcino also sports a solid 10.08 k/9, showing that he overmatched his competition. And competing at the age of 20 for most of the season, one cannot say that Corcino was pitching against younger competition. If anything, it seems that the Cincinnati organization was not aggressive enough with Corcino by keeping him in single-A ball all season. Regardless, the numbers reflect someone with legitimate talent. We took notice of his performance and placed Daniel Corcino as the #4 prospect in the Reds organization. Additionally he came in as number 170 on our Baseball Instinct 360. Let's break down his game and see why.
The Stuff
Fastball – Daniel Corcino has a very live Fastball. He can consistently bring the heat with a fastball that sits at 93-94 mph. But he is capable of a little extra and can light the radar gun at 97 mph. This pitch comes in straight, but does get on the hitters quickly. He can throw this pitch with control, but has a nasty tendency to overthrow this pitch, which can cause him to lose command of the strike zone.
Slider – This pitch is an excellent compliment to his major league ready fastball. The slider has a hard break away from right-handed hitters. With velocity that has good variation from his fastball, the hitters can't cheat on the fastball. With the big break on this pitch it flashes as a plus major league offering. The greatest problem with this offering is that Corcino often overthrows this pitch. It is actually more effective when he throttles back on this pitch allowing him to throw with more control.
Changeup – This pitch is a below average pitch but can be thrown for strikes. This pitch is not used enough. The problem with this pitch is that Corcino hasn't had to use it much and certainly hasn't needed to work on refining it. His other 2 offerings are so dominant, that this pitch has largely gone ignored from a developmental standpoint. However, Corcino will have to learn how to use this pitch effectively at higher levels if he is to continue his rising prospect status.
The Mechanics
Daniel Corcino has a high effort delivery, which is often a red flag when evaluating pitching mechanics. He often tends to overthrow his pitches and that has led to inconsistency in his delivery and command. However, Corcino does have some good things about his delivery. During his windup he rotates his hips so that his left knee comes back and points towards third base. He then uses this hip rotation to generate energy that is then used to make a powerful drive towards home plate. Because his momentum is created by good hip rotation, Corcino doesn't put undue stress on the shoulder or arm. His arm slot is repeatable and relatively clean. The pitching motion, though high in effort, looks to be reasonable in preventing the common injuries associated with his a power pitcher.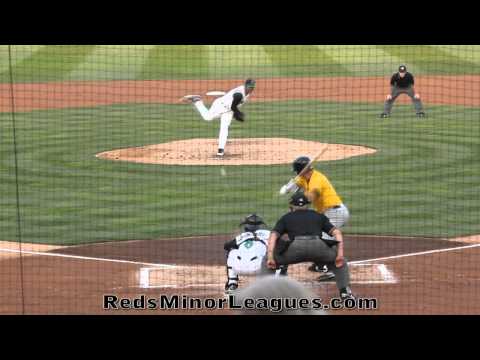 Despite the fine delivery from the hips up, there is some inconsistency to his lower body mechanics. One can see different landing positions of the front foot from pitch to pitch. The manifests itself in balance issues that cause Corcino to fall towards first base at times and at others drive straight on towards home plate as he finishes his delivery. These inconsistencies are less of a concern in the sense of causing injuries, and more associated with command and control issues.
There is one last point to Corcino that needs to be covered. Scouts will immediately point to the fact that Corcino is only 5'11" and 175 pounds. His lack of height prevents Corcino from getting a good downward plane on the ball. It is important that he learns to keep the ball down in the strike zone as the home run ball can become a concern. Additionally the lack of height means that Corcino's release point is farther away from home plate than taller pitchers. While that might mean only a matter of inches of distance from home plate, that does give professional hitters just a bit longer to recognize the pitch and square up on the ball. Lastly, the slight build does leave Daniel Corcino more vulnerable to injury than pitchers with the prototypical workhorse frame.
Our Instinct
To watch Daniel Corcino pitch is to see a prospect with major league quality stuff. With a fastball that gets on the hitters in a hurry and a sharp breaking slider, Corcino has 2 better than average major league pitches. A consistent changeup could make him a force to reckoned with. But to look at Corcino himself is to see a relatively diminutive player. The lack of height and small frame cause scouts concern in projecting to higher levels of professional ball as a starting pitcher. Many scouts see him transitioning to the bullpen to off-set the physical demands that would be put on his body. That move to the bullpen would also be more forgiving of his change-up, which is not fully developed.
However, Cincinnati has every reason to allow Corcino to prove that he can stand up to a starters' workload. Corcino improved from 71 innings-pitched in 2010, by logging 139.1 total innings pitched in 2011. If Corcino can make another increase in his workload in 2012 while maintaining the same quality of stuff, his chances of remaining a starting pitcher dramatically increase. Traditional scouting would remain dubious of a player of Corcino's stature and physique truly becoming a long-term starting pitcher. But there is no denying that Daniel Corcino has over-powered his competition in 2011 and has the raw stuff to be considered major league quality. We expect to see Corcino start in high-A ball, and are anxious to see how he will perform against hitters that won't be so susceptible to his overpowering velocity. His developmental path has been deliberate and likely that trend continues. ETA for Corcino arrive in the big leagues is late in the 2014 season or early in 2015. In the meantime it will fascinating to see if he can defy the scouting reports and reach his potential as a quality major league starting pitcher.
 Stick with Baseball Instinct and we'll keep you a step ahead of the game. Check back soon for more Prospect coverage. While you're here, check out our Baseball Instinct 360° – it's our top 360 prospects for 2012. Also check out a friend of ours for all of your fantasy sports needs. Fantasy Rundown is updated religiously and is truly an awesome resource. Also, check out our friends over at Seedlings to Stars for a unique perspective on prospects.  Thanks for checking Baseball Instinct. We're working hard to bring you the best of the minor leagues and make the site the best experience it can be, so don't hesitate to tell us what you would like to read about. Email us now at mailbag@baseballinstinct.com.