C.J. Cron, 1B Los Angeles Angels
01/05/1990
Height: 6′ 4″ Weight: 235
It didn't take long for the Los Angeles Angels to come to terms with their 2011 first round draft pick, 1B C.J. Cron out of the University of Utah.  The deal was worth $1.467 million and catapulted Cron into professional play soon after signing on June 24th, 2011.  The 17th overall pick is the son of former major leaguer Chris Cron.  The big man was moved off of catcher and found a home right away in the Angels system.  He spent the entire 2011 season with the Orem Owlz of the Pioneer League, where he had little trouble dominating.  He doesn't move real well and is not at all quick, but he makes a statement with his bat.  He posted slash lines of .308/.371/.629 over 143 at bats in 34 games.  He also had a 34/10 K/BB ratio.
We discussed Cron in our Touch'em All: Pioneer League article back in September:
C.J. Cron, 1B Los Angeles Angels – 01/05/1990 (21) – Height: 6'4″ Weight: 235 –  After a great season with the University of Utah, the 2011 1st round pick (#17 overall) wasted no time in signing with the Angels on June 28th, 2011.  Cron then went on to hit .308-13-41-30-0 in just 143 ab's over 34 games with the Orem Owlz.  a beautiful 1.000 OPS and a ridiculous .321 IsoP, Cron's time in Orem was short-lived. A knee injury ended his season and offseason surgery should have him ready for spring training. Expect him to start the season with the High-A Inland Empire 66ers of the California League, while reaching the AA Arkansas Travelers of the Texas League at some point in 2012.  He's certainly going to be on the fast track to the Majors.  A Late season 2012 call up isn't even out of the question.
Then things changed in L.A. after we discussed that.  The Angels went out and got superstar slugger 1B Albert Pujols.  This muddied the water for Cron and other first basemen up and down the Angels organization.  We touched on that subject when we released our Los Angeles Angels 2012 Top 10 Prospect List in December:
3. C.J. Cron 1B – 1/05/1990, H: 6'4″ W: 230 lbs. – C.J. Cron was The Angels first round pick in 2011 signed out of The University of Utah.  He started his pro career well in The Pioneer League, hitting .308, 13 HR and 41 RBI with a 1.000 OPS in 34 games but suffered a knee injury that required surgery in September.  According to a report in The Orange County Register, Cron also was suffering a slight torn labrum in his right shoulder but it is unlikely they'll investigate that surgery at the time of this writing.
Our Instinct: The knee injury ended his season and off-season surgery should have him ready for spring training.  Expect him to start the season with the High-A Inland Empire 66ers of the California League. At one point we assumed he would be on the fast track to the majors.  Now we can't help but wonder if he's an appealing trade piece in the wake of the Albert Pujols signing.  Mark Trumbo and Kendry Morales probably wonder where they fit in as well.
Despite the question within the Angels organization and the season ending knee surgery, Cron came in at #103° on our Baseball Instinct 360° in early January.  Let's take a look at bat and glove of C.J. Cron.
The Bat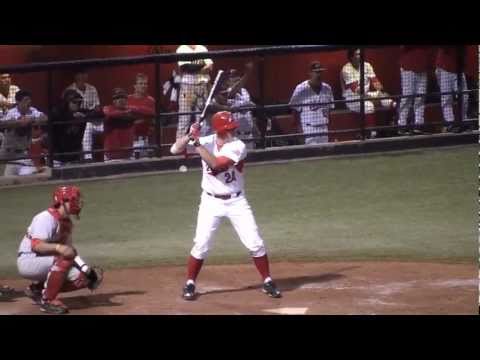 The bat is where it is at with C.J. Cron.  He has a fine blend of power and pure hit tool.  Cron is a bit deceptive up there at the plate.  He has big, long arms that make him look slow getting the bat through the plate.  But it only looks that way.  While he doesn't have the quickest hands out of the 2011 draft class, he certainly is no slouch at getting through the strike zone.  While he hasn't an advanced ability to read pitches and know when to get the barrel of the bat down into the zone, he's going to have to prove that he can take care of business over the inner part of the plate, or fall victim to advanced pitchers picking him apart on the inside corner.  He looks very confident at the plate, which will go a long way towards his overall development.
The Glove
As I stated above, Cron will make bank with the bat.  He's not a liability at 1B, displaying soft hands that you would associate with a catcher.  However, he has very limited range and despite handling the position fine, we have to wonder if he won't spend most of his career as a designated hitter.
Our Instinct
The knee injury wasn't good news, but Cron should be just fine for the 2012 season.  The good news is that he dodged a bullet and didn't need shoulder surgery.  He should bypass the Cedar Rapid Kernels of the Midwest League and jump right into the Hi-A California League with the Inland Empire 66ers.  Pitchers there should challenge him there with the fastball and try to pick him on the inside.  If all goes well there, it wouldn't be a stretch for him to make his way to the Double-A Arkansas Travelers of the Texas League.  He should be able to hit well, but where things become unclear is where he fits into the Angels plans.  1st base is locked down for the next 10 years.  While it's safe to say that Pujols should move to DH at some point, it's not going to happen before Cron is ready for the majors.  Will Cron become a DH extraordinaire in the mold of the Kansas City Royals' Billy Butler?  Never really seeing the field from the start of his career?  Or is Cron destined to be prime trade bait?  Those questions won't answer themselves completely in 2012, but they should start to unfold.
Stick with Baseball Instinct and we'll keep you a step ahead of the game. Check back soon for more Prospect coverage. While you're here, check out our Baseball Instinct 360° – it's our top 360 prospects for 2012. Also check out a friend of ours for all of your fantasy sports needs. Fantasy Rundown is updated religiously and is truly an awesome resource. Thanks for checking Baseball Instinct. We're working hard to bring you the best of the minor leagues and make the site the best experience it can be, so don't hesitate to tell us what you would like to read about. Email us now at mailbag@baseballinstinct.com.