Sonny Gray, RHP Oakland Athletics
11/7/1989
Height: 5'11″ Weight: 200
The drafting of Sonny Gray by the Oakland Athletics with the 18th overall pick in the 2011 MLB draft, was a typical Athletics move.  They went after a college pitcher who some say, is in the mold of former A's and current Atlanta Braves starter, Tim Hudson.  They passed on several higher ceiling arms and went with Gray, who by most accounts has a lower ceiling, but a higher floor than others.
Starting pitchers under 6 feet tall turn a lot of people off, they will point to San Francisco Giants Tim Lincecum as the rare exception as a successful shorter pitcher.  They tend to be at a disadvantage when it comes to downhill trajectory, while giving hitters a little more time to get a read on the ball with less reach than taller pitchers.  However, being a strong and intelligent pitcher, Gray put together a short, but impressive 2011 campaign with the Double-A Midland RockHounds after pitching in 1 game for the Arizona League Athletics.  He went 1-0 with an 0.45 ERA, while posting a 20/6 K/BB rate in 22 innings at Midland.
We first touched on Gray in our 2011 MLB draft review back in June.  He then came in #4 on our Oakland Athletics 2012 Top Prospects List back in December.  His performance in 2011 was good enough for him to find himself at #118° on our Baseball Instinct 360° list, where we had this to say about Gray:
118°. Sonny Gray, RHP, Athletics 11/7/1989  – The Athletics saw some Tim Hudson-like qualities in Gray when they drafted him in 2011 ahead of quality arms like Taylor Guerrieri (Rays), Matt Barnes (Red Sox), and Alex Meyer (Nationals).  He got into action at AA in 2011 and will likely start there again.  He's going to need to develop his secondary pitches to go with an upper 90′s fastball to off-set his frame if he's going to stay a starting pitcher and not a bullpen specialist.  ETA 2013.
Let's take a closer look at what Sonny Gray has to offer.
The Stuff
Fastball – Gray mixes a 4-seam fastball with a 2-seam fastball with no real favor of one over the other.  The 4-seamer sits in the mid 90's, but Gray can dial it up to 97 at times.  He doesn't get a lot of movement on this pitch and it can be vulnerable to better hitters.  The 2-seam looks to be a cut-fastball and yet has some sink to it.  Gray is much more consistent with this pitch and works in the low 90's with it.  Both pitches hold their velocity deep into games, where his velocity doesn't seem to hit its peak until the 7th or 8th innings.  This bodes well for a pitcher the A's will look for to handle a big work load.
Curve –  Sonny Gray has one of the better curves from the 2011 draft class. This big bender has a sharp bite on a downward plane as he works in the mid 80's with it.  This pitch is a knee-locking freezer that has the potential to be a plus-plus pitch.
Slider – This pitch was on display a little more in the pro ranks than it was in college.  He really needs this pitch to be an out pitch for him if he's going to make it as a starter. Another pitch that he runs in the mid 80's and can work both sides of the plate with.  If perfected this pitch could be especially tough on right-handed hitters.
Changeup – This is a pitch that hasn't been used much.  He throws this in the mid 80's and like his other offerings, he has a feel for it.  It's not very consistent yet, but does have a nice dive when used.  If Gray can turn this into a plus pitch it could mean the difference between inning eater and All-Star.
The Mechanics
OaklandClubhouse.com Video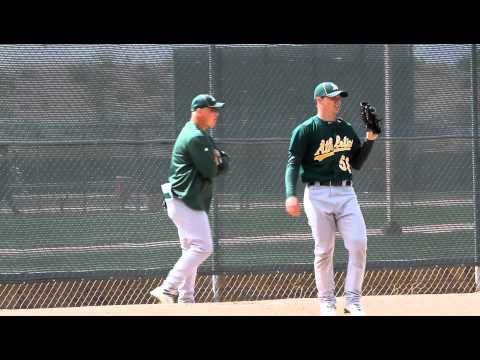 With an over head wind up, Gray has an aggressive motion to his plant foot as he falls off a bit to the first base side.  His hand break is pretty consistent and he displays easy arm action for a true 3/4 arm slot.  In college he had some issues with falling too heavy towards the first base side, causing at times some control issues.  The Athletics seem to be getting this under control as he did a better job with his stride staying more consistent towards home plate.
Our Instinct
So far so good into Gray's young professional career.  A lot is going to depend on the development of those secondary pitches.  It seems like we say this a lot about young pitchers, but this is especially true in Gray's case as his window of develop won't last very long.  He's got the stuff right now to enjoy a successful career in the bullpen, but we've got to think that he and Billy Beane are expecting a lot more than that.  I hesitate to earmark him as a front line starter.  I do however believe that he can be a solid #3 with an upside of a #2 on a contending team.  If everything comes together for Gray, he should reach Oakland sometime next season.  For now, It's safe to say that he should start the 2012 season where he left off in 2011, with Midland in the Double-A Texas League.
Stick with Baseball Instinct and we'll keep you a step ahead of the game. Check back soon for more Prospect coverage. While you're here, check out our Baseball Instinct 360° – it's our top 360 prospects for 2012. Also check out a friend of ours for all of your fantasy sports needs. Fantasy Rundown is updated religiously and is truly an awesome resource. Thanks for checking Baseball Instinct. We're working hard to bring you the best of the minor leagues and make the site the best experience it can be, so don't hesitate to tell us what you would like to read about. Email us now at mailbag@baseballinstinct.com.