Oswaldo Arcia, OF Minnesota Twins
5/9/1991
Height: 6'0″ Weight: 225
Oswaldo Arcia was signed by the Minnesota Twins on July 4th of 2007 as a 16 year old out of Anaco, Venezuela. He spent time in the Dominican Summer League, where so many young Venezuelan players make their debuts. They are away from home, but the language and culture are similar. It allows for a smoother transition to the baseball lifestyle than sending them directly to the states.
In 2008, his DSL debut of .293 with 20 XBH in 61 games put him on the map. Then he followed it up with a .275 and 19 XBH in just 167 AB in 2009 while making his US debut in the GCL. Both campaigns came with sub 10% K rates while walking almost as much as he struck out. So while the 2010 performance was still a surprise, there was data to back it up. Let's take a quick look at his breakout 2010 in Elizabethon.
Arcia saw his IsoP go from .149 to .181 and then jump to .297 in 2010. An elite number powered by 21 doubles, 7 triples and 14 HR in just 259 AB. He hit .375, yet his K rate jumped to 23.7%. The .375 AVG was propelled by an outlandish .466 BABIP number. A number so far above the norm that there was no possible way that the 2010 campaign could be taken at face value. But it was the year that made him a top Twins prospect.
So with his 2011 season, the Twins decided to start him at low-A Beloit and Arcia basically did the same thing. A .400 BABIP pushed his AVG to .352 and a .352 IsoP. His drop in K rate and jump in walk rate led to a quick jump to the High-A in the FSL which may have exposed the BABIP and his need for additional development time.
But it was overall enough to put him into the Top 100 inside of the Baseball Instinct 360°:
86°. Oswaldo Arcia, OF, Twins, 5/9/1991 – Arcia was signed back on the 4th of July in 2007 out of Anaco, Venezuela. He now has 4 seasons under his belt at age 20 and has made steady progress since his debut in 2008. He posted a .291/.335/.531 line between the MWL and the FSL. However, his FSL debut wasn't as good as you would hope as he battled injuries and looked lost at the plate at times, falling into bad habits that so many young Latin American prospects fall into: swinging at balls in the dirt. As you can imagine, his K rate went up and his BB rate went down, affecting his numbers across the board. However, Arcia's Midwest campaign was excellent and a repeat of the FSL seems likely. Look for a rebound and more power. ETA 2014.
While the snippet from the 360° hits the outlook like a nail on the head, let's take a little bit of a deeper look at the bat and glove of this Top 100 prospect.
The Bat
I got the chance to see Arcia in a few games in 2011. Let's take a quick look at some video from the FSL and then we'll talk about the bat.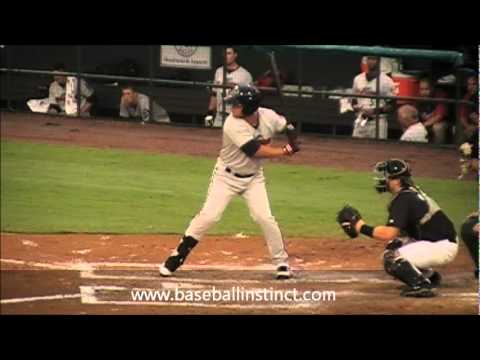 Arcia has a solid base and uses a short step instead of a big leg kick. So his raw power is primarily driven by his upper body at this point. But it didn't really lead to an elite contact rate once he reached the FSL. His has excellent bat speed but often finds himself lengthening his swing instead of staying short to the ball. It's a problem that develops with the short stride.
But he does have high end power and uses his hands well to the ball despite the small issues with his swing mechanics. A little bit of a lengthening in his stride will give him a better timing mechanism and possibly allow him to bring the average back up in 2012 without dissipating the power output.
The Glove
As Arcia has filled out the speed that made him a viable CF when he was signed has waned and he currently profiles best as a RF. Oddly enough, that's where he's playing. The elbow issues he had in 2011 are gone and his arm once again profiles well for a RF. Expect him to continue on that path until his bat determines his final landing spot.
Our Instinct
Arcia is going to repeat the FSL in 2012 and hopefully for the sake of his development he's given enough time to advance his plate discipline. The power is there and the power is real albeit raw still. But that part of his game will come and be game usable if he's given the time to advance the contact rate.
There are a few tweaks to his swing mechanics that could help but he should also rebound as he gets more comfortable with the next level of play since the quick jump from Low-A to High-A is not an easy one and one that should have been done after more significant time in Beloit.
Remember that Arcia is just a few months older than Eddie Rosario and is already levels above him. He's young for his level and the Twins need to use some restraint if Arcia is going to fully develop as a power bat capable of hitting near the middle of the order. Because that is what Arcia could possibly be. His struggles in the FSL might put some people off, but where he struggled has a lot to do with maturity and that .314 BABIP will revert. This time up which will help his AVG as he adjusts.
2012 will be a big year for Arcia and how the Twins decide to handle his time table will determine his future success.
Stick with Baseball Instinct and we'll keep you a step ahead of the game. Check back soon for more Prospect coverage. While you're here, check out our Baseball Instinct 360° – it's our top 360 prospects for 2012. Also check out a friend of ours for all of your fantasy sports needs. Fantasy Rundown is updated religiously and is truly an awesome resource. Thanks for checking Baseball Instinct. We're working hard to bring you the best of the minor leagues and make the site the best experience it can be, so don't hesitate to tell us what you would like to read about. Email us now at mailbag@baseballinstinct.com.