Deck McGuire, RHP Toronto Blue Jays
6/23/1989
Height: 6'6″ Weight: 220 
The Richmond, Virginia native was drafted with the 11th overall pick in the 2010 MLB First-Year player draft after completing a successful 3-year run with the Georgia Tech Yellow Jackets.  In those 3 seasons, Deck McGuire racked up a 28-7 record with a 3.02 ERA and a 306/106 K/BB ratio over 291 innings pitched.  Those numbers were good enough for McGuire to be an ACC all-star in 2009 and 2010.  After registering 112.2 innings in 2010, and then signing at the August 16th deadline, McGuire would not get into professional play and would have to wait until the next season to start his career.
We first discussed McGuire in our 2010 draft review, where Aaron Bentley touched on his mechanics coming out of college:
11. Blue Jays – Deck McGuire RHP Georgia Tech
 I don't really have any problems with McGuire's mechanics on the whole.  There is some talk about his hip rotation but what I've seen of him has been just fine.  I really like McGuire's delivery; I just wish he didn't fall off the mound toward first the way he does.  That probably has something to do with the flatness of his secondary pitches.  He'll need some development but McGuire will be ahead of the curve because he is strong mechanically.
Deck made his professional debut in 2011, spending most of the season with the High-A Dunedin Blue Jays of the Florida State League where Tom Belmont took video of him.  He finished the season with Double-A New Hampshire Fisher Cats of the Eastern League.  For the 2011 season, McGuire posted a 9-5 record, with a 3.02 ERA and a 124/45 K/BB ratio over 125.1 innings.
This performance caught our eye as Tom Belmont talked about him in our Touch'em All: FSL pitching prospects article in August. Brandon Kung presented McGuire to us at #4 on our Toronto Blue Jays 2012 top 10 prospect list and we ranked him at #130° on our Baseball Instinct 360° top 2012 prospects in early January:
130°. Deck McGuire, RHP, Blue Jays, 6/3/1989 –  The big work horse doesn't have over powering stuff, which limits his ceiling.  Having said that, his floor isn't as low as a lot of pitchers.  He could be a solid #3 in the majors, with really a worst case of a #4-5.  He should bounce around a bit between AA-AAA before landing in Toronto sometime in 2012, probably to stay. ETA 2012.
Let's take a closer look at McGuire toeing the rubber.
The Stuff
Fastball – McGuire throws both a 2-seam and a 4-seam fastball.  As we observe the video that Tom took, you can see that he has great command of his fastball, however he lacks any significant movement on either pitch.  He sits in the low 90's consistently, while once in a while he gets an uptick on the velo.
Slider – McGuire offers 3 off-speed pitches, which bodes well for his future.  The slider looks like a plus pitch and sits in the 84-86 MPH area.  This is already an out pitch and could be devastating with further development.
Changeup – This is his best off-speed pitch and while it's only average now, it has signs of becoming a plus pitch.  sitting around 80 MPH, this is an annoying change of pace from the fastball to hitters.  It's especially tricky to the left-handed batters.
Curveball – The curve is more of a "look at what else I have" type of pitch, rather than a true out pitch.  This sweeping pitch has more loop to it than bite, which keeps hitters off balanced, but it's average at best.
The Mechanics
Our Video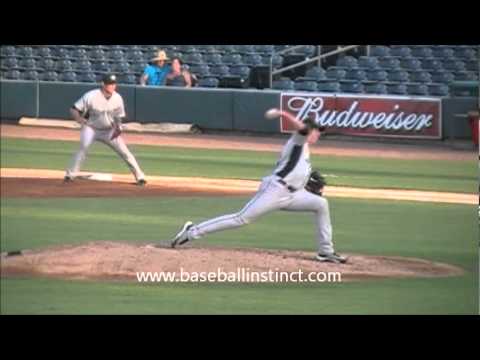 McGuire has a smooth 3/4 arm slot delivery.  He throws easy and hides the ball well, however his arm action is a little slow.  He repeats his motion very well, spots his pitches, and has great command.  This allows his deep repertoire to play up despite having less than remarkable stuff.  As Aaron said back in 2010, he falls off to the first base side a bit much, however it does appear that this area of concern is improving.
Our Instinct
With pitchers, it's always like going into a casino and dropping your money on the table; it's a gamble.  With Deck McGuire, it tends to be like going to the roulette table and putting your money on black or red:  a safe bet; if there is such a thing in casinos or with pitchers.  Deck is going to be a big league starter.  As we've touched on throughout this article, he's not ace material.  Rather, he's mid-rotation ceiling and floor.  He is in the right organization; he shouldn't ever need to be asked to be a top of the rotation type pitcher, as the Jays have higher ceiling type arms.  What remains to be seen with those arms is if they pan out.  McGuire is a much better bet to pan out than anyone in the system in relationship to his ultimate ceiling.  Deck could return to AA New Hampshire, but should quickly jump to the AAA Las Vegas 51's of the Pacific Coast League before making the jump to Toronto some time in 2012.  He should be in the rotation permanently in 2013.
Stick with Baseball Instinct and we'll keep you a step ahead of the game. Check back soon for more Prospect coverage. While you're here, check out our Baseball Instinct 360° – it's our top 360 prospects for 2012. Also check out a friend of ours for all of your fantasy sports needs. Fantasy Rundown is updated religiously and is truly an awesome resource. Thanks for checking Baseball Instinct. We're working hard to bring you the best of the minor leagues and make the site the best experience it can be, so don't hesitate to tell us what you would like to read about. Email us now at mailbag@baseballinstinct.com.