Ryan "Scooter" Gennett, 2B Milwaukee Brewers
5-1-90
W: 164 H: 5'9"
One of the most rewarding things in prospect watching is seeing a late round pick rise quickly up an organizational depth chart, and play well enough that the team has to consider them as a future building block. One such example is a 2b prospect of the Milwaukee Brewers organization. So little did the scouting world think of him, that he lasted until the 16th round and the 496th overall pick of the 2009 mlb amateur draft. And now Ryan "Scooter" Gennett is looking like a late round surprise.
Gennett has shown a very professional approach at the plate that has garnered a lot of attention within the Brewers organization. In 2 years of professional ball, Gennett has made his mark in the prospect world by demonstrating good contact abilities and legitimate potential to be a big league ball player. The numbers begin with 2 seasons of a .300 batting average, which is very promising for a player that was fairly young relative to the competition he was facing. His solid contact rate is further supported by the fact that Scooter Gennett does not strike out very much. In 2011, after logging 600 plate appearances Gennett had only 69 k's for a very impressive rate of 11.5%. While the contact rates are very good, the power numbers have dropped off from 2010 to 2011. The slugging percentage moved from .462 to .407. The number of doubles went down from 38 in 2010 to 20 in 2011 despite logging more at-bats in his 2nd season. Additionally, the already weak BB-rate of 6.0% in 2010 dropped to a paltry 4.5% in 2011. However, there is no denying that Gennett was productive in getting on base and scoring runs and being an overall nuisance to opposing teams.
Gennett sits at #6 within our Brewers top 10 list and is looking to be a part of the Brewers near future. Let's take a look at his game.
The Bat
Our Video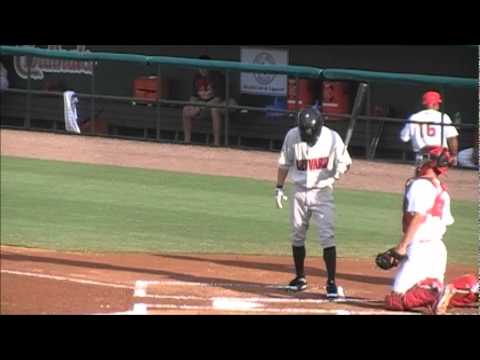 Scooter Gennett's bat is the key to his future in professional ball. It is fundamentally sound and polished for such a young age. Gennett begins his swing with a wide stance at the plate. He then brings front leg back as the pitcher begins to deliver the ball. This creates a good timing mechanism for Gennett and also transfers his weight back in preparation to strike at the ball. Bringing that weight back allows him to uncoil with good hip rotation and allows for decent pop in the bat. The key to his high contact rates come from his ability to use his hands to cover the entire strike zone. It is hard to find many holes in his swing and that should translate well as he climbs up the professional ranks.
While Scooter Gennett has a polished swing and good pitch recognition, he has a surprisingly low walk rate. In 2011 Gennett only earned 27 walks in 600 plate appearances for a bb rate of 4.5%. Though Gennett has excellent contact rates, he puts a lot of unnecessary pressure on his hit tool by drawing very few walks. This is an area in which Gennett should attempt to improve.
Another area of concern for Gennett is his lack of significant power. With his shorter stature (5'9") and slight build (164lbs), Gennett is never going to be a middle-of-order hitter. The question centers more on the idea of whether he would be a top-of-the-order table setter or a bottom-of-the-order batter. Gennett has decent power for his size, but it will likely show up as doubles and triples rather than home runs. And 2011 had some drop off in power production, which puts even more pressure on his hit tool. Ideally Gennett will drive the ball into the gaps and reclaim some of those doubles that he had been hitting in 2010.
Gennett has decent foot speed and should be capable of moderate stolen base production. However, he has hurt his team in this area. After having been caught 10 times in 21 stolen base attempts, Gennett needs to improve his base running skills. He simply gives away outs by being too aggressive. Look for improvement in his base running judgment.
The Glove
Scooter Gennet has the smallish build that is well suited for the middle infield. Milwaukee wasted little time in moving him out of the SS position and onto the 2b position very early. He lacks the range and arm to play an everyday major league shortstop, and frankly he isn't great at 2b either. With a fielding percentage of 96.7% in 2011, he isn't hurting his team badly. He shows enough defensive chops to be an average 2nd basemen. But with a bat that lacks power, and a speed game that may hurt his club more than it helps; Gennett needs to play fundamentally sound defense to improve his overall value to organization.
Our Instinct
There is no denying that Gennett has a hit tool that is extremely advanced and should get him to the major league level. He can help take pressure off that hit tool by increasing his plate discipline and learning how to get on base through more than just his contact ability. If he can see improvement in power rates by hitting balls to the gaps for doubles and triples, then he can become a legitimate top of the order hitter. Improving his defense should be paramount as he tries to increase his overall value at higher levels of professional ball. Gennett seems to have a good baseball IQ; so there is reason to believe that many elements of his game can be refined and improved.
After finishing the season at High-A ball in Brevard County, the expectation is that he will start in Double-A ball for the 2012 season. His stock within the organization is rising quickly and there is a great chance that his developmental path is short in duration. It is very possible that Gennett will make it to the show before the end of the 2013 season. Augmented by his solid contact rates, Gennett's prospects for making it to the big leagues are legit. It is his ability to improve on the other areas of his game that will determine just how good he is at the major league level. Stardom is not likely, but being a productive 2nd baseman setting the table for middle-of-the-order run producers is very possible with Gennett's hitting ability. If he reaches that ceiling then the 16th round draft pick defies all of the organizations that overlooked him and becomes a solid building block at the major league level.
Stick with Baseball Instinct and we'll keep you a step ahead of the game. Check back soon for more Prospect coverage. While you're here, check out our Baseball Instinct 360° – it's our top 360 prospects for 2012. Also check out a friend of ours for all of your fantasy sports needs. Fantasy Rundown is updated religiously and is truly an awesome resource. Thanks for checking Baseball Instinct. We're working hard to bring you the best of the minor leagues and make the site the best experience it can be, so don't hesitate to tell us what you would like to read about. Email us now at mailbag@baseballinstinct.com.