Stephen Lombardozzi, 2B Washington Nationals
09/20/1988
Height: 6′ 0″ Weight: 195
Happy April 1st everyone.  All foolin' aside, Are you excited for the season to kick into high gear this week?  We sure are!  Let's take a look at the middle infield situation in Washington.  Many people view Steve Lombardozzi as a potential utility backup to SS Ian Desmond and 2B Danny Espinosa of the Washington Nationals. However, the 19th round pick in the 2011 first-year player draft from St. Petersburg Junior College, Florida plays like he has other plans and Manager Davey Johnson will play whomever gives his squad the best chance to win.  So far this spring Lombardozzi is hitting a slash line of .310/.329/.381 for the Nationals, all but assuring himself a spot on the opening day roster.
Lombardozzi made the back-end of our Washington Nationals 2012 Top 10 Prospect List, coming in at #10.  Here's what we said about him back in November:
10. Steve Lombardozzi, 2B 9/20/1988 H: 6'0 W: 170 lbs – Lombardozzi hit .309/.360/.430 while hitting 8 homeruns and stealing 30 bases between Double-A Harrisburg and Triple-A Syracuse over 556 at bats in 134 games in 2012.  He earned a 13 game promotion to the majors where he hit .194 in 31 at bats.  For his pro debut, not really a big enough sampling to make any opinion there.  Despite stealing 30 bases, he doesn't really have burner speed.  He can hit for a decent average and he's pretty average in the field.
Our Instinct – The Nationals will probably give him a chance to compete for the 2B job and could beat out Espinosa.  Espinosa could push Desmond from shortstop.  Honestly, all 3 of them look to be about the same player to me.  Someone is going to be a backup or likely Lombardozzi could end up back at Syracuse until the Nationals get around to trading Desmond.
What I said back in November I still feel certain of  today.  With Anthony Rendon not far away and Lombardozzi making his case, Espinosa may be trade bait before it's all said and done.  He's batting a pedestrian .224/.288/.254 this spring.  I get that spring stats don't tell the true story, however after having a good spring in 2011 and then getting off to a decent start in the regular season, Espinosa hit .227 with just 5 HR and 5 SB in the second half, killing any designs on Rookie of the year honors.  Striking out 166 times in 2011.  He's struck out 24 times in 67 at bats this spring.  To no one's surprise, this leads the majors.  I've just been poked in the ribs and reminded this is a Steve Lombardozzi article, not one for Danny Espinosa.
Lombo came in #307° on our Baseball Instinct 360° top prospect list for 2012.  Let's take a look at his bat and glove.
The Bat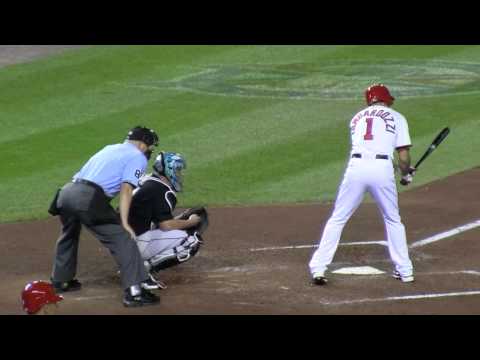 The switch hitting Lombardozzi has very little weight on his back foot when he sets up in the batter's box, so there isn't a lot to describe in his transfer.  He takes a quick step towards the pitcher mound with a nice compact swing.  He's a gamer that swings at a lot of 1st pitches, looking to get the ball in play right away.  With that, he struck out just 78 times in 556 minor league at bats in 2011.
The Glove
Lombardozzi is fairly polished and steady as a middle infielder.  He has good enough range to play solid 2B and can handle SS, though would be considered fringe at best at that position.  The Nationals have made it no secret that they want to play better defense.  A very intelligent defender who gets a good read on the ball off the bat and won't embarrass himself in the field.
Our Instinct
Steve Lombardozzi should have a fine major league career.  He projects as a solid utility infielder.  He has the potential and the baseball I.Q. to be a little bit more, potentially an average 2B.  The son of former major league infielder Steve Lombardozzi will play up for the Nationals and won't complain about his role.  One thing is for sure, the Nationals will find at bats for him, and he won't fail to reward them for their confidence in him. For you fantasy hounds, especially those in deep leagues, He's probably not on anyone's farm and available on the free agent list.  Keep an eye on him early, and be prepared to pounce if he gets off to a hot start – he's likely to keep it up all season.
Stick with Baseball Instinct and we'll keep you a step ahead of the game. Check back soon for more Prospect coverage. While you're here, check out our Baseball Instinct 360° – it's our top 360 prospects for 2012. Also check out a friend of ours for all of your fantasy sports needs. Fantasy Rundown is updated religiously and is truly an awesome resource. Thanks for checking Baseball Instinct. We're working hard to bring you the best of the minor leagues and make the site the best experience it can be, so don't hesitate to tell us what you would like to read about. Email us now at mailbag@baseballinstinct.com.