Brian Dozier SS, Minnesota Twins
05/15/1987
Height: 5′ 11″ Weight: 190
Selected by the Minnesota Twins in the eighth round of the 2009 First-Year Player Draft out of the University of Southern Mississippi, Brian Dozier has always played with a lot of heart.  Since being drafted he has been viewed as a middle infielder with a major league utility player ceiling.  Then 2011 happened. He had a remarkable breakout, putting up a triple slash of .320/.399/.491 with 33 2B, 12 3B, 9 HR, 56 RBI, 92 runs, 24 SB, and had a 66/55 K/BB rate in 491 at bats over 127 games.  He started the season with the Fort Myers Miracle of the Hi-A Florida State League, but spent most of the season with the New Britain Rock Cats of the Double-A Eastern League.  In the process he earned the Twins minor league player of the year award.
Dozier battle hard this spring, lasting until April 1st when the Twins sent him to AAA Rochester of the International League.  Manager Rod Gardenhire says that Dozier is ready for the Majors, and Brian agrees with him 100%.  Despite the fine Spring, Dozier has yet to play above AA and has not been exposed to most top-level starting pitchers or relievers. So off to AAA he goes to work on his swing and play every day.
In a pretty decent Twins organization, we didn't rank Dozier in our Minnesota Twins 2012 Top 10 Prospect list, however he did make it onto our Baseball Instinct 360° overall prospect list for 2012, where we said this about him:
245°. Brian Dozier, SS, Twins, 5/15/1987- Dozier had quite a season between the FSL  and Eastern League where he hit .320 overall with 33 doubles and 9 HR tossing in 24 SB. He has a high level contact ability and should see Minnesota some time in 2012. He could end up a solid utility MI if he doesn't enhance his power output because he probably won't stick at SS long-term with a fringe arm. But it looks as if the Twins are going to give him the shot in Spring and look at his ability to be their every day guy. He's going to hit and looks like a major league regular, but I hink in the long run he could profile better as a 2B. ETA 2012.
Lets take a look at Brian Dozier at plate and in the middle infield.
The Bat
MLB Prospect Portal Video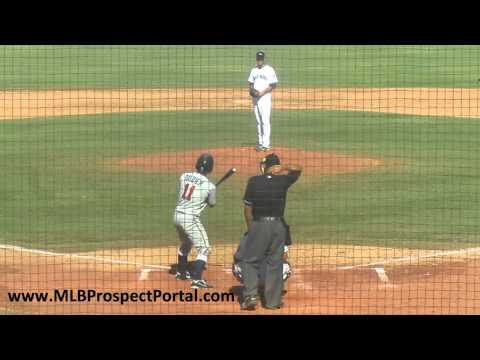 Brian Dozier has a very good eye, quick hands, and makes excellent contact with the ball.  He is more of a singles hitter than anything.  There certainly has been questions about his power.  However, working with famed hitting guru Tom Brunansky, Dozier has traded some of his on-base percentage for some improved power.  After spending most of his career driving half the balls he sees into the ground, as most speedy infielders do, Dozier has changed his stance and his swing some.  He now starts out with more weight on his back foot and as he accelerates through the strike zone, he's generating more lift, hitting slightly more fly balls than ground balls overall.  Dozier is a smart base runner with decent speed.  He won't make many mistakes out there and can put himself into scoring position a good portion of the time.
The Glove
Dozier can play adequate defense at either shortstop or second base.  However, long-term his range is fringe at best and may be ultimately better suited to play 2B.  Right now, if the Twins were to promote him to the majors, his range is no worse than that of current Twins SS, Jamey Carroll.
Our Instinct
How things work out for Brian Dozier in 2012 is predicated on his play at AAA and the health and success of Carroll and 2B Alexi Casilla in Minnesota.  At the same time it won't be many years before kids like 2B Eddie Rosario and SS Levi Michael will be pushing him.  Baring injury, Dozier should get 2 months of seasoning at Rochester.  After that, he's likely to get the call to the show.  I do not see both Carroll and Casilla staying healthy and playing well enough to keep Dozier off the field.  While I won't go as far as saying that he's a superstar in the making, I will say he is definitely a player to track in 2012, especially the 1st half of the season.  Those of you who are fantasy geeks, don't forget about him.
Stick with Baseball Instinct and we'll keep you a step ahead of the game. Check back soon for more Prospect coverage. While you're here, check out our Baseball Instinct 360° – it's our top 360 prospects for 2012. Also check out a friend of ours for all of your fantasy sports needs. Fantasy Rundown is updated religiously and is truly an awesome resource. Thanks for checking Baseball Instinct. We're working hard to bring you the best of the minor leagues and make the site the best experience it can be, so don't hesitate to tell us what you would like to read about. Email us now at mailbag@baseballinstinct.com.