Robbie Grossman, OF Pittsburgh Pirates
9/16/1989
Height: 6'0″ Weight: 205
Robbie Grossman was drafted by the Pirates in 2008 during the 6th round. A Texas High Schooler, Grossman was slated to attend the University of Texas and when he fell to the 6th round it seemed a certainty. The Pirates ponied up a $1,000,000 signing bonus and stole the switch-hitter away from the Longhorns.
After signing, Grossman was sent to the GCL to get him around the Training Facility and get him working, but the GCL line isn't relevant based on 16 ABs. But in 2009 he got a full taste of professional baseball, heading to the Sally League for 451 AB as he began to refine being a switch-hitter, a little trick he picked up as a High School senior in Cypress, TX.
In those 451 AB he came away with a .264 batting average and even that number was boosted by a very high BABIP of .404, so he clearly struggled. While learning to switch hit as a professional, his struggles has him striking out a 30.7% rate good for 164 Strike Outs. We're talking alarmingly bad numbers. But there was a bright light inside the numbers as he walked 14% of the time. A skill that will carry on into the future.
In 2010, despite his struggles the season prior, the Pirates sent him to Bradenton of the FSL. While he responded with clear growth as a hitter, the final line of .245/.338/.345 is uninspiring. But underneath the hood you see him holding onto that excellent walk rate while lowing his K rate to 21.1%. He boosted his IsoP to .100 and when his BABIP dropped to .319 he didn't disappear as a player. He was still productive.
The 2010 performance however prompted the Pirates to make Grossman repeat the FSL. And when they did, he exploded on the league.
.294/.418/.451 with 34 doubles, 2 triples and 13 HR to go along with 127 runs scored, 111 walks and 24 SB. He is the first minor league player to reach triple digits in runs and walks since Nick Swisher in 2004. Grossman's K rate dropped to 18.2% and his walk rate was an elite 17%. His BABIP was a little high at .358 but not far off of an average line and his IsoP jumped to .157.
The growth across the board and just simply outstanding numbers in the FSL and then an All Star performance in the AFL puts Grossman in the mix as one of the brightest stars in the minor leagues. The Pirates agreed and made him their minor league player of the year. He landed inside the Top 100 of our Baseball Instinct 360°:
90°. Robbie Grossman, OF, Pirates, 9/16/1989 – Grossman repeated the FSL and he answered the questions with a spectacular season. With that said, he was more age appropriate in the FSL in 2011.  His accomplishments in the AFL spoke volumes as to the advances he's made in his game. While he doesn't have an elite tool, he's average or better across the board. He should start 2012 in Double-A and could move quickly after that. Future CF/LF. Just one of those players that's going to be a major leaguer. Ceiling of a #2 hitter, but probably profiles better down the lineup though. ETA 2013.
Let's take a look at the bat and the glove to see why Grossman should be considered a future major league talent.
The Bat
Grossman is neither a power guy nor an elite speedster. He doesn't have one of the flash tools and chances are that he'll never be a star with the bat. But what he does is get on base. And he does it a lot. He's a natural right-handed hitter and this season he settled into the left side of the plate to become a true switch hitter. He has enough speed to make him a SB threat right now and is learning to use his natural power.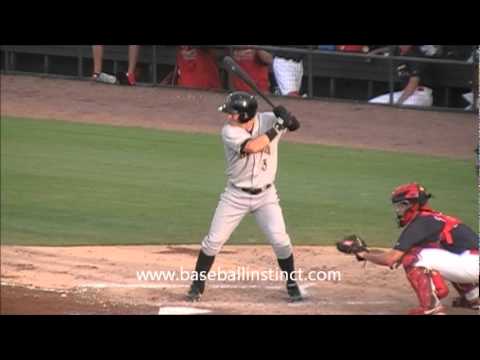 He won't be a .300 hitter, so working out of the 2 hole in a lineup will really be based on if he can keep his OBP above .400. Which is a possibility.
The Glove
Grossman can handle CF if needed, but is clearly better suited for a corner based on his range. While he won't have the power to profile as a RF, he has the arm for the position. He's a good defender and will be average at all of the OF spots if he's made into a full time 4th OF or a LF.
Our Instinct
Grossman clearly caught my eye last year. Seeing him in FSL play on many occasions, he stood out amongst the crowd. A feat that isn't easy to accomplish when you really don't have a plus tool. But Grossman did just that for me. His success in the AFL was no surprise to me and the fact that his power jumped there was clear. He hit 13 HR in a pitcher friendly FSL. The AFL is the opposite.
He has yet to hit .300 in a season and it may not be a number he approaches in the major leagues. But his plate discipline is really at a level that isn't taught. He has the approach to be a successful major league OF hitting out of the 2 hole in the lineup. He'll have 20+ SB seasons if he can continue to get on base at a near .400 clip. He can hit double digit home runs and could score runs in bunches.
Whether that happens in Pittsburgh is a question. With Starling Marte there as well and Andrew McCutchen there will be limited playing time available for him. He'll start the 2012 season in Double-A and should spent most of, if not all, of the season there. His power numbers could jump a little and he may have his first 20 HR season. Whether he's a 10/10 4th OF or a 20/20 regular will be made more clear over the next few months. We like him as a Top 100 overall prospect. And that says something.
Stick with Baseball Instinct and we'll keep you a step ahead of the game. Check back soon for more Prospect coverage. While you're here, check out our Baseball Instinct 360° – it's our top 360 prospects for 2012. Also check out a friend of ours for all of your fantasy sports needs. Fantasy Rundown is updated religiously and is truly an awesome resource. Thanks for checking Baseball Instinct. We're working hard to bring you the best of the minor leagues and make the site the best experience it can be, so don't hesitate to tell us what you would like to read about. Email us now at mailbag@baseballinstinct.com.