Chad Bettis, RHP Colorado Rockies
04/26/1989
Height: 6′ 1″ Weight: 200
Selected in the second round of the 2010 First-Year Player Draft out of Texas Tech University by the Colorado Rockies, righty Chad Bettis wasted no time getting on the field and making an impact.  He went 6-1 with a 1.07 ERA to go along with a 56/13 K/BB ratio over 67 innings between the Rookie Level Tri-City Dust Devils of the Northwest League and the Single-A Asheville Tourists of the South Atlantic League, for an impressive 2010 debut.
In 2011 Bettis would spend the whole season with the High-A Modesto Nuts in the hitter-friendly California League.  He Posted a 12-5 mark with a 3.34 ERA to go with an impressive 184/45 K/BB ratio over 169.2 innngs.  We discussed Bettis in our final Touch'em All: California League article of the 2011 season:

Chad Bettis, RHP Rockies – 4/26/1989 – Height: 6'1″ Weight: 180 – Bettis compiled a 3.34 ERA that is well supported by his 2.73 FIP. As a righty, his low 90s fastball is only average at best, but he has a slider that flashes plus and is his go to strikeout pitch. His 184 strikeouts to 45 walks in 169.2 IP is impressive for a pitcher still learning to harness all of his stuff. He is still developing a changeup and how far it comes along will decide if he's a mid rotation starter or a middle reliever.
His 2011 performance led us to rank him #3 in our Colorado Rockies 2012 Top 10 Prospects list:
3.  Chad Bettis RHP 4/26/1989 H: 6'1″ W: 193 – Bettis could have easily been promoted to Double-A Tulsa in 2011. Drafted as more of a relief arm in the 2nd round in 2010, Colorado management wisely, I think, decided to keep him in Modesto after being promoted from Tri-City to Asheville in 2010. The move to the rotation has fit like a glove. He pitched 169.2 innings for Modesto with a 3.34 ERA, giving up 63 earned runs and 45 walks, but striking out a whopping 184 California League hitters. He does it with a plus fastball thrown anywhere from 90 to 96 mph with late movement. He complements his power game with a good slider and change-up.  We touched on Bettis in our Touch'em All Series, California League pitchers update.
Our Instinct: Bettis will most certainly start the 2012 season in Double-A. It will be interesting to see if he can keep on missing bats while limiting the free passes as consistently as he has to this point. He has the kind of stuff that allows him to make mistakes up in the zone and not pay for it too much, but I think he'll need to raise that 46% groundball rate and keep the ball out of the bleachers more to find similar success at higher levels.
True enough, the 2012 season is set to kick off today for minor league clubs with Bettis making his Double-A debut with the Tulsa Drillers of the Texas League.  Lets take a look at Chad Bettis on the field to see why he shot up our list and found himself at #71° on our Baseball Instinct 360° 2012 Top Prospect List.
The Stuff
Bettis has one of the largest arsenals in his repertoire that you will find in baseball, including 2 fastballs and 2 different change ups.
Fastball – Bettis throws both the 4-seam and the 2-seam fastball.  He use the 4-seam with good control and it has some late bite to it, usually sitting in the 93-95 mph range, he can dial it up to 98 mph as a great out pitch.  The 2-seam isn't as refined as the 4-seam, however it does have some nice movement and it will induce ground balls.  He runs this pitch in the low 90's, but can get it up to 96-97 mph range at times.
Slider – This has been an effective pitch for Bettis, as he can really run this under left-handed batter's hands.  This pitch has a nice break to it and depending on his thumb placement on the ball, Bettis can make this plus pitch act more like a cutter with less break than a conventional slider.  Truly a nasty asset to have.
Change up – Bettis has a 4-seam and a 2-seam change-up that runs the same slot as the previously mentioned fastballs.  The 2-seam mirrors the fastball to the batters eye until the bottom falls out of it.  Bettis used this pitch in college.  The 4-seam change he picked up last season from Modesto pitching coach Daryl Scott.  He doesn't have as much control with it as the 2-seam, but it has the makings of a very effective pitch that has different movement and a different break than the 2-seam.  Both pitches run in the mid 80's.  I like the progress that's been made here.  There's been some concern about the ability of Bettis to develop his secondary pitches.
Curveball – What his slider is to the lefties, the curve could be equally devastating to righties in time.  It's basically a show-me pitch right now, but he's got a true feel for it, making it a potential out pitch for Bettis.
The Mechanics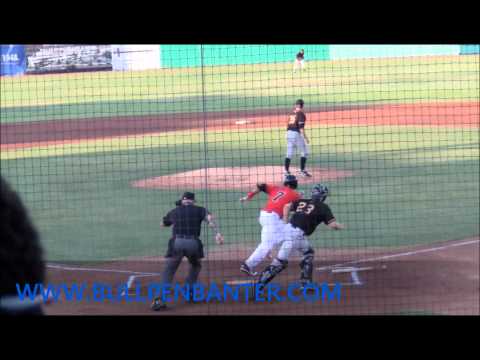 Chad Bettis exudes confidence on the mound.  He has a lot of confidence in his stuff, making it very easy for him to go right after each hitter.  He attacks with a quick arm action and a very clean delivery.  He doesn't put any extra stress on his arm with his delivery.  My only concern is his cross-body type of delivery.  It appears that this has improved since college, which is probably why he's got a shot at starting with he Rockies after spending time as a college closer.
Our Instinct
So it begins.  Bettis will start the season at AA Tulsa.  I have good feelings about his overall baseball I.Q. and the continued development of his off-speed pitches.  We've discussed the possibilities of him becoming a bullpen specialist or perhaps a closer, with an upside of a mid-rotation arm.  I like what I've seen so far this spring to go along with what he did in the Cal league.  I'm leaning towards the rotation spot, and while I don't think he will ever be ace material, I do think his ceiling has grown to #2 upside.  Let's see how he handles the Texas league, but I would not be surprised if he got some time in with the Triple-A Colorado Springs Sky Sox of the Pacific Coast League in the second half of the season, possibly pitching a few innings at Coors field before competing for a rotation spot in 2013.
Stick with Baseball Instinct and we'll keep you a step ahead of the game. Check back soon for more Prospect coverage. While you're here, check out our Baseball Instinct 360° – it's our top 360 prospects for 2012. Also check out a friend of ours for all of your fantasy sports needs. Fantasy Rundown is updated religiously and is truly an awesome resource. Thanks for checking Baseball Instinct. We're working hard to bring you the best of the minor leagues and make the site the best experience it can be, so don't hesitate to tell us what you would like to read about. Email us now at mailbag@baseballinstinct.com.