Chad James, LHP Miami Marlins
1/23/1991
Height: 6'3″ Weight: 195
Chad James, an Oklahoma product, was selected in the 1st round of the 2009 Draft. The 18th overall pick signed for $1.7mm at the deadline and then began his career in the Sally league. He threw 114.1 innings while striking out 104 and walking 64, good for a 5-10 record with a 5.04 ERA. Not impressive on the surface.
But underlying he had a better season than his ERA suggests. His FIP of 3.85 shows a line much better than the 5.04 ERA he was stuck with. His 12.7% walk rate was far from acceptable but he was a raw first year pro out of high school in full season baseball when most of the pitchers his age would have started in short season.
Despite his struggles, the Marlins pressed him into the FSL in Advanced A ball. While the FSL is a pitcher friendly league and Roger Dean Stadium plays big, the hitters are far advanced from the Sally League kids.
Let's Tarantino this. James first 13 decisions left him 0-13.
Now let's go back. Let's see how his 0*13 start to the 2011 season could have possibly gotten him into the middle of the Baseball Instinct 360° :
179°. Chad James, LHP, Marlins, 1/23/1991  - Excellent fastball based on movement, can get in into the low 90s and mixes in 3 other off speed pitches. 2012 could be a break out season for James. With some improved command, the development of another out pitch, and some deception with his pitches he could shoot up the list soon. Chad James warrants keeping an eye on. He's projects as solid mid rotation starter and could see action with Marlins in September, but more likely sometime in 2013. ETA 2013.
Well, James closed out the 2011 season with a 5-2 run along with a 3.80 ERA which was supported by a nearly identical to 2010 3.84 FIP. His walk rate dropped to 7.8% which was a huge improvement over 2010. But his K rate also dropped which was in direct correlation to a drop in his fastball velocity. He was working as high as 95 mph in 2010 and then closed out 2011 around 87-90.
Let's take a look at his overall pitch mix and the mechanics to see why he's one of the Marlins top overall prospects.
The Stuff
Chad James brought a near mid 90s fastball into pro ball, but the velocity abandoned him as the season wore on  in 2011. We'll touch on why we think the velocity dip occurred when we talk about his mechanics but for now we'll say that his fastball is 88-91 and can touch 93.
He pairs the fastball with a slider that grades out as average and a straight changeup that he throws well and has begun learning to command low in the zone.
James also throws a curveball with good break but he has little command of the pitch and the Marlins took the pitch out of his repertoire mid way through the season. It may eventually be added in as he refines the command of his other offerings.
The Mechanics
James still has room to add strength to frame which will allow for his delivery to work better. Let's take a look at some video from last year in the FSL:
Video by Baseball Instinct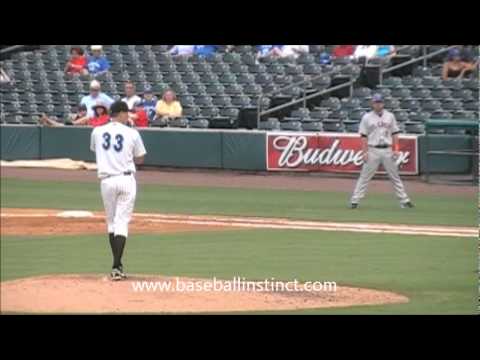 James doesn't have the cleanest mechanics based on what I got the chance to see on multiple occasions in 2011. He throws slightly across his body, which not only puts him at a higher risk for shoulder stress, but it also is a major cause to a lack of command.
While the cross body arm action can cause him to miss east to west, he also has a short landing with his lead leg at times which cause an issue with his timing causing him to throw with more arm to get his velocity and or spin. Another issue is that it can cause him to miss up in the zone. Hence his loss of GB% that he showed in 2010 and an elevated HR%.
Our Instinct
James as he finished 2011 is a back end of the rotation starter. But we have to keep in mind that he was forced to throw a set number of sliders and changeups during his starts in 2011 which found him pitching backwards in many at bats. It was a learning process that could prove very valuable in 2012.
His loss of velocity could be a major issue or a serious boost if the velocity once again upticks. The FSL is a long and hot summer season which can wear on a pitcher especially one who pitched nearly 150 innings for the first time in his career.
His mechanical issue is actually a pretty simple fix even if its only addressed slightly. He needs to get better extension out from. That will allow him to use his legs more and keep his timing more in sync. It will allow him to be finer with his command without needed to take a little off the pitches.
James started the 2012 season back in the FSL, which keeps him age appropriate to level and allows him to repeat as he puts his arsenal back into practice in a more classic manner ie. living off of the fastball to get a head. The Marlins have him on target to push his IP count to 180 or so and he should be ready for Miami in 2013 and ready to go 180-200 innings for them once they make the call.
If his velocity upticks, that's all he needs is a little refinement with the secondaries and the mechanics and he's right back into the mid rotation upside that the Marlins hoped he would have when they drafted him.
Stick with Baseball Instinct and we'll keep you a step ahead of the game. Check back soon for more Prospect coverage. While you're here, check out our Baseball Instinct 360° – it's our top 360 prospects for 2012. Also check out a friend of ours for all of your fantasy sports needs. Fantasy Rundown is updated religiously and is truly an awesome resource. Thanks for checking Baseball Instinct. We're working hard to bring you the best of the minor leagues and make the site the best experience it can be, so don't hesitate to tell us what you would like to read about. Email us now at mailbag@baseballinstinct.com.