A. J. Jimenez, C Toronto Blue Jays
5/1/1990
Height: 6'0" Weight: 175
It comes with no surprise that the Toronto Blue Jays, one of MLB's strongest farm system, arguably owns the deepest set of backstops; this group starts with J. P. Arencibia, their current starting catcher and Travis D'Arnaud, one of the top catching prospects in all of baseball.  With such a strong core, the Jays' other guys often get overlooked.  This set starts with A.J. Jimenez, an 8th round selection out of Puerto Rico in 2008.  He's currently in AA-Eastern League, but he could be Toronto's next catching star if he can add to his year in Hi-A Dunedin in 2011.
Jimenez's stats the past two seasons have helped his stock after a forgettable first two years in his pro career.  In the 2010 season, Jimenez started to attack the ball better and ended the season hitting .305/.347/.435 in 292 plate appearances.  He also showed some speed stealing 17 bases.  In 2011, he had a a triple slash line of .303/.353/.417 in 422 plate appearances with a .113 ISO and .348 BABIP.
Furthermore, he showed better control of the plate.  Although Jimenez' walk rate stayed level in the 6% range, he cut down his k-rate from 19.2% to a more acceptable 14.2%.  Although his stolen bases dipped, he was still quite effective netting 11/13 bags.
This backstop came in at #287 on our Baseball Instinct 360° :
287°. A.J. Jimenez, C, Blue Jays, 5/01/1990 – A top flight defensive catcher that is less touted than others in the system. He works well with his pitchers and has a strong arm. With his contact ability, .303/.347/.417 in the FSL in 2011, he should be able to hit enough to make it as a backup in the majors. He has good bat speed but it hasn't translated to HR power yet. He should move to Double-A in 2012 and the power should start to show itself. 10-15 HR annually with a .280 AVG isn't out of the question. If Arencibia continues to rake, Jimenez makes one Travis D'Arnaud an expendable highly sought after commodity. ETA 2013.
Let's take a look further at AJ Jimenez as the Blue Jays gear towards a conundrum regarding who starts behind the plate for them in the near future.
The Bat
AJ Jimenez really struggled with the bat in his first two seasons before his offensive outburst two seasons ago.  He followed 2010 with another good offensive campaign batting over .300 for a second consecutive year.  Despite a relatively high BABIP – .362 in 2010 and .348 last season – Jimenez has found the ability to make contact.  He's also developed better pitch recognition as Jimenez cut his k-rate by more than a half (from 30.8% to 14.2%) since his debut in 2008, while maintaining a steady walk rate around 6%.  If he can lower his k-rate even further and continue to make contact, his average might be for real and sustainable.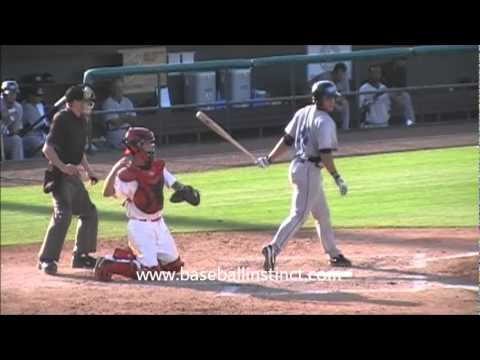 Jimenez has good bat speed and right now, he barrels balls all over the field.  He's a line drive hitter and has modest power, mostly in the form of doubles.  On average, just over 20% of his hits are doubles each season.  By adding more strength and experience, Jimenez has the potential for 10-15 HRs.  He's not hitting as well so far in AA, but there's still plenty of time to see how the season plays out.
The Glove
His defense behind the plate is more highly acclaimed than his bat at the moment, despite hitting for a .300+ batting average the past two years.  He is the Blue Jay's top defender; more importantly, managers voted AJ Jimenez as the best defensive catcher in the Florida State League in 2011 – the second straight season he's earned that honor.
There's no questions about AJ Jimenez's defense behind the plate; he has great glovework, game-calling ability and is excellent with the catch-and-throw game – the best defensive backstop in the Blue Jay's farm system.  In the 2010 and 2011 season, Jimenez was voted as the best defensive catcher in Low-A Midwest League (MWL) and Hi-A Florida State League (FSL), respectively – two years in a row!  Last season, Jimenez caught for an excellent crop of Blue Jay's pitching prospects with huge pedigrees including Nestor Molina (traded to the White Sox this offseason), two former first round draft picks, Deck McGuire and Chad Jenkins, and one start for Henderson Alvarez; he can definitely handle a pitching staff.  Statistically, Jimenez is a good receiver behind the plate and he has an accurate rifle of an arm.  In the 2011 season, he only allowed 6 passed balls in 98 games and threw out 44% of attempted thefts – 2nd in the FSL.  He fared a bit better in 2010, outgunning over half (51%) of all base stealers trying to steal on his watch.
Our Instinct
It is difficult to step out of the shadows in the Blue Jay's first-rate system that is deep with catching prospects like Travis D'Arnaud.  A top flight defensive catcher like AJ Jimenez deserves some props for what he's accomplished so far.  He works well with his pitchers, he is good behind the plate and out-guns any runners with his strong arm.  It is his offensive potential that needs work at this point.  He has good bat speed, but it has not translated to HR power yet.  We do believe it will happen though.  As he matures, his game should emulate Yadier Molina's stats with better speed around the bases.  A 15 HR/15 SB season is not out of the question.
Stick with Baseball Instinct and we'll keep you a step ahead of the game. Check back soon for more Prospect coverage. While you're here, check out our Baseball Instinct 360° – it's our top 360 prospects for 2012. Also check out a friend of ours for all of your fantasy sports needs. Fantasy Rundown is updated religiously and is truly an awesome resource. Thanks for checking Baseball Instinct. We're working hard to bring you the best of the minor leagues and make the site the best experience it can be, so don't hesitate to tell us what you would like to read about. Email us now at mailbag@baseballinstinct.com.