Kolten Wong, 2B St. Louis Cardinals
10/10/1990
Height: 5'9″ Weight: 190
Kolten Wong was selected by the Cardinals in the 1st round of the 2011 draft out of the University of Hawaii. The Rainbow Warriors 2B was taken 23rd overall and signed for $1.3mm shortly after. The Cards immediately sent him to the competitive Quad City squad in the Midwest League in time for a playoff push.
Teaming with fellow top prospect Oscar Taveras, he helped the Bandits to the Midwest League title and hit .335 with 15doubles, 2 triples and 5 HR while stealing 9 bases in just 194 ABs. He also kept the bb/k ratio at 21/26 which was excellent.
The performance was enough to put Wong into the top of the Baseball Instinct 360°:
53°. Kolten Wong, 2B, Cardinals, 10/10/1990  – Wong has a high baseball IQ which we like to call baseball instinct, oddly enough. He'll be a solid defender at 2B and has more than enough arm to handle the position.  He projects as a .300+ hitter and should develop 10-15 HR power. While he isn't fast, he is a good base runner and could steal 20 annually. It shouldn't take long for him to make the move all the way to St. Louis. Possibly very soon.  ETA 2013.
While I think that short summary tells the story, let's takToe a deeper look at the bat and the glove to see why Wong, at just 5'9″ is considered one of the best prospects in baseball.
The Bat
Wong has excellent bat speed and despite some extra action in his load he gets the bat in good position prior to the swing. He uses the whole field and the bat speed allows him to make up for a lack of raw power. While he only has average power at best, he should hit plenty of doubles and double digit home runs on an annual basis.
Video by dmsh2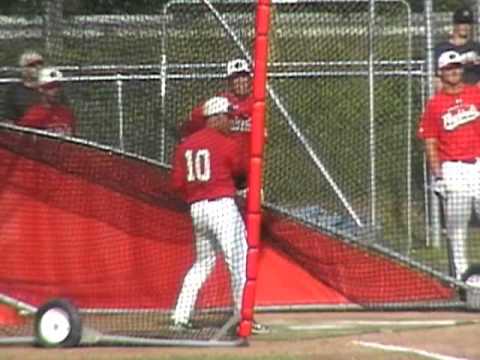 His approach and pitch selection combined with a good swing plane suggest that he could hit for .300+ averages in his prime with a floor of a .280 hitter.
His speed is a tick above average and he makes that seem even better by really having an understanding of running the bases and stealing off of the pitcher as opposed to trying to out run the catcher's arm. He projects for 10-15 SB annually with a chance for more.
The Glove
Defensively Wong has smooth actions with limited range. Although more than enough for his natural position of 2B and the arm to handle the position as well. He doesn't have a lot of work to do defensively and while his bat may push him into All-Star status it's his glove that is closer to major league ready now.
Our Instinct
Kolten Wong started the 2012 season by skipping right over the pitcher friendly FSL. Well, that move by the Cardinals made the FSL that much more pitcher friendly because Wong has the swing to have raked in the big FSL parks much like he's raking in the Texas League.
He isn't far off from the major league, although I fully expect him to spend the entire 2012 in the minor leagues. With that, Wong could be a major factor in St. Louis for the 2013 season and could break camp with the club.
In his prime he could be a 15/15 player with All-Star caliber defense at 2B. That type of production out of a 2B hasn't been seen in St. Louis since Tommy Herr manned the keystone.
Stick with Baseball Instinct and we'll keep you a step ahead of the game. Check back soon for more Prospect coverage. While you're here, check out our Baseball Instinct 360° – it's our top 360 prospects for 2012. Also check out a friend of ours for all of your fantasy sports needs. Fantasy Rundown is updated religiously and is truly an awesome resource. Thanks for checking Baseball Instinct. We're working hard to bring you the best of the minor leagues and make the site the best experience it can be, so don't hesitate to tell us what you would like to read about. Email us now at mailbag@baseballinstinct.com.