Trevor Rosenthal, RHP St. Louis Cardinals
5/29/1990
Height: 6'2″ Weight: 190
Trevor Rosenthal was selected by the St. Louis Cardinals in the 21st round of the 2009 Amateur Draft. As the 639th overall pick out of Cowley County Community College he signed for just $65,000. Based on the talent it was a coup for the Cardinals to get him inked. While he's really moved up the prospect charts since signing, let's take a look at the road to the present and see how he's made his way up the ladder.
After signing in 2009 he was moved right into the GCL tandem rotation. The games are played right inside the Cardinals Spring Training complex in Jupiter so it was easy for the development staff to keep close tabs on him. He went 4-1 with 26 strikeouts in 24 IP with 10 walks. A walk rate under 10% and his K rate over 20%. His ERA of 4.88 isn't indicative of how well he actually pitched as the defense in the GCL tends to be ultra raw and Rosenthal's FIP of 2.76 shows that. He even battled a high .362 BABIP that hurt his bottom line Show Me numbers. A big positive which will prove key in his development was his 58% ground ball rate. While it hurt him because his defense didn't help him, a ground ball rate over 50% shows that his fastball which has hard sink was working and high ground ball rates are a key to major league league success for many, many starting pitchers.
In the 2010, after extended ST, he was moved into the Johnson City tandem rotation again, pitching in 10 games while starting six of them. He amassed a 3-0 record while striking out 30 in 32 innings and walking just 7. This time his ERA dropped to 2.32 as his walk rate dipped to an elite 5.7% and his K rate held strong at 30%. His FIP at 3.05 and BABIP .262 showed that there was some regression and the things that didn't go Rosenthal's way in 2009 went to the opposite of the spectrum and a lot went his way. But overall the peformance was eye opening and took him from minor leaguer to true prospect. Note the 68% ground ball rate. It's going to be a theme here.
In 2011 he was given his first taste of full Season ball and the kid gloves came off. Rosenthal pitched in and started 22 games on the season, totaling 120.1 innings. 87.2 more innings than he pitched the season prior. Like I said, no kid gloves. He responded well, striking out 133 in those 120.0 innings and walked just 39. His 4.11 ERA was the reversion we were talking about but his FIP still says he pitched better than that. The FIP stood at 3.22 and his BABIP was an average .334. So his numbers were starting to fall more in line. His K rate jumped above the rate I look for and landed at 25.9% and his walk steady at 7.7%. And the ground ball rate? Above 50% at 52%.
The back to back excellent season and him proving he was a full season arm moved him high on our lists and we are the outlier as he ranked inside the Top 50 of our Baseball Instinct 360°:
43°. Trevor Rosenthal, RHP, Cardinals, 5/29/1990 –  Rosenthal made the the biggest jump inside the Cards system in 2011. He sat just outside the Top 15 last season and is now viewed as one of the top arms in all of the minor leagues.  Rosenthal has a mid 90s fastball and touches 97. He uses a mid 80s slider as a put away pitch, but it was his change up that made the biggest strides in 2011.  Rosenthal has the 3 pitch mix to be a mid rotation starter and could be as much as a #2. He should move to the FSL sometime in 2012 where he'll work with Carlos Martinez and coach Dennis Martinez. I can see him moving station to station towards St. Louis.  This ranking will be viewed by many as overly aggressive, however we think he's an exciting player and stand behind it.  ETA 2014.
While that says a lot about what we think of Rosenthal, I'm going to say off the top that I was wrong.  He didn't move to the FSL some time in 2012. As a matter of fact, he impressed so much in Spring Training that the Cardinals brass decided he would skip the FSL entirely and head straight to the Texas League with the Springfield Cardinals. So let's take a look at Rosenthal's pitch mix and mechanics (despite any exceptional video out there).
The Stuff
Rosenthal's best pitch is a hard sinking mid 90s fastball which induces an excellent ground ball rate which we've keyed in on at 50%+ in each season. That number will be key to his success. The fastball has actually seen an uptick in velocity and he's touch 98 at times but in my opinion isn't a needed uptick. The ball will flatten out when he reaches back to the upper level velocity and it will probably be used at an upper strikezone pitch to change the eye level of hitters. It could become an out pitch in time.
He's also noted for a curveball by some outlets, but Rosenthal throws a slider in actuality. And it's a good slider. It's already a true out pitch and he hasn't refined it to its true potential yet. Based on his release point and arm action, the slider gets excellent bite and he can bury it on the out part of the plate.
With the above average to plus fastball and the above average slider, he has the pitches to make him successful, but it's the development of the changeup that has taken him from back end starter to mid rotation or better prospect. The changeup has come along well with repetition which was actually forced upon him in 2011. He pitched with a changeup quota last year and the coaching staff wanted to see him throw 20+ changeups per outing. That quota saw him using the changeup to open up pitch sequences with the changeup and slider and using his fastball more as a secondary. The reps brought his changeup to average now puts him out there with three average to above offerings.
The Mechanics
Here is come video of Rosenthal warming up. You can get a good idea of the effort used and the arm action. While it's not game action and there is no way to see the action of the pitches it will serve it's purpose for now.
Video by TheCodeeg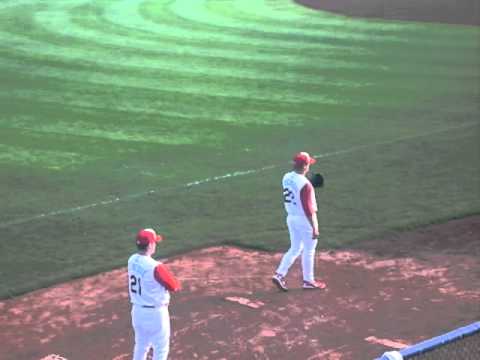 Rosenthal has easily repeatable mechanics. He uses his front foot as a good timing mechanism and gets decent extension. He has strong legs and uses the drive leg to support the additional velocity. Using the drive leg is something that Rosenthal is actually doing even more of today than he was at the recording of that clip.
His arm action may be a touch behind timing of the front leg plant, but it's nothing that should be noted as alarming. There isn't much violence in his action and based on the simple timing of the mechanics it bodes well for his ability to keep his command at an above average level.
Our Instinct
Rosenthal's overall package a progression as a player has just been something that has kept our attention. As I noted earlier, I was wrong with his placement to start the season and I was certain he would spend most of, if not all of, the 2012 season refining his changeup and building innings in the FSL.
After speaking with the Palm Beach Cardinals pitching coach, Dennis Martinez, just prior to the start of the season, I understood why he made the jump to Double-A. When I asked about Rosenthal and why he made the jump to Double-A while uber prospect Shelby Miller started the 2011 season in the FSL, Martinez said this one line: "Rosenthal, he's a different animal."
That should tell you what the organization thinks of the kid. While he doesn't have the ultimate upside of Shelby Miller, Rosenthal himself is no slouch of a pitching prospect. He has the fastball/slider to be highly effective at the back end of a rotation or in the bullpen, but when you mix in the newly refined changeup and the fact that both his command and mechanics blend together, he could slot into the middle of the rotation in time and be an innings eater. Can he be better than a #3? The upside is there when the fastball starts reaching the upper 90s. How well he continues to develop will give us the ultimate answer of "Is he a possible #2 starter?".
The 2012 season is young, but so far so good. He holds a 3.54 ERA and is striking out a batter per through 20.1 innings.
Stick with Baseball Instinct and we'll keep you a step ahead of the game. Check back soon for more Prospect coverage. While you're here, check out our Baseball Instinct 360° – it's our top 360 prospects for 2012. Also check out a friend of ours for all of your fantasy sports needs. Fantasy Rundown is updated religiously and is truly an awesome resource. Thanks for checking Baseball Instinct. We're working hard to bring you the best of the minor leagues and make the site the best experience it can be, so don't hesitate to tell us what you would like to read about. Email us now at mailbag@baseballinstinct.com.