Noah Syndergaard (aka "Asgardian"), RHP Toronto Blue Jays
8/29/92
Height: 6'5" Weight: 200
Rumor has it that when the Oakland A's and Toronto Blue Jays were discussing a potential trade for Gio Gonzalez this offseason, the A's coveted Noah Syndergaard, who came in at #5 on our Blue Jays' 2012 Top 10 Prospect list (link). We love Noah Syndergaard too, but before we shed some light why, let's take a brief look at his performance so far.
Noah Syndergaard was not considered a high round draft pick until his senior year of high school, when his fastball velocity jumped up a few ticks and sat in the low 90s. The Blue Jays took a chance on the young Texan and selected him with the 38th pick overall in the 2010 draft. Syndergaard signed just in time to make his debut in rookie ball; he pitched 13 innings, struck out 6, and walked 4 with an ERA of 2.70. A fair debut, but nothing eye-popping. In 2011, the Blue Jays reassigned him to rookie ball again and he made his presence felt – in 32 innings, he posted a 1.41 ERA, with 37 K's and 11 BB's. After a lightning-quick promotion to short season ball, he continued to impress and ended the season pitching in LoA-Lansing ball. Across three levels, Syndergaard's performance was unheralded as he pitched 59 innings with a 1.83 ERA, 68 strikeouts and 18 walks.
With the Avengers movie coming out this weekend, we felt that it was the perfect time to write about Syndergaard, a player we nicknamed Asgardian (in honor of Thor's homeland, Asgard). Plus, with a name like Noah Syndergaard, does he not sound like a Nordic god? It's appropriate because Syndergaard's "powers" include summoning a lightning bolt fastball and a mystical "hammer" curveball that has plus potential. As we mentioned above, his velocity jumped into the low 90's prior to the 2010 draft. What we neglected to mention is that during the 2011 season, his fastball velocity had even more juice on it. The Blue Jays have kept Asgardian on a tight leash this year, just allowing him to throw 3 innings each start. He's one of the pitching prospects that I believe could vault into the top 50 prospect rankings by year-end, but let's take a look at his repertoire.
The Stuff
We nicknamed him Asgardian because his fastball explodes out of his hand with ease, as if he were throwing a lightning bolt. His developing "hammer" curveball has plus-plus potential.
Fastball
By now, you should know that his fastball is really good and not just a mirage. Asgardian throws both a 4-seam and a 2-seam fastball. Since Syndergaard was drafted, his fastball velocity has spiked and his 4-seamer now sits in the mid 90s and can touch 98 MPH. It's not quite the speed of lightning, but he's lit up radar guns into triple digits (one was reportedly 102 MPH, but the gun was known to be juiced). His 2-seamer is a few notches slower sitting in the low 90s, but It has good movement – darting into the hands of right-handed batters and inducing weak contact. Asgardian's height also gives him quite an advantage as his fastball comes down and crashes two planes. We love his fastball even if he can't hit 100+ MPH. Both of his fastballs have plus potential with a lightning strike chance to be plus-plus.
"Hammer" Curveball
Asgardian's curve currently lags behind his change, but it has more potential. Asgardian could leap into the top-tier of pitching prospects if he can develop his curveball as his out-pitch. The Asgardian throws a hammer curveball in the 77-80 MPH range with a 12-6 break and nice shape. He mainly throws this pitch after a two-strike count. It is a very good pitch, but he has trouble maintaining his arm speed. We rate his curve below average due to the inconsistencies, but he's worked on the pitch over the winter. As the 2012 season continues, we will watch closely if he can harness his curveball's plus-plus potential.
Changeup
His circle-change is currently his best off-speed pitch and he's not afraid to use it at any pitch count. He throws the pitch with good arm speed and it sits in the mid 80s, with good arm-side movement. Plus, with the uptick in Syndergaard's fastball velocity, it only makes the changeup more effective. The Asgardian's changeup has flashed above average potential so far and three above average to plus pitches bodes well for his future prospects.
Command
Syndergaard can throw all his pitches for strikes, especially his fastball. However, he's only 19 and like many young pitchers, he struggles with his command at times. It currently rates just average. We think his command can be above-average and with more work and repetition, his command will only improve. The Blue Jays have limited Syndergaard to just 3 innings per start.
The Mechanics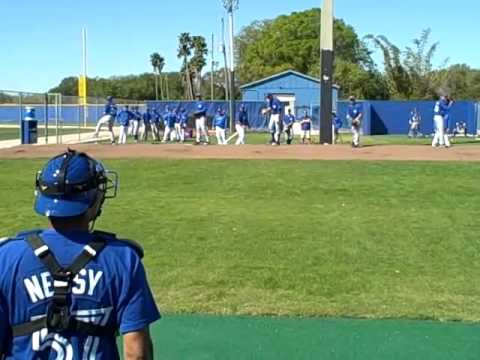 Just like Thor and other Nordic "gods", Syndergaard is blessed with a prototypical power pitcher's frame. He's listed as 6'5" and 200 lbs and It is very easy to picture this flame-throwing Texan continuing the legacy of great Texan power pitchers. Syndergaard has a loose delivery and maintains sound mechanics. He uses his height to get good downhill plane on his fastball, which consistently induces weak contact from right-handed hitters.
Our Instinct
Much like a young Thor, the Blue Jays are handling Asgardian with kid's gloves until he can harness his true power and potential. He's on a strong innings limit only pitching 3 innings each start. His numbers this season are stellar. He's been dominant in "starts" this year with a ton of whiffs. His K% has gone north of 32%, although his walk rate has also risen quite significantly 11.3%. Right now, he's on full throttle and maximizing his best stuff like a closer since he does not have to pitch deep into games. Equipped with a thunderous fastball and his own "hammer," Asgardian will continue to make his ascent into Hi-A ball and possibly even AA. He looks like a future All-Star pitcher, so enemies of Asgard, Earth and Toronto, don't say we didn't warn you.
Stick with Baseball Instinct and we'll keep you a step ahead of the game. Check back soon for more Prospect coverage. While you're here, check out our Baseball Instinct 360° – it's our top 360 prospects for 2012. Also check out a friend of ours for all of your fantasy sports needs. Fantasy Rundown is updated religiously and is truly an awesome resource. Thanks for checking Baseball Instinct. We're working hard to bring you the best of the minor leagues and make the site the best experience it can be, so don't hesitate to tell us what you would like to read about. Email us now at mailbag@baseballinstinct.com.