Prospect Instinct 2012
Kaleb Cowart, 3B Los Angeles Angels
6/2/1992
Height: 6'3″ Weight: 195
Kaleb Cowart was selected 18th overall in the 2010 draft by the Angels. The first round pick out of Cook High School in Adel, GA was considered a tough sign because of his college commitment to Florida State and a staunch desire to play every while most teams viewed him as a pitcher. The Angels went into the pick knowing that they would allow him to play offense and signed him to a $2.3mm bonus. 
He only got enough play after signing to log 26 AB. So there isn't much to go on outside of the scouting reports and showcases when we headed into the 2011 season. But Cowart was still high on the Baseball Instinct ladder and his 2011 season was promising, especially for an unrefined switch-hitter.
While he scorched it out of the gate with a .515 AVG though 33 AB he finished with a .283 AVG and a .138 IsoP pushed by 12 doubles, 3 triples and 7 HR in 283 AB. His 119 strikeouts were a certain red flag but he also walked 7.8% of the time and actually hit .295 from the left side. That's key to his development because he is in fact a natural right-handed hitter.
With his pedigree and signs of development we ranked Cowart just outside of our Top 100 in the Baseball Instinct 360°:
110°. Kaleb Cowart, 3B, Angels, 6/2/1992 – Cowart was LAA's 2010 first round pick, but since his contract wasn't ironed out until late in the year, he never had a shot to play. 2011 was really his first professional season. Cowart showed his power in The Pioneer League hitting .283, 7 HR, 12 Doubles with 40 RBI.  He is very athletic and graduated as a pitcher at Cook County High in Adel, Georgia were he threw in the upper 90s.  The strong arm makes him a nice third base prospect. ETA 2015.
Let's take a look at the bat and glove for Cowart and see what lies down the path of development for one of the Angels top prospects.
The Bat
His development as a switch-hitter is dead center to his current development. Let's take a look at his swing from both sides of the plate.
Video by Ryanghan2000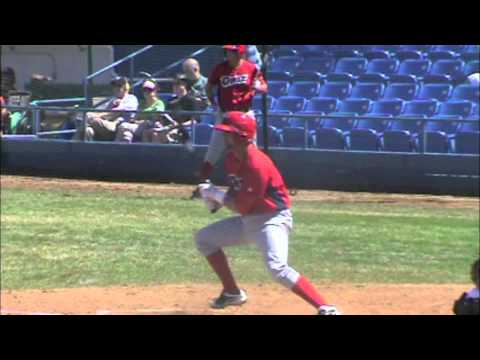 You can see clearly in the video that his swing from the right side is clean with excellent balance and leverage at the point of contact while his swing from the left side is more mechanical. You can see him fighting the timing but it's more conducive to contact. He has excellent bat speed from both sides and a fear that he won't develop enough power from the left side is quickly subsiding.
Cowart already has 6 HR on the young season and has boosted his  IsoP to .188. He's going to need time to refine his plate approach while continuing to develop from both sides of the plate.
The Glove
Cowart has the type of arm that had him on most teams draft list as a pitching prospect and you can rate his arm in the plus range. He could step on the mound today as a pitching prospect and still be inside of our 360°. So he has the arm to handle 3B long term. The 16 errors he logged last season have some questioning his athletic ability. But his athleticism can be graded out at average or better and the 16 errors are deceiving since most came on throws. He just needs more reps and he should be fine. If not, I mentioned the plus arm. He could handle RF and shut down runners.
Our Instinct
Cowart is still a few years away. Despite this being his second season, he has a long line of development targets before he'll be able to put it all together. I don't need to remind anyone how many things can go wrong during a players development and Cowart may have a higher bust rate than some. But he has the power profile to be a power hitting 3B with 25+ HR power and an above average defender.
Stick with Baseball Instinct and we'll keep you a step ahead of the game. Check back soon for more Prospect coverage. While you're here, check out our Baseball Instinct 360° – it's our top 360 prospects for 2012. Also check out a friend of ours for all of your fantasy sports needs. Fantasy Rundown is updated religiously and is truly an awesome resource. Thanks for checking Baseball Instinct. We're working hard to bring you the best of the minor leagues and make the site the best experience it can be, so don't hesitate to tell us what you would like to read about. Email us now at mailbag@baseballinstinct.com.