Prospect Instinct 2012
Michael Fulmer RHP New York Mets
3/15/1993
Height: 6'3″ Weight: 200
Michael Fulmer was selected by the New York Mets in the supplement portion of the round one with the 44th overall selection. The Oklahoma prepster's talent was overshadowed in his home state by the fellow Oklahoma duo of Dylan Bundy and Archie Bradley. But Fulmer was no slouch of a pick by the Mets and would have ranked as the #1 High School starter out of the state in most draft classes. After the draft, Fulmer didn't wait until the deadline to sign and got started on his pro career. He signed in late July when the Mets went over slot with a $937,500 bonus. It must have been that extra $500 that did it. 
Fulmer had just come off a senior season where he went 10-2 with 127 strikeouts with a 0.72 ERA in 68 innings. So the dominance was there. The Mets moved him into Gulf Coast League where he teamed up with the Mets #1 pick, Brandon Nimmo for a short stint and he got into 4 games, starting 3 of them, going 0-1 with a 10.13 ERA. It was only 5.1 innings of work though and he struck out 10 in that same short stint. So the dominance translated into that short look into his pro baseball beginnings.
We had followed the Oklahoma draft class closely going into last years festivities and Fulmer was high on that list of potential first rounders despite not being the top choice for his state. We liked him enough to where he placed high within the Mets Top 10 List and just outside the Top 100 in the Baseball Instinct 360°:
124°. Michael Fulmer, RHP, Mets, 3/15/1993 – Projecting guys like Fulmer can be tricky business.  He's got the polish and the make-up to be a good #3 starter with the upside of a #2 if the Mets can clean up his mechanics a little.  He might even add a little more velocity, although his body type doesn't leave room for growth.  His floor is probably lock-down 8th inning guy, which there's nothing wrong with that either.  Look for him to start 2012 where he left off, in the GCL or get the jump to Brooklyn. ETA 2016.
Well, the Mets apparently liked Fulmer as much as we did and didn't give him the easy assignments of the Short Season. They threw him into the fire of the Sally League and despite being one of the 10 youngest players in the entire league, he's holding his own. Let's take a deeper look at his pitches and mechanics in some Sally League video.
The Stuff
Fulmer's arsenal is high-lighted by a fastball with hard bore into right-handers that he works in the 91-96 range and has touched 97-98 at times. When you take a look at the video you can see the arm angle and movement with the fastball. It explodes out of his hand and isn't a pitch that can be cleanly turned on by righties.
The slider is his second primary offering. He added 5 mph to the slider at the tail end of his senior season and that velocity has translated fully to where the slider works at the same arm slot as the fastball, but comes in approximately 10 mph behind it, at 83-85 with hard break in and down on lefties. It also freezes right-handers looking fastball because when he gets the fastball command inside on the right-handers he can use that inward outward differential of the two pitches to really keep righties guessing. He's had as much success to this point against lefties but will need a true changeup in order to battle lefties at the higher levels.
That changeup was non-existent coming out of the draft because it simply wasn't a needed pitch against his high school competition and high school coaches have a short season that they need to win. Refining a changeup is not at the top of their list of needed accomplishments for a season. The issue with refining a changeup for Fulmer will come with the movement he can generate with it. His fastball already tails and a solid circle changeup will either tail or dive. The same movement from two pitches may lead to a decline in dominance as opposed to increasing his dominance against right-handers.
So the Mets may look into developing a sinker if Fulmer's changeup doesn't show the sink needed to make it an effective weapon against both lefties and righties.
The Mechanics
There were questions about Fulmer's body type and mechanics heading into the draft last year, but not both were warranted. His mechanics don't show any glaring weaknesses outside of missec timing due to a hard front leg plant. But his body type is one that I think will need detailed attention and conditioning for him to hold up over long seasons as a starter. Let's take a look at the video and then break down the delivery:
Video by MetsgeekTV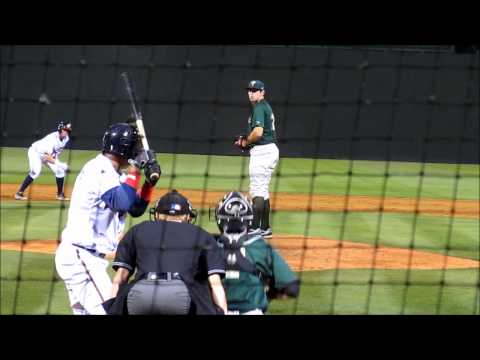 Fulmer has very powerful legs and when he brings them into his delivery fully he brings a plus fastball with plus-plus potential based on movement. It's the timing of that front leg kick that sometimes throws off his velocity and command of his pitches. His arm stroke is pretty short, so missed timing on his front leg can lead to additional stresses on his shoulder when he tries to bring the arm through to produce his premium velocity, but does so without as much help from his strong base.
I haven't seen him enough to determine if the issue is serious, but his walk rate is down in 2012 at a higher level than he should be competing. So with that, I have to determine that he's either been lucky or he's repeating well and commanding his primary weapons. A good sign if it continues. If he can repeat his delivery using his legs as the driving force he'll continue to produce the high end velocity and movement with his fastball and the slider will make him dominant in short stints.
Our Instinct
We already liked Fulmer heading into the season which is no secret. So his current 2012 performance is only a surprise to us because he's actually already playing. The 3.18 ERA is solid and the 20.8% K rate is a solid rate. The ERA is driven by a low .262 BABIP though and his GB rate is just 43%. So there is room for regression of his stat line right and improvement for him as a pitcher. The low BABIP is a product of the movement of his primary pitches and an inability of Sally League hitters to make solid contact. Which is encouraging.
That's a trend that we can see continuing in the future. While his frame is pretty much maxed out at 200 lbs, his fastball is already on the path to a elite offering and his slider could be right next to it in time. He'll need to refine a changeup and possibly a 4th pitch to be that workhorse mid-rotation starter his frame says he can be. But his ultimate upside is a wide ranging one. A front rotation starter needs 3 or 4 plus pitches with one in the plus plus range and normally plus command. Fulmer has 2 offerings that could be plus plus in the future making him a good bet to be a dominant bullpen arm with closer upside.
But if he's a capable student and has the right development, adding to his arsenal could make him a solid #2 starter if that needed 3rd pitch is moved into the above average range. My personal opinion is that his mechanics are fine and that maturity along with repetition will allow him to repeat more easily in the future. You have to remember that this is a kid just out of High School who probably hasn't come to the realization of how dominant his primary pitches can be if he learns to trust his stuff.
We like Fulmer for his high upside as a starter and the fall back option that he provides as a dominant RP. A sub-million dollar investment for the Mets could make Sandy Alderson look brilliant and he's been a good judge of talent in the past. Fulmer's ETA also may have moved up to 2015 with his aggressive 2012 launching in the Sally League. It all makes us confident that we placed him well inside our Prospect List and that his future could be as a Top 100 prospect.
Stick with Baseball Instinct and we'll keep you a step ahead of the game. Check back soon for more Prospect coverage. While you're here, check out our Baseball Instinct 360° – it's our top 360 prospects for 2012. Also check out a friend of ours for all of your fantasy sports needs. Fantasy Rundown is updated religiously and is truly an awesome resource. Thanks for checking Baseball Instinct. We're working hard to bring you the best of the minor leagues and make the site the best experience it can be, so don't hesitate to tell us what you would like to read about. Email us now at mailbag@baseballinstinct.com.