Prospect Instinct 2012
Trevor Story SS Colorado Rockies
11/15/1992
Height: 6'1″ Weight: 175
Trevor Story was the supplemental 1st round pick for the Colorado Rockies. The took him with the 45th over selection which was the first time they selected a SS this high since taking their current star SS, Troy Tulowitzki. The star High School SS out of Irving, TX put up a .484 AVG with 10 doubles, 3 triples and 8 HR for the Irving Tigers in 2011 and then signed for $915,000. He then jumped right into professional ball in Rookie Level ball in the Pioneer League.
Story got off to a good start there too, being named the Top Prospect in the Pioneer League in his first pro action. He hit .268 with 8 doubles, 2 triples and 6 HR in just 179 AB. He kicked in 13 stolen bases as well, showing off his power and speed combo while splitting time at SS.
Story had already been high on our list of draftee hopefuls going into 2011, so he made his Baseball Instinct 360° debut on his first eligibility:
163°. Trevor Story, SS, Rockies, 11/15/1992 – Story's 2011 performance in Casper is impressive in and of itself. In some cases, as an 18-year-old, Story faced competition older than him by a few years. Yet, he showed the power (.168 ISOP),  the speed (13 stolen bases), and the ability to take a walk. With such a showing in a league that other teams like to send college players and Latin talent, Story now has warranted some expectations for 2012 where he'll play in Asheville. ETA 2015.
Story has indeed started in Asheville in the Low-A Sally League and he's off to an even better start than he had last year. Let's take a look at the bat and the glove of the Rockies top SS prospect.
The Bat
Currently Story is hitting .286 with 6 doubles, 2 triples and 5 HR in just 112 AB. His walk rate is up and his K rate is down. He hasn't had many steal attempts yet, totaling just 4 attempts. But has been successful in 3 of the 4. He's a complete player on both sides of the ball and with the bat his best offensive tool is a toss up between his contact ability and power. Both project to be at least average. His speed is above average now and his instincts on the bases make him a viable stolen base threat.
His improvement this season in tightening his k/bb rate is a big indicator for his future. It is early in the season, but if the improvement sticks it will make him a solid top of the order hitting, fitting nicely in the #2 hole eventually.
The Glove 
Story's best asset is his arm which grades out a future 65-70 and is a plus tool. He has good instincts on the field and his range is above average at this time. He's just out of High School so his fielding isn't clean yet and he has work to do in order to refine himself into a professional SS.
Video by ScoutingtheSally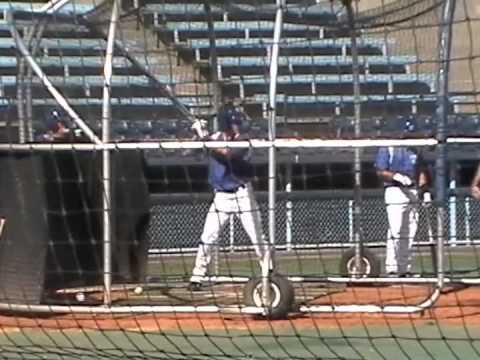 There is the issue of one Troy Tulowitzki at the major league level that could force a move from SS for Trevor Story in the future. But he should be able to handle a move to 2B or the OF when the time comes. He has the arm for the OF and his SS range should transition seamlessly to the 2B side.
Our Instinct
Story has a long way to go in order to reach his upside but there is a 20/20 player in the tool set and reps and refinement are all that's needed to get him there. That and luck… and health.
Since Story is at least 2 years and possibly 3+ years from making a mark in Colorado there is a wide range of possible outcomes to his career. His ultimate position is unknown. Tulo could eventually settle in at 3B and have Story take over at SS. Story could slide to 2B and be Tulo's DP partner. Story could develop more power than we expect and has the arm to handle RF.
Overall we see a 2B with 20 HR and 20+ SB potential. If that's the hitter he becomes it won't matter where the Rockies play him. That type of bat finds AB. In 2012 he's showing improvement in the places he needed to. That IsoP is up to .234 and the K rate and walk rate are both moving in the right direction. Keep an eye on that because if that holds true as his skill set, this kid could be a Top 100 prospect by the end of the year.
Stick with Baseball Instinct and we'll keep you a step ahead of the game. Check back soon for more Prospect coverage. While you're here, check out our Baseball Instinct 360° – it's our top 360 prospects for 2012. Also check out a friend of ours for all of your fantasy sports needs. Fantasy Rundown is updated religiously and is truly an awesome resource. Thanks for checking Baseball Instinct. We're working hard to bring you the best of the minor leagues and make the site the best experience it can be, so don't hesitate to tell us what you would like to read about. Email us now at mailbag@baseballinstinct.com.