Prospect Instinct 2012
Justin Nicolino, LHP Toronto Blue Jays
11/21/1991
Height: 6'3 Weight: 160

We are covering the three hot pitching prospects in the Blue Jays' Lo-A Lansing rotation in our recent Prospect Instinct articles. Last week, we covered Noah "Asgardian" Syndergaard. This week, our focus is Justin Nicolino. He really deserves more attention, but in the Blue Jays' system – one that is knee-deep with talent – Nicolino often gets overlooked. Does he have the highest ceiling? NO, that title belongs to "Asgardian" or Aaron Sanchez. Is he the Blue Jays' most advanced pitching prospect? Again, NO. Drew Hutchison is that guy and he's the Blue Jays' #5 starter. The Jay's best lefty is arguably Daniel Norris.
Justin Nicolino was drafted by the Blue Jays in the 2010 MLB First Year Player Draft in the second round as the 80th overall pick in the draft. He was a prep pitcher out of Florida and considered a top three round talent. He had a below-average fastball that sat between 88-91 MPH, but his skinny 6'3" frame offered projectability for more zip on his fastball. Scouts also felt Nicolino could develop three average or slightly better pitches. He signed too late to pitch in the 2010 season, but made an immediate impact in his 2011 debut.
Assigned to short-season ball, it would be an understatement to say Nicolino dominated his competition. In 52.1 innings, he posted 1.03 ERA, 0.75 WHIP, 64K's, 11BB, 2.26 G/F ratio and allowed no home runs. His performance earned him a promotion to Lo-A, where he pitched 8.2 innings in 3 starts with a 3.12 ERA and a 9:2 K:BB ratio.
Nicolino was assigned to Lo-A Lansing to start the 2012 season. Thus far, the Blue Jays have kept Nicolino to a 3 inning limit per start along with teammates Noah Syndergaard and Aaron Sanchez. In Nicolino's recent starts, the Blue Jays allowed him to throw 4 innings and he quietly continued his dominance of the Midwest League. In 27 innings this season, he has a 1.33 ERA, struck out 27 batters, walked 3 and a 57% groundball percentage.
Nicolino's results so far are certainly impressive, granted, no lineups have seen him more than twice. However, he has high baseball acumen and constantly changes his pitch patterns to hitters, so we feel he can still dominate once the Blue Jays let him throw a few more innings. Justin Nicolino came in at #137 in our Baseball Instinct 360 , so let's take a further look at his arsenal.
The Stuff
Fastball – After ranging between 88-91 MPH around draft time, Justin Nicolino's fastball now sits in the 89-92 MPH range, occasionally touching 94 MPH. A tweet mentioned that he hit 96 MPH this spring training, however, this observation did not amount to much. Based on his raw velocity, Nicolino's fastball is average for a lefty, but there's good tailing action, excellent movement and good command of it. He's still only 20 years old this year and still has a projectable frame. If he can throw 94 or even 96 MPH from the left-side of the mound, that would be exceptional. Yet even if his fastball stays at its current range, it has the potential to be above average, maybe even a plus pitch if he continues to refine his command.
Change up – Easily his best pitch. Nicolino throws it in the high 70s with good arm speed and a good separation from his fastball (at least a 10+ MPH difference). He commands it well to both sides of the plate and is fearless about throwing it at any count. His changeup is a plus pitch right now and could easily become a true 70 pitch or higher in the future.
Curveball – Prior to Nicolino's pro debut, his curveball was seen as a below average offering because it was slow and loopy. He made significant improvements last year, experimented with different grips and tightened the pitch as the year progressed. Now, his curveball is seen as a potential average pitch. It seems that he has not stopped testing ways to make his curve better. According to Nicolino, he's changed his curveball grip again, which allows the ball to "stay in the fastball lane." We think that his curveball now has the potential to be more than an above average pitch.
The Mechanics
MLBProspectPortal.com Video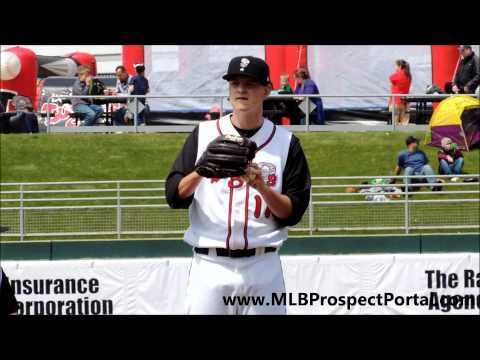 Nicolino makes pitching look so smooth and easy. He's a lefty who throws his pitches from an over the top arm slot. He stands tall on the mound with his 6'3" frame and the ball buries down into the strike zone with fairly good command. Nicolino has a clean delivery that's loose and free and he easily repeats his throwing motion. He also has good arm speed for both his low 90's fastball and upper 70's changeup, which helps strengthen both pitches. We don't envision any long-term injury concerns with his smooth delivery and clean mechanics, especially given how the Blue Jays are limiting his innings.
Our Instinct
One thing we did not point out is that Justin Nicolino is a groundball artist. In fact, he did not allow a single HR in 80+ career innings! But all good things must come to an end and Nicolino finally gave up his first career HR in his start on May 10th. He has all the makings of a good left-handed starter with good velocity, a plus change, a developing curveball and a smooth delivery. At this point, he's still just 20 years old. Although we would love to see him pitch more than 4 innings, the Blue Jays are safely building up his innings and arm strength. Nicolino has a few years to go and he won't be a #1 ace, but he'll be a safe mid-rotation starter.
Stick with Baseball Instinct and we'll keep you a step ahead of the game. Check back soon for more Prospect coverage. While you're here, check out our Baseball Instinct 360° – it's our top 360 prospects for 2012. Also check out a friend of ours for all of your fantasy sports needs. Fantasy Rundown is updated religiously and is truly an awesome resource. Thanks for checking Baseball Instinct. We're working hard to bring you the best of the minor leagues and make the site the best experience it can be, so don't hesitate to tell us what you would like to read about. Email us now at mailbag@baseballinstinct.com.