Prospect Instinct 2012
Jenrry Mejia, RHP New York Mets
10/11/1989
Height: 6'0 Weight: 200
Jenrry Mejia was signed by the New York Mets on April 4th of 2007 out of Tabara Arriba in the Dominican Republic. The small right-hander wasn't an overly imposing figure at the time but possessed an excellent fastball for such a young player. He began his career in 2007 inside the DR with the DSL Mets where he went 2-3 with a 2.47 ERA and more thana K per inning in 44 IP.
After the brief 2007 debut he moved stateside with the GCL  Mets and after dominating over 3 starts he was moved to Brooklyn in the NYP League. He went 3-2 with a 3.49 ERA. His Kate dropped and his walk rate began to become an issue. But his stuff prompted the Mets to continue his rise through the system when he impressed in the 2009 Spring Training and the Mets decided to leave him in Port St. Lucie with the High-A St. Lucie Mets.
Mejia was very effective in St. Lucie and posted a 1.97 ERA over 9 starts before making another jump to Double-A Binghamton. This was the first true sign of struggle for the righty. He was too young fo the league and K rate and walk rates had never moved into elite territory. So the push was a difficult one for him. He posted a 4.47 ERA losing 5 of his 10 starts and not putting a single slash into the W column.
But despite his Double-A struggles he again dazzled in the 2010 Spring Training and way back in the spring of 2010 this was our spin on him as a prospect:
Our Instinct: Another bright spot in the Mets organization and the fans are calling for something to happen. Anything to happen that is positive. OF Fernando Martinez and Mejia are those positives. Mejia could be sent down to work as a starter but is really a great candidate to be a closer in the future and the setup man for K-Rod in 2010. I don't think the Mets can afford to hold him back in the hopes of him being a starter when they have needs now in a WIN NOW place like New York City.  Mejia is part of our Prospect Instinct: 2010 Top 100 prospects, check out his ranking along with others.
Well, Mejia did in fact make that team in 2010 and was the youngest player in the major leagues at that time at the ripe old age of 20. His performance was sporadic with a few starts and then most of his work out of the bullpen. Never truly having a defined role before finding himself back at Double-A being stretched out as a starter again. He actually handled it well, posting a 1.32 ERA in 6 starts.
The Mets stuck with the plan of developing him as a starter and he began 2011 at Triple-A Buffalo where he 2.86 ERA in 5 starts before coming down with elbow pain that led to Tommy John surgery and derailed his ride back to Flushing.
Despite the injury and the uncertainty we ranked him pretty high in our Baseball Instinct 360°:
114°. Jenrry Mejia, RHP, Mets, 10/11/1989 – I do not think there is a reason to knock Mejia down our ranks any further due to an injury.  His timeline is shot and he's not going to be back before mid-season.  Even then there's simply no reason to push him.  Once back, I expect him to get some rehab starts in the GCL/FSL before being ushered to the Wally Backman-led AAA Buffalo Bisons. His mid 90s FB and split CU give him two plus offerings that should usher him into the back end of the bullpen if there isn't time to refine his curveball. He's a pitcher that can live on his FB, cutter and change alone in short stints. ETA 2013.
Let's take a deeper look at Mejia who has been a bit of a mystery prospect due to injury and a lack of coverage.
The Stuff
Mejia had a mid 90s fastball before being injured. It worked with a heavy downward movement. In his short stint back with the St. Lucie Mets he went 1-0 with a 2.45 ERA and 8 strikeouts in 11 IP. He walked just 2 and his fastball was reportedly in the mid 90s once again.
His best secondary is a changeup that has acted very much like a sinker and induces a high level of groundballs. While he was with the Mets in 2010 it was at a 60.9% rate which is very high, especially for a pitcher that struggled.
He had also been working on a curveball before being hurt that works in the high 70s but was an average pitch at best at the time of injury.
The lack of development time has certainly set his breaking pitch behind. But he's still young and will have his comeback time to develop it into a usable offering.
The Mechanics
Mejia has a stocky build now, having put on 40+ lbs during his time as a professional and 20 lbs over the past year. Prior to injury his mechanics suffered from inconsistency with his landing point which led to inconsistent release points.
Some of that came from over-throwing and not having the strength to power his velocity from a strong leg base. In 2011 he started using a stronger leg base and reports have his base as a positive since returning.
Video by MLBProspectPortal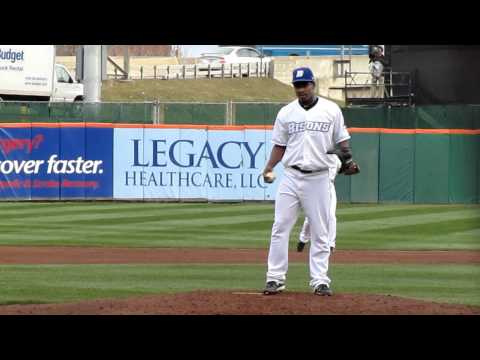 The delivery itself isn't very complicated. He comes straight to the plate, but even in the short video you can tell that the timing is off from pitch to pitch and his arm is trying to catch up to his legs at times. It should be a main focus of the Mets as they get him back into major league shape. His timing will be very important in his next steps to the Mets.
Our Instinct
Jenrry Mejia was being groomed as a starter by the Mets before getting injured and despite being just 22 years and only having thrown 281 professional innings coming into 2012, he could be fast tracked by the Mets if he proves healthy early on.
One of the things to watch for is his possible innings limit for 2012. He has never thrown more than 94.2 innings (2009) in a season. 2010 had him throw 81.1 innings and he had logged just 28.1 before the injury in 2011. So expect somewhere around a 100 inning limit in 2012. He's logged 11 so far and has now  jumped to Triple-A. They could continue to work him as a starter and limit his innings per start. Or they could move him to the bullpen once he gets close to the 50 IP mark if they decide he will be needed in 2012.
Either way, it's a low limit and will keep him from working as a true starter over a full season this year. Next year his IP could be limited to 130-150 if he's a starter. Which would put him in a more palatable situation for a major league club.
I don't think Mejia is long for being a starter though. I've doubted it since he made the radars go off in 2008 and I doubt it still. I do however think that he can be a very good bullpen arm and in a Mets bullpen that is already full of arms, there is no rush to bring him back. But once the middle of the season rolls around he could be ready. With a mid 90s fastball and a changeup that induces groundballs, Mejia only needs to get a grip on his curveball to give him a third weapon to use against lefties. Once that happens he'll be a useful addition to a Mets team that is surprisingly competing in the NL East.
Stick with Baseball Instinct and we'll keep you a step ahead of the game. Check back soon for more Prospect coverage. While you're here, check out our Baseball Instinct 360° – it's our top 360 prospects for 2012. Also check out a friend of ours for all of your fantasy sports needs. Fantasy Rundown is updated religiously and is truly an awesome resource. Thanks for checking Baseball Instinct. We're working hard to bring you the best of the minor leagues and make the site the best experience it can be, so don't hesitate to tell us what you would like to read about. Email us now at mailbag@baseballinstinct.com.