Mikie Mahtook, OF Tampa Bay Rays
11/30/1989
Height: 6'1″ Weight: 200
Mikie Mahtook was selected by the Rays with the #31 overall pick in the 2011 Draft. The outfielder plays the game like a football player and that has roots back to his days as a star High School quarterback. He was drafted out of high school by the Florida Marlins in the 39th round of the 2008 draft before heading to LSU.
While at LSU he helped push the 2009 Tigers to a National Title as a freshman and then last year he led the SEC in batting and SB. It was enough to get him inked to a $1.15mm bonus just under the wire of the signing deadline. He signed too late to get into regular season games, but did rake in his AFL appearance to .338 AVG.
Mahtook's college career, approach to the game and solid AFL debut put him in the Baseball Instinct 360°:
155°. Mikie Mahtook, OF, Rays, 11/30/1989 – Mahtook does a bit of everything and does it well, with average or better tools across the board.  He has good bat speed and has a chance to be an above average hitter with average power. His best tool is his plus speed, while his weakest is his arm which is fringe average but accurate.  If you want to nitpick, then you could say his swing is a little unorthodox in that it's somewhat compact, or that he doesn't have any tools that rate more than a plus. However, he has a strong makeup and his scrappy gritty play allows him to play beyond his tools. ETA 2014.
Let's take a look at Mahtook so far in 2012 and see where his play in the FSL has him as we tweak the rankings.
The Bat
Mahtook has the power/speed combination that we mentioned in the winter, but to date he hasn't left the yard. Sometimes the FSL does that to players so I'm not overly concerned. His .072 IsoP is not indicative of the power he will one day show.
So far his K rate is under 20% which is solid and his walk rate is 7.5%. He's a free swinger, so the walk rate may never be an above average tool. His swing is mechanical with a lot of moving parts, but he gets the bat through the zone and makes hard contact.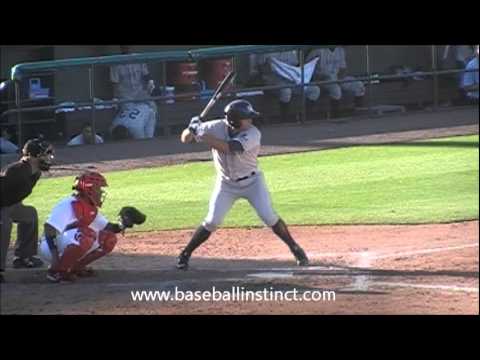 He may be susceptible to pitchers expanding the zone at the higher levels, so he'll need to be more patient if he's going to maximize his hit tool and speed. Despite the unorthodox hitting mechanics he's more than capable of being a solid major league hitter and the speed is above average.
The Glove
He played CF for the LSU Tigers and could handle the position in the pros if forced into service, but slots better in at LF. He has the speed to cover ground and more than enough arm for LF as well. The Rays will give him every chance to stick in CF though since its the more premium of the options for Mahtook.
Our Instinct
While comparable's are one of my most detested ways to describe a player, Mahtook reminds me of Hunter Pence albeit with lesser power and speed. Mahtook has that all out approach with a combination of tools that teams look for.
While he has no elite level tools, his game play elevates his overall game. In his prime he could be a 20+ SB type. How much power he develops is still up  in the air. I've seen him on a few occasions and he has the bat speed for double digit HR, but we'll have a better idea when he graduates to Double-A.
I don't see a ton of room for him to add to his frame in positive ways, so the power may be close to maxed now and we'll know if he's a 10+ or 15-20 HR power within the next 12 months. He does however have the contact ability and bat speed to hit around .275 as a pro with a bunch of doubles and stolen bases. If he maxes the power he could be a well above average bat, but remember that unless he sticks in CF that bat will not be premium in LF.
Stick with Baseball Instinct and we'll keep you a step ahead of the game. Check back soon for more Prospect coverage. While you're here, check out our Baseball Instinct 360° – it's our top 360 prospects for 2012. Also check out a friend of ours for all of your fantasy sports needs. Fantasy Rundown is updated religiously and is truly an awesome resource. Thanks for checking Baseball Instinct. We're working hard to bring you the best of the minor leagues and make the site the best experience it can be, so don't hesitate to tell us what you would like to read about. Email us now at mailbag@baseballinstinct.com.