Prospect Instinct 2012
Jesse Biddle LHP Philadelphia Phillies
10/22/1991
Height: 6'4″ Weight: 225
Jesse Biddle was selected by the Philadelphia Phillies in the 1st round if the 2010 draft. He was taken 27th overall out of Germantown Friends School right in the Phillies backyard. The Phillies got to see him more than any other team because of that, sending area scouts to all of his starts and despite a commitment to Oregon he signed for $1.15mm.
Biddle got to work after signing, starting 9 games in the GCL with 33.1 innings of 4.32 ERA and 41 K and 9 walks. The Phillies gave him a bump to the New York-Penn League for 3 starts and while a 2.61 ERA says he may have done better, he actually walked 11 and struck out 9 in 10.1 innings. So the walk rate jumped. Albeit in a small sample size.
He spent 2011 with the Sally League's Lakewood Blue Claws as one of the youngest players in the league. He made 24 starts, going 7-8 and closed the year out with a 2.98 ERA. His 3.38 FIP shows that the performance was strong despite an 11.8% walk rate. His K rate was 22.4% and he struck out 124 in 133 innings.
With his size, 3 pitch mix and performance despite being young for his levels Biddle made his way into the Top 100 portion of our Baseball Instinct 360°:
67°. Jesse Biddle, LHP, Phillies, 10/22/1991 – Biddle has #3 upside and the frame to work innings. He'll need to have the velocity uptick to the 93-95 range to get the most separation from that changeup. It's going to be a couple of years before he's ready, but the Phils are ok at the upper levels already, so there is no reason to rush him. The Jupiter Hammerheads play the Threshers in late May, so we'll have a complete video breakdown with a Prospect Instinct then. Mark your calender. Biddle is an upside lefty with the frame to match and that doesn't come along all the time. ETA 2015.
Let's take a look at Biddle's pitch arsenal and mechanics to see why he's so high inside the Phillies system and on the 360°.
The Stuff
Biddle has a big frame and one would expect premium velocity from him. While he flashed a fastball in the low 90s and touching 94 in 2010, he lost that premium heat in 2011, closing out the season working in the high 80s. His medicals were clean so it was more an issue of him throwing more innings than he had to that point in his career.
The fastball is back in the low 90s in 2012 and he's pairing it with his changeup and curveball.
Both of his secondaries are average and should be better in time. His Changeup has excellent fade and he's learning to match it to his fastball arm speed.
The curveball might actually one day be his best pitch. That is if he can master his command of the offering. He's able to get so much movement on the curveball that he has difficulty using it as anything but a waste or put-away. If he can begin to use it to get ahead in counts he could be dangerous.
On a side note, his main breaking pitch coming out of High School was a solid slider. The pitch was scrapped, but I wouldn't be surprised to see the Phillies eventually add it back into his arsenal.
The Mechanics
Mechanically Biddle can use some refinement. He throws across his body, sometimes losing his foot plant location and thus losing command of the strikezone.
A simple fix is for his foot plant to be direct to the plate. It would save some stress on his shoulder and make his changeup that much more effective against right-handers.
Because of his size, there is less worry about his shoulder wearing down, but why endure the additional stress and lack of command?
Video by TheGKita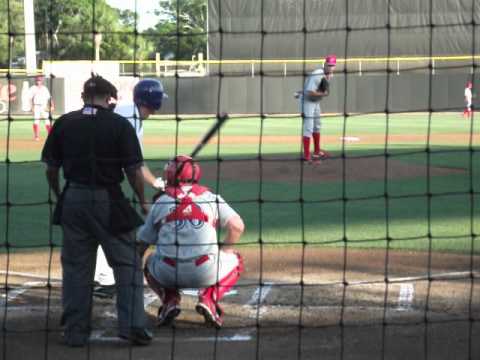 As you can see in the video, his 3/4 arm slot works well from his delivery and the ball explodes from his hand. The cross-body release gives him some deception. Removing that may cost him some dominance until he's masters his changeup and curveball command.
Our Instinct
Biddle is already ahead of the curve making his debut in the FSL this season. He's striking out a batter per inning and has dropped his walk rate to 8.6%. Both excellent numbers. He's a step behind Trevor May in the system, but as a lefty with 3 possible plus pitches and the frame to eat innings, he has a higher ceiling than that of May.
He also has more things to refine and and longer climb to that ceiling. If he can maintain lefty premium velocity in the low to mid 90s and refine both his changeup and command of his curveball he'll get an above average K rate and be able to eat innings. Not much more the Phillies could ask for at this point.
His probable place is as a high end mid rotation starter, but he could become a #2 type. He's in the right organization to learn from pitchers like fellow lefty starters, Cliff Lee and Cole Hamels and then Halladay on the endurance factor. Look for him to spend the entire season in the FSL and to build his innings to 150 or so before he makes his Double-A debut in 2013 and from there he won't be far from Philadelphia.
Stick with Baseball Instinct and we'll keep you a step ahead of the game. Check back soon for more Prospect coverage. While you're here, check out our Baseball Instinct 360° – it's our top 360 prospects for 2012. Also check out a friend of ours for all of your fantasy sports needs. Fantasy Rundown is updated religiously and is truly an awesome resource. Thanks for checking Baseball Instinct. We're working hard to bring you the best of the minor leagues and make the site the best experience it can be, so don't hesitate to tell us what you would like to read about. Email us now at mailbag@baseballinstinct.com.