Carlos Correa, SS Houston Astros
9/22/1994
Height: 6'4″ Weight: 190lbs
Carlos Correa was selected as the #1 overall pick in the 2012 MLB Draft. He was the first ever Puerto Rican born player to go in the first slot of the draft. It was a surprise to most of the industry with most experts predicting Mark Appel RHP out of Stanford going #1 to the Astros. But contract demands pushed the Astros into making a bold play at a high ceiling talent. Correa and the Astros didn't waste a lot of time getting him inked to a lucrative $4.2mm deal on the first day.
While we didn't have Correa tabbed as our #1 over all talent (that went to Lucas Giolito and still does) in the 2012 draft, he's a player we've been following a long time and one that we got to see in person as well. Here is the pre-draft take on Correa and then we'll dive a little deeper into the bat and glove on the preliminary Prospect Instinct 2012 report for new professional:
12. Carlos Correa SS Puerto Rico Baseball Academy, Gurabo, P.R. – Correa is a big 6'4″ and 190 at 17 years old. He's going to fill out more and as he does his current above average speed will wane. Reports of plus speed aren't accurate unless he was hurt at the WWBA. He has a long swing but keeps the barrel through the zone a long time. Whether he can stick at SS will determine his upside. Committed to Miami.
Our Instinct – While he looked average defensively when we saw him at the WWBA, he's almost certainly going to outgrow the position. His arm will play at 3B but I don't think he's going to develop into a 20+ HR type. He's so young and raw at this point that its hard to project him out, but we've seen other High School SS that have translated to pro ball and Correa doesn't look like it's going to translate. He could turn into a .280 hitter with 10-15 HR power. He's the one first round type that could make me look very wrong though.
We're obviously on the minority with projecting Correa as a SS since we don't see it translating long term. But let's take a look at the bat and glove with a little more detail.
The Bat
Correa is a big kid and he's going to get bigger. He's just 17 and won't be 18 until the GCL season is almost over. So there's a good chance that he still has a growth spurt left in him. Even if that isn't on the height, he's already 6'4″ which is an inch taller than Alex Rodriguez and Troy Tulowitzki. Both players he has readily drawn comparisons too. He's a SS. He's big. He's athletic.
Let's take a look at some video now: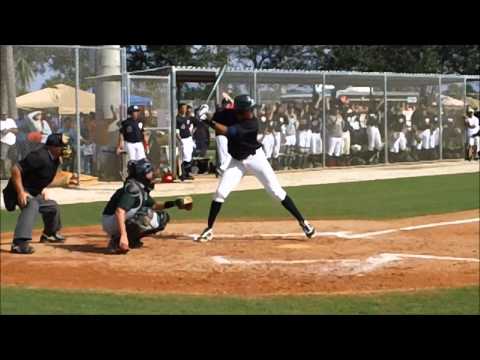 That's our video and it's in game play at the WWBA. His bat stays through the zone a long time which is a good precursor to using the whole field and an ability to make contact. It wasn't his hit tool that we doubted against the scouting reports. It was the future power projection of plus power.
We projected a 10-15 HR type but a 20-25 HR power out of his bat speed and size is certainly possible. If he reaches that ceiling he'll be worthy of the high selection and it will play at 3B.
The Glove
When talking about his defense it really all starts with his arm which is near plus for an infielder. He has good hands and the Astros are going to give him every opportunity to stick at SS. But in the long run his frame says 3B is going to be his best bet. He his range at SS that was a bit limited will be more than enough for 3B and his arm will play just fine at the hot corner. If we had confidence in his ability to stick at SS he would have placed 10 spots higher on our Draft Preview.
Our Instinct
With no actual game play data to go on for any extreme changes in outlook there isn't anything different from the Draft Preview on Correa. He's going to start his career in the Gulf Coast League and since the Astros play both the Marlins and Cardinals in the East Division I'll get the chance to see Correa as he starts his pro career. The hot Florida summer is not the place to start showing plus power so I wouldn't expect him to jump into plus IsoP numbers just yet.
If he does, then we could be talking about the fact that we were wrong a lot sooner than his ETA of 2015.
Stick with Baseball Instinct and we'll keep you a step ahead of the game. Check back soon for more Prospect coverage. While you're here, check out our Baseball Instinct 360° – it's our top 360 prospects for 2012. Also check out a friend of ours for all of your fantasy sports needs. Fantasy Rundown is updated religiously and is truly an awesome resource. Thanks for checking Baseball Instinct. We're working hard to bring you the best of the minor leagues and make the site the best experience it can be, so don't hesitate to tell us what you would like to read about. Email us now at mailbag@baseballinstinct.com.