More than week since day one of the draft and 7 days since the last pick went down. We're seeing more big names come into play and sign while some top talents seem to be making their way to college campuses. Names like Courtney Hawkins and Byron Buxton have inked contracts but talents like Ryan Burr and Mitchell Traver seem to be headed to college. We'll take a look at the recent signings today starting with the biggest bonus so far and probably in the entire draft. While you're at it head over to Facebook and join the Instinct page.
That would be the Minnesota Twins opening the purse to the tune of $6mm to lock in #2 selection Byron Buxton. Buxton gets $1.2mm more than the #1 pick Carlos Correa. It's a lot of money, but for an organization that brought up and raised an All Star named Torii Hunter, the Twins may see that talent in Buxton as well. Here was his pre-draft Instinct:
3. Byron Buxton OF Appling County HS, Baxley, Ga. – Buxton has plus speed and the arm to handle CF or RF. He shows batting practice power and as he fills out his frame its starting to translate more into game power. With his premium bat speed and an ability to center the ball he could be an above average hitter with premium defense. He's committed to Georgia.
Our Instinct – Buxton is thought of as an Upton clone. Which Upton and if that's really a great thing can be debated. But he has 5 tool potential which is always highly valued coming into the draft. Comparison to a young Matt Kemp are negligent at best. But Buxton has the speed and defense ability of a future star. How much he translates his offensive production against weak high school competition will determine if he's an actual future star. With that said, he has tools that you don't pass up in the single digit selections of the first round.
Meanwhile the White Sox were inking their back-flipping power hitting prospect, Courtney Hawkins for a cool $2.475mm. It's a good signing as a talent like Hawkins with plus power could have demanded much more in the old format. Here's some video of Hawkins and his pre-draft Instinct:
16. Courtney Hawkins OF/RHP Carroll HS, Corpus Christi, Texas – Hawkins is committed to Texas, but with some of the best game ready power in the high school class this year he may go high enough to sway his commitment. He has a solid 6'3″, 215 lbs frame and is an above average runner with a plus arm for RF.
Our Instinct – Hawkins bat is ready for the move to the pro stage. He's not a power only hitter, willing to take a walk and work the count. With instruction he'll be able to further employ his game power in better hitters counts. He makes consistent hard contact and uses the whole field with plus plus power to the pull side. He has the arm to stick in the more premium RF corner. But CF won't be a play for him in pro ball.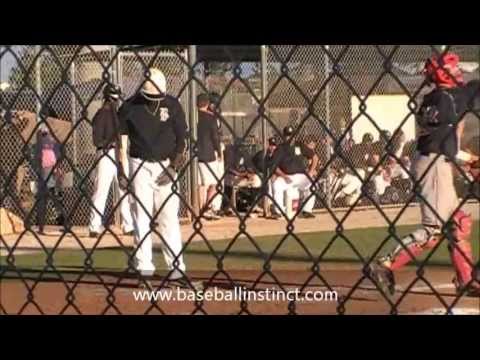 $2mm and a mid round pick gets you one of the best high school arms to come out of  2012. Nick Travieso has officially signed with the Reds who have now inked both Trav, Rahier and Winker. Quite a haul for the Reds by Instinct standards. Here's the pre-draft Instinct on Tavieso:
26. Nick Travieso RHP Archbishop McCarthy HS, Southwest Ranches, Fla. – Travieso's 2012 surge doesn't come as a huge surprise to us. He had the stuff to work innings with a low to mid 90s fastball that has been
more consistent in the 93-95 range this season and touching 98. His slider has hard bite and comes in mid 80s. While his changeup is just in its infancy, he can fade the pitch and just needs to learn to control it.
Our Instinct – He's now a 1st round probable and rightfully so. His mechanics are clean and his frame says he can hold up under high innings totals. His stuff is upper level and once he really starts to build innings he should just continue to get better. Fall back as a power bullpen arm.
Speaking of Tanner Rahier, the SS signed with the Reds as well for a bargain price of $649,700. We have high hopes for Rahier and loved his game play at the WWBA. He could play way above his tools and his tools are worth more than he signed for on their own. Here's his pre-draft Instinct:
34. Tanner Rahier SS Palm Desert (Calif.) HS – Rahier is a tough player to scout because he doesn't play High School ball. Luckily we were able to get to see him first hand. He's fallen some on draft boards this season and it's primarily because even the most prominent of outlets can't key in on his season stats and need to go off of third party reports. Rahier has hit .394 with an 1.103 OPS powered by 18 doubles, 4 triples and 4 HR with 22 walks to just 16 strikeouts. His .464 OBP has produced 27 SB and 45 runs scored. All in 181 plate appearances.
Our Instinct – Rahier is a line drive pull hitter with a good knack for squaring up pitches. His bat is good enough to hit in pro ball right now but his defense is going to be the question mark for the Scouting Directors that will help make the draft decisions. He plays the game all out seems set on becoming a pro. So he's signable and the team that takes him can see what he has long term at SS since he has a plus arm. The end consideration is moving him over to 2B if its needed. I've been torn with keeping Rahier so far below Cecchini and in time it may be Rahier that becomes the better player if they both end up at 2B.
The biggest power bat and actually the best power arm in the draft has signed for a near double slot bonus of $2.25mm. Gallo is a monster with a huge lefty bat. He has plus plus power right now and if he can be refined as a hitter has immense upside. Here is the pre-draft take:
17. Joey Gallo RHP/1B Bishop Gorman HS, Las Vegas – Plus Plus raw power and a plus arm should lead to a player landing inside the top 5, but Gallo has bouts with strikeout tendencies. He currently plays 3B and his arm is enough to play anywhere, but it will take a lot for him to stick at 3B.
Our Instinct – If he sticks at 3B he's going to be a steal for whoever takes him away from LSU. Which won't be easy. He's a below average runner, so it's his power bat that will need to get him to the majors and if it translates he's a 30+ HR power hitter at 1B or 3B. Gallo is a player that could really blossom under the right hitting system. So his development will really be determined by where he ends up. He won't turn into a major league caliber hitter on his own despite coming with major league ready now power.
The Rangers were busy also inking Lewis Brinson. Despite a sub-par season Brinson's upside and talent didn't slide and we didn't expect it to. Especially by a team with vision of tools like the Rangers have been over the past few years. Here is Brinson's pre-draft Instinct:
59. Lewis Brinson OF Coral Springs (Fla.) HS – Brinson is a big lean OF at 6'4″ and reports at 185. Having seen him in person I'm not sure the weight is accurate. But he has so much frame to fill out and so many tools to grow into. A team loses out on Byron Buxton may see Brinson as a secondary option. He's not as polished nor has he been as successful. But the tools are there.
Our Instinct – In 71 AB he's hit .408 with 4 doubles, triples and HR. So he's doing a bit of everything. He's a plus defender with a great arm and could have a chance at plus power in the future. There's a lot of projection here, but Brinson hits with a lot of leverage and once he packs on the weight and man powers it up he could be a player that teams regret by passing.
Wacha signs with a team that knows how to develop pitchers and he's already got the tools working for him to become a high level professional. He'll get $1.9mm after signing which is near slot and could move straight to Quad Cities to get started. Here's the pre-draft take on him:
15. Michael Wacha RHP Texas A&M – Wacha works in the low to mid 90s, 89-93 range most often with good sink when he's mechanically in time. The fastball plays up due to a short landing in his delivery. His second best pitch is his changeup which works more based on his arm speed and deception than it does movement. It could become a plus pitch with some work on different grips and finger pressures until he finds controlled movement. He lacks a true breaking pitch and currently uses a slider on occasion.
Our Instinct – Wacha has clean mechanics outside of the short landing. Though the flaw causes him to drag his arm at times which causes command issues. The lack of a true breaking ball puts him in a position of needing time to develop and leaves him open to being rushed through his development. He has mid rotation upside if the breaking pitch becomes average or better.
The Giants signed 1st round pick RHP Chris Stratton. Stratton will get $1.85mm as the 20th overall selection and is a good value there. He fell in the draft because he was considered signable with around this slot value. The draft slots have caused players to get shifted around and the domino effect treated Stratton to a little ride. Here's the pre-draft Instinct:
39. Chris Stratton RHP Mississippi State – Stratton has grown as a pitcher in 2012 by refining his slider into a plus offering and learning better how to work hitters. So the IQ factor is there for him. His fastball sits low 90s and he can run it 95 in short stints. His best pitch is the slider but he also flashes a curveball.
Our Instinct – He's going to need to refine a changeup at the next level in order to remain in the rotation. He has a good starters frame (6'2″, 195) so there is a chance that he sticks in the rotation as a mid to back end starter but his tailing fastball and advanced slider combination could eventually find their way into the bullpen where projects well.
Dahl was a fav of the Instinct, LLC at the WWBA. It's fun to watch high school kids play and knowing that you're watching a kid that already has a professional swing. Dahl was that type of player. There were many with higher upsides, but none with the polish of dahl. The Rox get him for $2.6mm. Here was the take on Dahl:
10. David Dahl OF Oak Mountain HS, Birmingham – The Auburn commit is a solid hitter from the left side with a compact swing that keeps the bat in the zone a long time. He uses the whole field to his advantage showing power from left-center to right currently. His arm will play in RF if he's forced to move from CF.
Our Instinct – The rare pro ready swing path is on Dahl's side as he enters the draft. His power could become above average and have him a 20+ HR threat. His speed is average and doesn't project out as more than that. He's going to hit a lot of doubles as he's coming up through a system but eventually he'll come into his power and should be a solid all around hitter and defender.
Stick with Baseball Instinct and we'll keep you a step ahead of the game. Check back soon for more Prospect coverage. While you're here, check out our Baseball Instinct 360° – it's our top 360 prospects for 2012. Also check out a friend of ours for all of your fantasy sports needs. Fantasy Rundown is updated religiously and is truly an awesome resource. Thanks for checking Baseball Instinct. We're working hard to bring you the best of the minor leagues and make the site the best experience it can be, so don't hesitate to tell us what you would like to read about. Email us now at mailbag@baseballinstinct.com.