Prospect Instinct 2012
Kyle Zimmer RHP Kansas City Royals
9/13/1991
Height: 6'4″ Weight: 220
Kyle Zimmer was selected by the Kansas City Royals in the 1st round of the 2012 Draft with the #5 overall pick. Drafted out of the University of San Francisco. Zimmer is pretty much a 2 year starter for USF, having pitched only 5.1 innings as a Freshman. But in 2011 he finished as the team Friday starter closing out the season with a 3.73 ERA and almost a K per inning and beating last year's #1 overall pick, Gerrit Cole, in the NCAA Regionals.
Baseball Instinct had Zimmer as the #2 talent available in the 2012 Draft in our Draft Preview, falling behind only Lucas Giolito. Here was the pre-draft take:
2. Kyle Zimmer RHP San Francisco – Zimmer has a mid 90s fastball that works in the 94-96 range consistently and a hammer curveball that is in the low 80s. Excellent separation of the pitches. Both grade out at near plus and he pairs them with a slider around 90 and a changeup that varies from the low to mid 80s. Both could be average or better. He has a solid 6'4″, 220lbs frame and consistent smooth mechanics.
Our Instinct – He hadn't been the talk of the draft but has made noise as a potential top of the draft name this season. I think ultimately the Astros will go with the home-grown Appel, but if they decide against him they will almost certainly be looking for a soon to be ready college starter and Zimmer fits that mold.
 Of the college starters being mentioned as potential first round talents, in my opinion, it's Zimmer that looks to be the one that will translate into professional success.
Let's take a little bit of a deeper look at Zimmer's pitches and mechanics before he heads to the Arizona Summer League and get's his career started.
The Stuff
Zimmer works with a four pitch mix highlighted by a fastball/curveball combo.
The Fastball works in the 92-94 range and tops out 96-97. The fastball explodes out of his hands and gets on batters faster than even the plus velocity would indicate. He's a pitcher you need to see to get a full appreciation of his stuff. He's growing more able to work inside and outside, but one of the biggest adjustments he's made is the ability to sink the ball lower in the zone. His sinker works in the low 90s while his 4 seamer is the 95-96 and it rides hard up  in the zone. The two grips are used out of the same arm slot with the same arm circle, so it's an effective mix.
The Curveball is a hammer pitch that is a 55-60 on the scale with a chance to be a 70+. It's already a plus pitch at times and he controls it well in the 79-81 range. When his mechanics are in full tune, the curveball has true 12-6 drop and is a major league ready offering as a put away pitch.
He also throws a variation of the pitch with harder break. The Slider isn't as refined and can lead to looking like his curveball has just flattened out making the pitch hit-able. especially with righties taking it the other way. But the pitch, if also developed has a chance to give him an extra offering to combat lefties, because when it on it has hard break to the hands of lefties. My opinion is that the pitch will be scrapped. At least for now.
The biggest pitch that will need to be refined is going to be his Change Up. It's currently a 40 on the scouting scale but he doesn't get enough work with the pitch to manipulate the movement well. Repetition in game is going to be a huge step for Zimmer who really could dominate at the lower levels with the pitch. The Royals will need to put a mandatory hard count on his change up use early on, forcing him to use the pitch early in counts. The pitch is mostly in the low 80s but doesn't have sink or fade right now. I'm not sure which grip he's been taught, but a change of grip may be in the works right now.
The Mechanics
Zimmer has a very solid frame with powerful legs that he uses very effectively in the delivery to generate the premium velocity he gets. He has excellent arm speed and hides the ball well enough to where it explodes out of his hand upon leg plant. Take a look at this video from FarmSystem of Zimmer's 2012 start against SDU.
Video by FarmSystem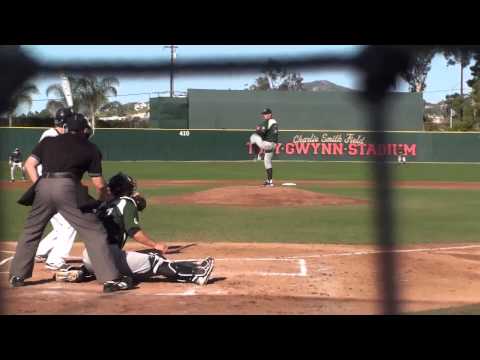 Zimmer clearly has clean mechanics that work well with his whole body. The fact that he uses his legs as much as he does is a great sign that he'll be able to hold up under every fifth day, 200+ inning seasons. I don't see much reason for change or areas of concern with Zimmer and that is of the minority when it comes to scouting for mechanical inconsistencies at the amateur level.
Our Instinct
With 3 plus to plus plus offerings and solid mechanics, it's pretty clear that a healthy Zimmer should be able to hold down the middle of a rotation. He will need to fully develop the change up to become an Ace-type, but the opportunity is there. He's young for a college draftee and doesn't have a lot of wear and tear on the arm.
We believe the Royals got a steal at the #5 spot in the draft here in Zimmer. An athletic solid framed power right-hander with 2 plus pitches is a valuable commodity and the Royals need an Ace to emerge from their depths. Zimmer may eventually be that guy. How fast he moves through the system is going to be dependent upon how quickly he takes to using the change up as a more primary weapon.
After signing for $3mm, the Royals seem poised to get him started in the Arizona Summer League and it wouldn't surprise me to see him make an AFL appearance this year as well. ETA is a wide range, but if all goes to plan he could be in Kansas City as soon as late 2014. More realistically it will be some time in 2015 though.
Stick with Baseball Instinct and we'll keep you a step ahead of the game. Check back soon for more Prospect coverage. While you're here, check out our Baseball Instinct 360° – it's our top 360 prospects for 2012. Also check out a friend of ours for all of your fantasy sports needs. Fantasy Rundown is updated religiously and is truly an awesome resource. Thanks for checking Baseball Instinct. We're working hard to bring you the best of the minor leagues and make the site the best experience it can be, so don't hesitate to tell us what you would like to read about. Email us now at mailbag@baseballinstinct.com.