There's been some mega signings in regards to talent over the past few days. The overall direction of the draft is certainly different from the past negotiation periods, but it's still been a very interesting time. Names like McCullers, Fried and Lovegrove could lead the way into the future for their respective teams. Let's take a look at those signings and a few more right now.
The Astros have put themselves in the enviable position of being the only team to sign two Top 10 overall talents. They did this by inking RHP Lance McCullers, Jr. to a $2.5mm contract with the cash they saved by going with Carlos Correa instead of Mark Appel. Then McCullers fell due to his bonus demands and they found themselves with the cash to get it done. Here is the pre-draft take on McCullers:
9. Lance McCullers Jr. RHP Jesuit HS, Tampa – Bloodlines and premium velocity have had McCullers on the draft charts for a few years. He has mid 90s velocity on his fastball and can touch upper 90s when he's going all out. A wipe out slider is his out pitch and projects as plus as well and honestly probably already is.
Our Instinct – With a solid frame at 6'2″ 195 lbs, he could stand up as a starter, but his mechanics can become max effort at times. He's still developing a changeup and if he can master it he'll be better than his father by far. But the downside is a power RP. Most scouts see him as a RP, but I've warmed to the fact that if he's committed to being a starter then he has the game attitude to make it. That changeup will be the final determining factor. I would take this bet inside the first half of the first round.
The Padres take a step in solidifying their future by ponying up $3mm to get big time LHP Max Fried locked up. While he has plenty of worked to do in order to hit his ceiling. That ceiling is up there. Fried was a Draft Doll of us here at Instinct and the #1 LHP available. Here's the Instinct on big Max Fried:
6. Max Fried LHP Harvard-Westlake HS, Studio City, Calif. – The lefty Co-Ace of the Harvard-Westlake staff is still healthy while his Co, Giolito is out for the year. Fried is 6'4″ and room to fill out his frame from the current 175 lbs. He doesn't have premium velocity yet, but works 89-90 and can run it to 92 with a high 3/4 arm slot unlike most left-handers. The arm slot allows for arm-side run and bodes well for him in the future. It's Fried's curveball that makes him standout among the talented HS crop of pitchers this year.
Our Instinct – Fried is also a UCLA hopeful like Giolito, but unlike Giolito, Fried is healthy with little left to prove of his ability to pitch professionally. UCLA has a way of drawing their top recruits away from pro ball, but Fried figures to go high within the first round and is even less likely to attend UCLA than Giolito is. Once Fried fills out and refines his changeup he has #2 upside. Adding a cutter to his fastball mix would allow him to use multiple direction movement with his fastball and allow less need for his little used changeup to become an above average offering and still hit his ceiling.
A signing that may fly under the radar is the Cleveland Indians coming to terms with RHP Keiran Lovegrove for just $400k. This signing could look like the steal of the draft if Lovegrove develops as projected by Baseball Instinct. It's a long road between ink and stardom but Lovegrove has the goods and too many teams passed on him. Here's the Instinct on Lovegrove and some WWBA video: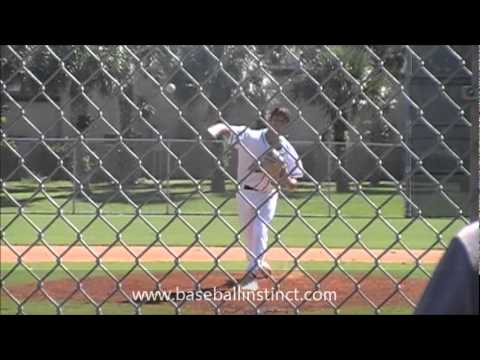 42. Kieran Lovegrove, rhp, Mission Viejo (Calif.) HS – Lovegrove is a 6'4″ right-hander with 91-94 with his fastball and hard breaking plus slider in the mid 80s. His frame has significant room to fill out and is pretty low on most draft boards. But his premium stuff and size, plus seeing him in person puts his high on my projection board.
Our Instinct – Most scouts have pointed out an inconsistent and hard to repeat delivery as a reason stay clear of Lovegrove. But having seen a young Zack Wheeler blossom into a premier SP prospect with similar mechanics, I can see Lovegrove making a couple of modest tweaks to his current delivery and adding both velocity and repeat-ability to his mechincs. If a team has the vision to do this he could be an elite level prospect in 2 years.
The Cubs have inked Supp 1st rounder RHP Paul Blackburn. This selection is proof positive that Theo's regime have done their homework and knew what they wanted going into this draft. We had Blackburn pretty high on our draft board and love what the Cubs did here getting a major talent for under $1mm at $912k. Here is the Instinct on Blackburn:
51. Paul Blackburn RHP Heritage HS, Brentwood, Calif. – A tall righty with major projection in his frame. He's just 170 lbs and despite the lack of size generates low 90s fastballs touching 94. There is more velocity there and his mechanics are clean and repeatable. He also throws a curveball and changeup which are game ready and could be above average pitches with a chance at being plus.
Our Instinct – His fastball will reach plus as he matures, his changeup will be pitch in his arsenal that is most determining to his future success. There is a wide range of future outcomes, but with the chance at 3 plus pitches, clean mechanics and loads of projection he's an easy arm to like high in the 2nd round.
Also, not yet confirmed with numbers, but the Cubs also inked RHP Pierce Johnson. Quite a haul for the Cubbies.
The Mets signed their 7th round pick Corey Oswalt as well. He took $475k to sign the contract. While he's not a Mike Fulmer type, Oswalt has a good frame and is athletic enough to have been a position prospect until this year when he jumped up the charts as a pitcher. Oswalt has a low 90s fastball and spins a good breaking pitch. But he's really a blank canvas at this point with very little mileage on the arm. The Met's will need to mold and shape him. I wouldn't expect him to make his debut this year, instead seeing plenty of attention at the Mets Spring Training complex in St. Lucie, FL. Oswalt was unranked in our Draft Preview 75 but is a nice talent.
Stick with Baseball Instinct and we'll keep you a step ahead of the game. Check back soon for more Prospect coverage. While you're here, check out our Baseball Instinct 360° – it's our top 360 prospects for 2012. Also check out a friend of ours for all of your fantasy sports needs. Fantasy Rundown is updated religiously and is truly an awesome resource. Thanks for checking Baseball Instinct. We're working hard to bring you the best of the minor leagues and make the site the best experience it can be, so don't hesitate to tell us what you would like to read about. Email us now at mailbag@baseballinstinct.com.