The Houston Astros trade of Carlos Lee to the Los Angeles Dodgers fell through when Lee and his family couldn't come to the agreement that it was a good move for all of them. Despite Carlos Lee thinking it would have been a good move for him baseball-wise. Well, the Marlins took advantage of that scenario and landed the 1B and $9mm in cash for two prospects. 3B Matt Dominguez and LHP Rob Rasmussen.
What the Marlins get is a proven 1B to replace a struggling Gaby Sanchez who has been dismal this year. But Lee hasn't exactly been putting on a power show either, though his .286 AVG is far beyond Sanchez' below the Medoza line number.
The Astros get two of the Marlins very high draft picks from recent years. Dominguez, the #12 overall in 2007 and Rasmussen who the Marlins took out of UCLA in 2010.
Neither player has superstar written on a future Hall of Fame placard, but both could be solid parts of a major league club in time. Let's take a look at Dominguez first. He came in at #4 on the Marlins preseason Top List and here was the Instinct on him by Geo:
4. Matt Dominguez, 3B 8/28/1989 H: 6'1″ W: 205 – Drafted in the 1st round of 2007 draft along with fellow Chatsworth High School (CA) teammate and Royals 3B Mike Moustakas, Dominguez was set to win the 3B job for the Marlins out of spring training.  He didn't play terribly well and fractured his left elbow before he got a chance.  In Tom Belmont's Prospect Instinct|Matt Dominguez  break-down, he notes that glaring and obvious things need to change with Dominguez at the plate for him to succeed at the Major League level.
Instinct Video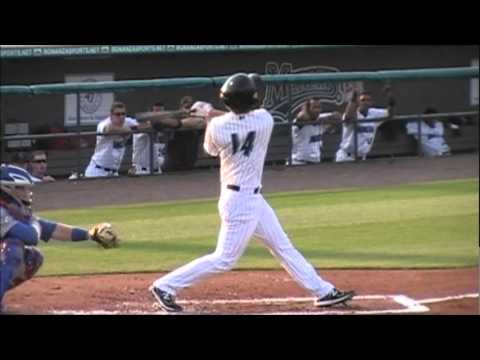 Our Instinct: I like his chances to succeed in the majors, however it is critical that the Marlins not push him until he works out these flaws. In all honesty, spending the 2012 season as a 22-year-old at AA Jacksonville is probably what the doctor would order. He's a smart player with a good glove, who needs to make the appropriate adjustments at the plate. a .270-.280 with a potential of 20+ HR. We'll take it.
Current Instinct: Dominguez has never been given a chance to fully develop his bat. Always being pushed a level too high because of his defensive ability and the hope that it would all just click. One day that may happen. But he's not a major league ready bat despite the fact that he'll be able to hold down 3B defensively.
Now Rasmussen has actually taken strides backwards in 2012. But heading into the 2012 season he was one of the Marlins top pitching prospects ranking in at #8 overall in the system on the Instinct Top List for the Marlins. Here was the preseason take:
8. Rob Rasmussen, LHP 4/2/1989 H: 5'10″ W: 155 – Rass' will never be confused with former UCLA pitching teammates Gerrit Cole of the Pirates or Trevor Bauer of the Diamondbacks.  Cole stands 6'4″ and Bauer 6'1″ to Rasmussen's 5'10″, not ideal for a pitcher.  Despite that, he's one of the better pitching prospects in the Marlins' system.  He went 12-10 with a 3.64 ERA , with a 7.16 K/9 and a 4.31 BB/9 rate in the Florida State League for 2011.  He throws a 93 MPH fastball that can touch 95 along with a 12-6 tight curveball.  His slider is still a work in progress and is a below average offering.
Instinct Video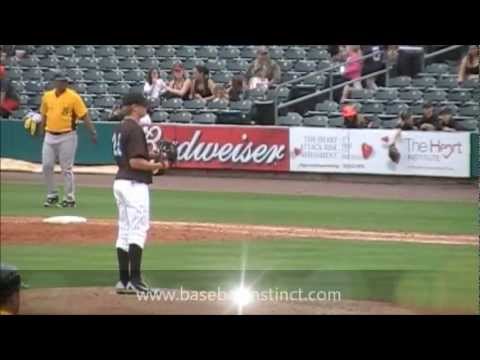 Our Instinct: We're not usually fond of below 6'0″ starters.  It rarely works out.  I will say, I do like Rasmussen's stuff.  I'm hopeful that he can be a 3rd-4th starter in the majors, but I'm also realistic that he may get there, and quick, out of the bullpen.  He will get a healthy dose of Double-A in 2012.
Current Instinct: Rasmussen's fastball sat mostly 88-91 each time I saw him in 2012 and his curveball has taken a back seat to an average slider. His changeup however has made some strides. The move out of the FSL is going to be a true test as he makes the jump to Double-A for the first time. His K rate has improved to 20% for the first time in his career but the walk rate continues to be an issue and at the higher levels it will begin to hurt him. He looks more like a back end starter at this point and with his size that might be pushing the limits of his upside.
Overall both teams did well. The Astros got two prospects who have major league potential despite not having superstar upside. The Marlins are in a win now mode and this is probably not the last move they make. Will Carlos Lee be a game changer? Doubtful. But he plugs a gaping hole that has been very apparent all season.
One thing I will say about the man Lee replaces. If the Marlins use him as additional trade bait and get s start somewhere else I would expect his unusually low BABIP from this season to give him room to bounce back. Maybe ever .50 or .60 points in his batting average.
Stick with Baseball Instinct and we'll keep you a step ahead of the game. Check back soon for more Prospect coverage. While you're here, check out our Baseball Instinct 360° – it's our top 360 prospects for 2012. Also check out a friend of ours for all of your fantasy sports needs. Fantasy Rundown is updated religiously and is truly an awesome resource. Thanks for checking Baseball Instinct. We're working hard to bring you the best of the minor leagues and make the site the best experience it can be, so don't hesitate to tell us what you would like to read about. Email us now at mailbag@baseballinstinct.com. And while you're at it head over to Facebook and join the Instinct page.