We're closing in on the deadline and the 1st round has some major talent that has yet to sign. There is no noise out of Washington as to a possible signing of Lucas Giolito. Reports around Baltimore have RHP Kevin Gausman talking about a return to the Tigers at LSU. The odds of that happening are about $4,000,000 to 1, but the rumor is in fact out there. One player who won't be heading to college is the Cubs most recent signee.
Albert Almora, the #6 overall selection in the draft, has signed with the Chicago Cubs for $3.9mm. It's well above the slot recommendation and proof of how much the new Cubs regime wanted this kid. There's no real surprise that Almora went this high to the Cubs. We had the chance to see him in action with a very talented FTB Mizuno/Cardinals Scout Team at the WWBA. He roamed CF in an OF of Jesse Winker and David Dahl. Here is Almora's pre-draft Instinct:
8. Albert Almora OF Mater Academy, Hialeah Gardens, Fla. – A Miami commit, Almora has one of the purest swings from the right side in the draft class. His defense is CF is outstanding and his arm will play there as he matures. Almora has solid average tools across the board and should add weight to his 6'2″ frame in time to add some average power.
Our Instinct – Almora is the easiest of the HS position crop to project with a solid overall game. His swing is conducive to contact and he already has the ability to work counts. As he adds power he should develop into an all around above average hitter with plus defense in CF despite not being a plus runner.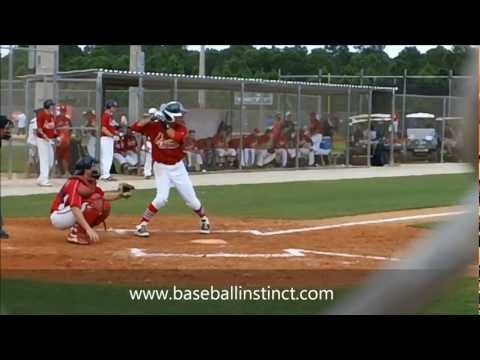 Almora isn't the only signing of the Cubs recently. They inked their 2nd round pick High School RHP Duane Underwood for $1,050,000. The bonus is above the $769,600. Underwood had seen his stock drop during the pre-draft showcases due to issues with him holding his velocity and his work ethic. But we still had Underwood high on our board due to his high upside. Here is the pre-draft Instinct on Underwood:
46. Duane Underwood RHP Pope HS, Marietta, Ga. – 6'2″ 205 lbs, Underwood has a smooth delivery that produces low to mid 90s fastballs with a mid 70 curveball. That's his primary mix so the changeup while solid isn't often used. Premium velocity/Curveball combo. His fastball works low to mid 90s and touches 98.
Our Instinct – Underwood is more of a project than other High School pitchers but he has a high upside and if he can bring the changeup along to average with the movement because he already controls the pitch well. If he can uptick his command he has higher than mid rotation upside. Keep in mind that he won't turn 18 until after the draft. There is a lot to like and a great amount of tools to mold into a starting pitcher here.
We're down to just 5 days left for teams to get their selections inked and figure out what the next year is going to look like. We'll be keeping a close eye on Washington who still has the best draft prospect in the negotiation phase and Scott Boras doing the negotiating for him. That would be Lucas Giolito.
The others are Mark Appel (PIT), Kevin Gausman (BAL), Andrew Heaney (MIA), Richie Shaffer (TB) and Ty Hensley (NYY).
Stick with Baseball Instinct and we'll keep you a step ahead of the game. Check back soon for more Prospect coverage. While you're here, check out our Baseball Instinct 360° – it's our top 360 prospects for 2012. Also check out a friend of ours for all of your fantasy sports needs. Fantasy Rundown is updated religiously and is truly an awesome resource. Thanks for checking Baseball Instinct. We're working hard to bring you the best of the minor leagues and make the site the best experience it can be, so don't hesitate to tell us what you would like to read about. Email us now at mailbag@baseballinstinct.com. And while you're at it head over to Facebook and join the Instinct page.