We've been hard at work this season taking video at Minor League games all over this great country.  Sometimes our videos get tucked away on YouTube and on our Prospect tube page and you have to go hunting for them.  At the request of our readers, we're going to try to spotlight our videos whenever possible.  With that in mind, here's the video I shot and edited a little over a week ago of the Seattle Mariners 2012 first round draft pick, catcher Mike Zunino.
Mike Zunino was the 3rd overall pick and made his professional debut Saturday, July 14th  for the Everett Aquasox and they took on the Colorado Rockies Short Season team, the Tri Cities Dust Devils.  He batted 5th and was the catcher in a 1 for 2 effort.  He had a double and a walk, while scoring 2 runs.  He's a very disciplined hitter and looks very close to being major league ready.  He's hitting .448 with 3 HRs, 3 RBI, 3 Doubles, and has a 4/4 K/BB ratio over 29 at bats at this time.  The .418 ISoP is obviously from a small sampling, but it's still impressive.  The Aquasox return home this week and he will square off against the likes of San Francisco Giants 1st round pick, RHP Chris Stratton and Toronto Blue Jays 1st round pick, RHP Marcus Stroman.
Baseball Instinct Video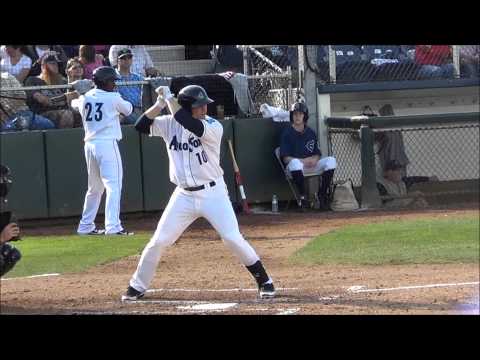 Stick with Baseball Instinct and we'll keep you a step ahead of the game. Check back soon for more Prospect coverage. While you're here, check out our Baseball Instinct 360° – it's our top 360 prospects for 2012. Also check out a friend of ours for all of your fantasy sports needs. Fantasy Rundown is updated religiously and is truly an awesome resource. Thanks for checking Baseball Instinct. We're working hard to bring you the best of the minor leagues and make the site the best experience it can be, so don't hesitate to tell us what you would like to read about. Email us now at mailbag@baseballinstinct.com. And while you're at it head over to Facebook and join the Instinct page.