Thanks for stopping by again today as we bring to you another Baseball Instinct exclusive video.  We've been hard at work taking video and editing out as much stuff in between pitches, so that we can highlight each player's skill set.  Here's video that we took recently of the Milwaukee Brewers 2011 first round pick, RHP Taylor Jungmann.
The 12th overall pick and the Brevard County Manatees hosted the Palm Beach Cardinals on Saturday July 21st, 2012 in High-A Florida State League action.  He went 5 innings, giving up 3 earned runs on 9 hits.  He didn't walk any, and recorded just 1 strikeout on the evening.  For the season, The 6'6″, 210 pound, 22 year old is 8-5 with a 3.67 ERA and has a 60/30 K/BB ratio over 112.2 innings on the season.  He has a BABIP of .304 and a FIP of 3.48, which would suggest he's pitching a little better than his regular stat-line would suggest.
As promised in our Prospect Instinct 2012 | Taylor Jungmann, RHP Milwaukee Brewers article from Febuary 27th, 2012, here's our in-depth video of Taylor Jungmann from his May 6th, 2012 start at Roger Dean Stadium, as he took on the Palm Beach Cardinals the first time around this season.  He went 6.2 innings and gave up 3 earned runs on 3 hits.  He also walked 2 while striking out 5 in this contest.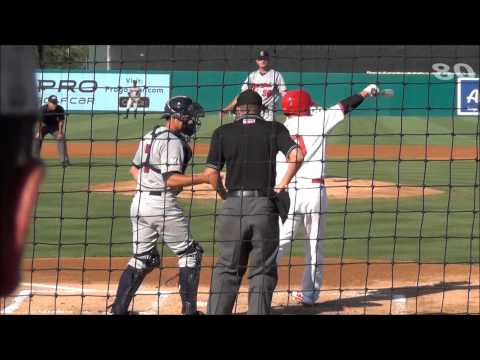 Stick with Baseball Instinct and we'll keep you a step ahead of the game. Check back soon for more Prospect coverage. While you're here, check out our Baseball Instinct 360° – it's our top 360 prospects for 2012. Also check out a friend of ours for all of your fantasy sports needs. Fantasy Rundown is updated religiously and is truly an awesome resource. Thanks for checking Baseball Instinct. We're working hard to bring you the best of the minor leagues and make the site the best experience it can be, so don't hesitate to tell us what you would like to read about. Email us now at mailbag@baseballinstinct.com. And while you're at it head over to Facebook and join the Instinct page.